The Fauquier County School Board voted unanimously Monday night to reopen county schools on Aug. 24 using a "blended" instruction model, with students attending school two days per week and learning from home the other three.
The plan will split each school's enrollment into two groups, with each half attending school for two days and a fifth day reserved for teacher planning and remote instruction. The blended model carried the recommendation of Superintendent of Schools David Jeck, who presented the details of the proposal to the school board before the vote. 
The plan intends to have all students back in school four days per week after Oct. 16 – the end of the first quarter -- unless there is a significant worsening of the pandemic locally. All students will have the option of receiving instruction entirely through Virtual Virginia instead of attending school in person; students can switch to in-person instruction at any time. 
Masks will be required for students and staff under the plan approved by board members. "There will be times when students are less than 6 feet from each other, it's kind of unavoidable," Jeck said, and personal protective equipment will be provided to all staff members. 
Plan puts students in school on Mondays, Tuesdays or Thursdays, Fridays
Under the plan, students will be divided alphabetically into two groups. "Group A" will attend school in-person on Monday and Tuesday, and "Group B" will attend Thursday and Friday. Wednesdays will be reserved for professional development, planning and remote support for students and parents.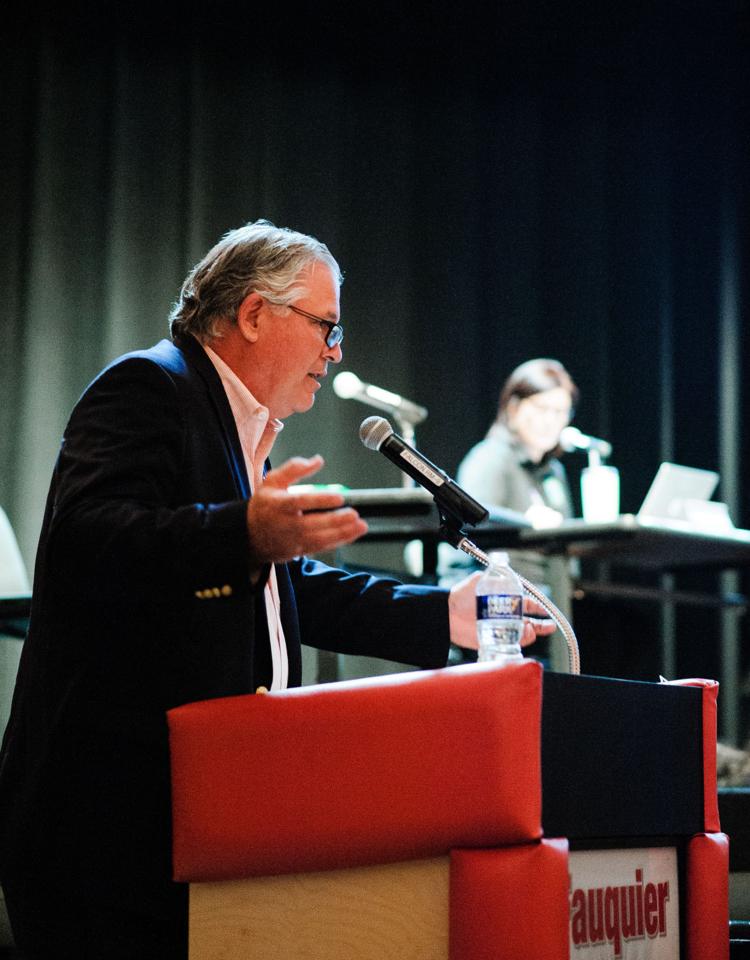 Students will be assigned work to complete on the days when they are not physically in school. According to Jeck's presentation, any work assigned to students to complete during these days should "be able to be completed with or without technology support."
Jeck emphasized during his presentation that the goal was to move to four days of in-person instruction per week. 
"There won't be any surprises. We will be providing updates regularly," he said. He also said the school division will prepare a procedure to move within 48 hours to a completely virtual instructional model should the pandemic worsen significantly or if the state mandates schools close. 
Parents in attendance urge full-time in-school instruction
The decision came after a contentious, two-hour school board meeting Monday night where the overwhelming majority of attendees favored returning to in-person instruction at least four days per week, with many asking board members to implement five days of in-person instruction per week. 
About 20 people spoke during the public hearing that preceded the vote, and most implored school board members to reopen schools with at least four days of in-person classes per week. Several argued that parents should be able to choose between full-time, in-person instruction and full-time virtual instruction. 
At times, board Chairman Duke Bland (Marshall) struggled to maintain order as attendees – though only a few dozen in number and spread out over the spacious Fauquier High School auditorium -- talked over school board members, questioned the procedure of the meeting and loudly cheered speakers who favored of returning to in-person classes full-time.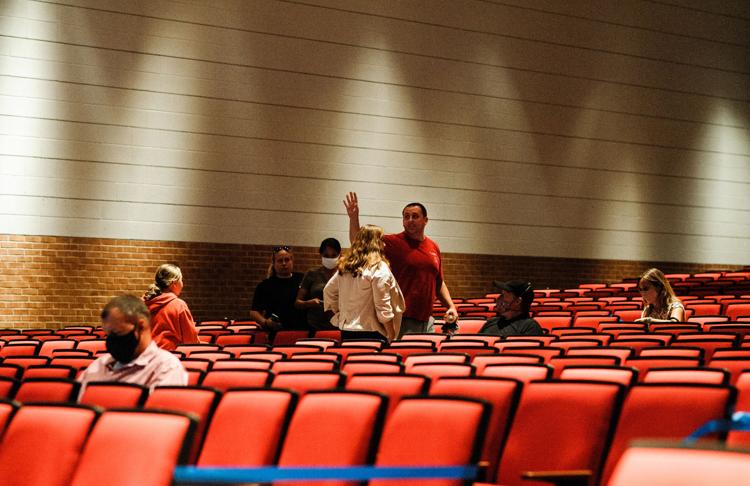 As Bland asked board members if there were any "nays" during the final vote, one man shouted "No!" from the seats before getting up and leaving the room. Someone else shouted, "Vote them out!" from the back of the auditorium. 
Speakers who favored returning to in-person classes four or five days per week cited the risk to the emotional and developmental health of students under a blended model, along with a host of other concerns including lack of internet access, students with disabilities not receiving the support to which they are legally entitled and the risk of children being abused more frequently if they are not at school. 
"School in not only a place of learning, but a place of refuge" from abusive homes, said Jessica Ashby, a parent of FCPS student who pleaded for the school board to adopt at least a four-day schedule. "Our most at-risk youth have not had a voice during this process. These are the students I would like the school board to think about. 
Concerns about parents who cannot provide at-home educational support to their children were also cited repeatedly. 
"I am a parent who cannot do any online lessons with my children," said Lynn Mindak. "You've talked about options for everyone except parents and families who cannot [help their kids with schoolwork]" she told board members. 
Melissa Turney echoed this sentiment. "Some parents do not have the means or ability to further their children's education," she said. "For some kids, school is their only hope. I'd hate to see them deprived of that." 
Brittany Stover, who before the meeting said she had mobilized people to pressure board members to add the four-day option to a second parent survey, said during citizens' time, "We have never let a virus stop us from living our lives before, so why should we now?" 
She said the blended model would not provide an "equitable" education for all students. 
"Does it even matter what we do or say tonight?" Stover asked of board members. "You're going to ignore us." She added later, "I do not consent to only two days of education. I do not consent to putting students at risk for depression or suicide. I ask that you err on the side of liberty." 
Teachers support 2 days to start
However, not everyone in attendance was opposed to the blended model. Several county teachers spoke in favor of the blended model, echoing the position of the local teachers' union chapter, the Fauquier Education Association. 
"I want nothing more than to return to normal," said Christina Crocker, Liberty High School's assistant principal. But, she said, "Opening at full capacity sends the message that the school division doesn't care about the safety of students and staff." 
She acknowledged that providing instruction under the blended model would mean more work for teachers and staff, but that if it meant having at least some in-person instruction, "it's worth it." 
Jessica Majerowicz, a teacher at Liberty, shared that view. "It's so hard not being able to see my students face-to-face," she said, but added that that there is "so much we don't know about the virus," and "there is no way we can follow social distancing [at full capacity]" and that "teachers are far more vulnerable than our student populations." 
Mike Hammond, a parent and a former candidate for school board, told board members that reopening too quickly would risk a teacher shortage "exacerbated by those [teachers] who cannot or will not return to work" if schools are at full capacity. The blended plan, he argued, "doesn't have to be the plan for the entire year. If things start to get better, then the board can reassess." He asked board members to take a "measured and conservative approach" to reopening. 
Two Fauquier school bus drivers, Jamie Dovell and Racheal Douthat, also urged caution in reopening schools, citing, in addition to the risk from the virus itself,  the risk of wearing masks in overheated buses, many of which are not air-conditioned. 
Both Dovell and Douthat argued for delaying the first day of school until September so that heat would be less of an issue. Before the meeting, Dovell said she had reached out to board members challenging them to sit in a bus for three hours during the afternoon while wearing a mask.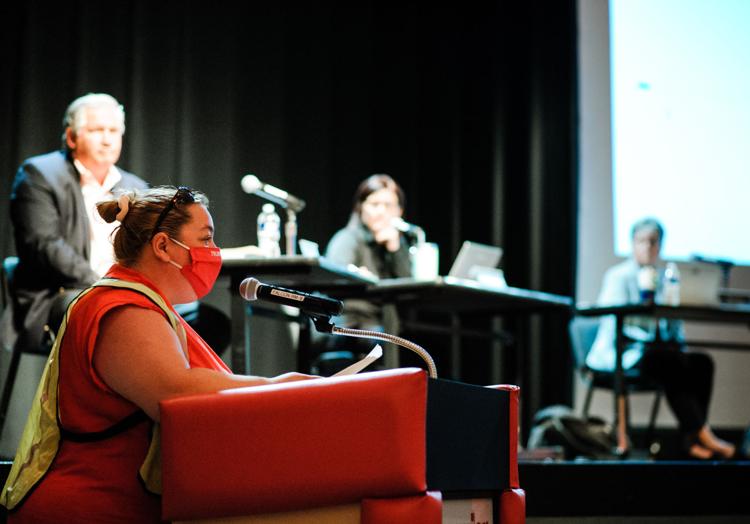 The risk of the virus, Dovell argued, was too great and there were too many uncertainties to justify returning to full capacity immediately. "One child dying … is too many," she said during citizens' time. If even one death was worth returning to school, she asked rhetorically, "Then I challenge you to pick one – one student or staff – you would be willing to sacrifice." 
When Dovell mentioned that 29 new cases had been reported in Fauquier County in the past week, several attendees laughed. 
Douthat later pleaded with board members, "Don't risk our lives for politics." 
Ultimately, board members said they felt that the blended model was the best way to reopen schools. 
Board member: 'There's no right answer for this'
Donna Grove (Cedar Run) made the motion to adopt Jeck's proposal, arguing later, "There is no right answer for this." No matter what, she said, "half the people are going to be mad." She called the blended model "a good start" and added, "None of us believed we could put all the kids back on day one."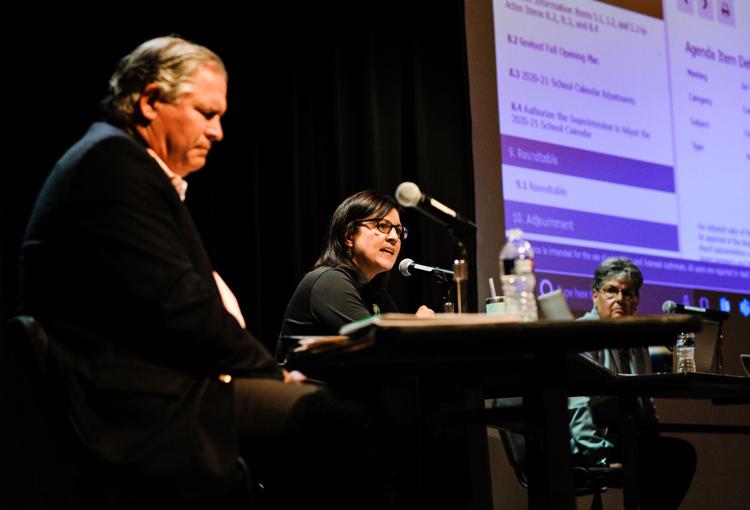 School board member Susan Pauling (Center) said that it is "imperative" to get children back in school as soon as it is safe to do so, adding: "My heart goes out" to working parents for whom a blended model will be especially burdensome. 
"I understand you're frustrated. I'm frustrated," she said, but argued that board members had "looked at this from every possible angle" and felt the blended model was the only viable option for returning next month. 
Suzanne Sloan (Scott) said instruction on days when students are not physically present in school would be far superior to the instruction – or lack of instruction – provided this spring.
"It won't be like the spring," she said. "We have to do better at that piece." 
Bland ended the discussion before the vote, saying, "We cannot propose nor implement the perfect plan." He concluded, "I want [to return to full-time in-person instruction]. We all want that. We will get there. But let's take our time and do it safely." 
A new survey of Fauquier County parents indicates majority support for sending children to s…
It's not yet clear whether new state guidance reducing, in some cases, the recommended physi…
EDITOR'S NOTE: On June 29, Fauquier County Public Schools Superintendent David Jeck presente…
At a work session of the Fauquier County School Board Monday, Superintendent of Schools Davi…