There were few people happier than 98-year-old Edna Kidwell on Thursday. Kidwell, originally from Amissville, has lived at The Oaks in Warrenton for 12 years. On Thursday, she received the first dose of the Pfizer COVID-19 vaccine at the door of her apartment, thanks to the efforts of Fauquier County paramedics.  
She was all smiles and spread her arms theatrically with a laugh. "Wow! Wasn't that great?" she exclaimed after EMT Peter Josendale gave her the shot. Born in 1922 just after the 1918 influenza pandemic swept across the globe, Kidwell has lived through polio epidemics, a world war and a cold war – and now, another major pandemic.  
A reporter remarked it was great to see her smile. "That's what I do all the time!" she responded.  
The more than 200 doses that would be administered Thursday to residents of four over-55 communities -- The Oaks, Warrenton Manor Apartments, Moffett Manor and Mintbrook Senior Apartments -- had originally been slated to be used at a clinic in a vacant storefront next to Home Goods. That clinic was postponed by a few days because of the snow in the forecast, but Chief Darren Stevens of the Fauquier County Fire, Rescue and Emergency Management said he wanted to make sure those doses were used Thursday anyway.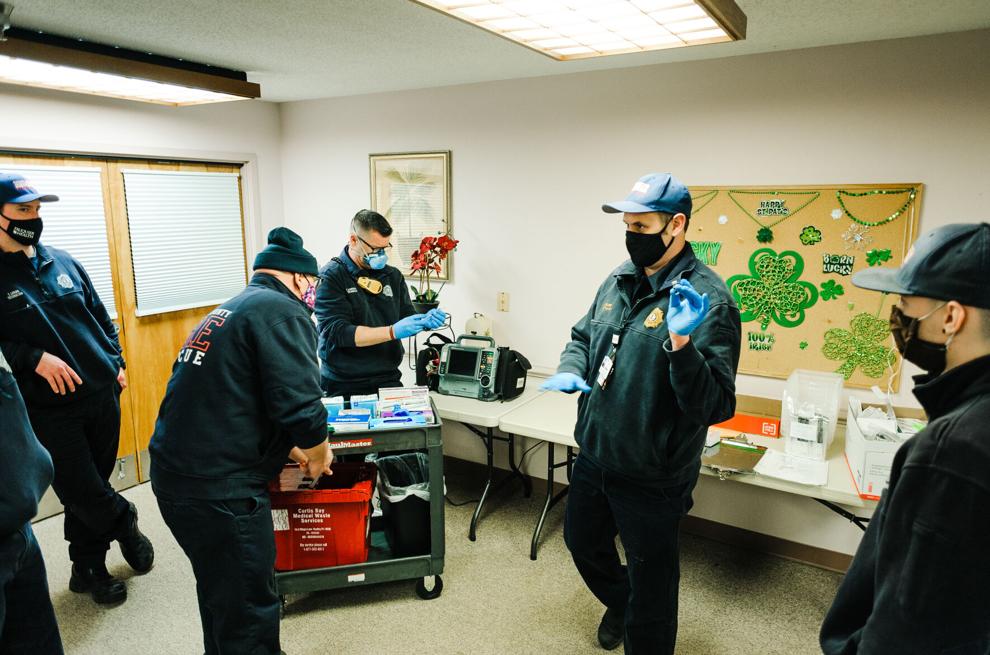 He and others came up with the idea of reaching out to retirement communities, going door-to-door to vaccinate residents. Fauquier Health, which supplied its allotment of vaccine doses for the effort, also lent two nurses to the cause Thursday.
"These are people who kind of fell through the cracks," he said. While CVS and Walgreens pharmacies are responsible for vaccinating residents of nursing homes and assisted-living facilities, he explained, communities like The Oaks don't fall under that umbrella, even though many of the residents are elderly, have health problems and often don't have reliable transportation to drive to a vaccine clinic as far away as Culpeper.  
Stevens and Assistant Fire Chief Michael Gillam spent part of Wednesday personally knocking on doors to tell residents about the opportunity to get vaccinated where they live. "This is definitely an underserved community," Gillam said, especially since many residents have mobility issues and often have no vehicle.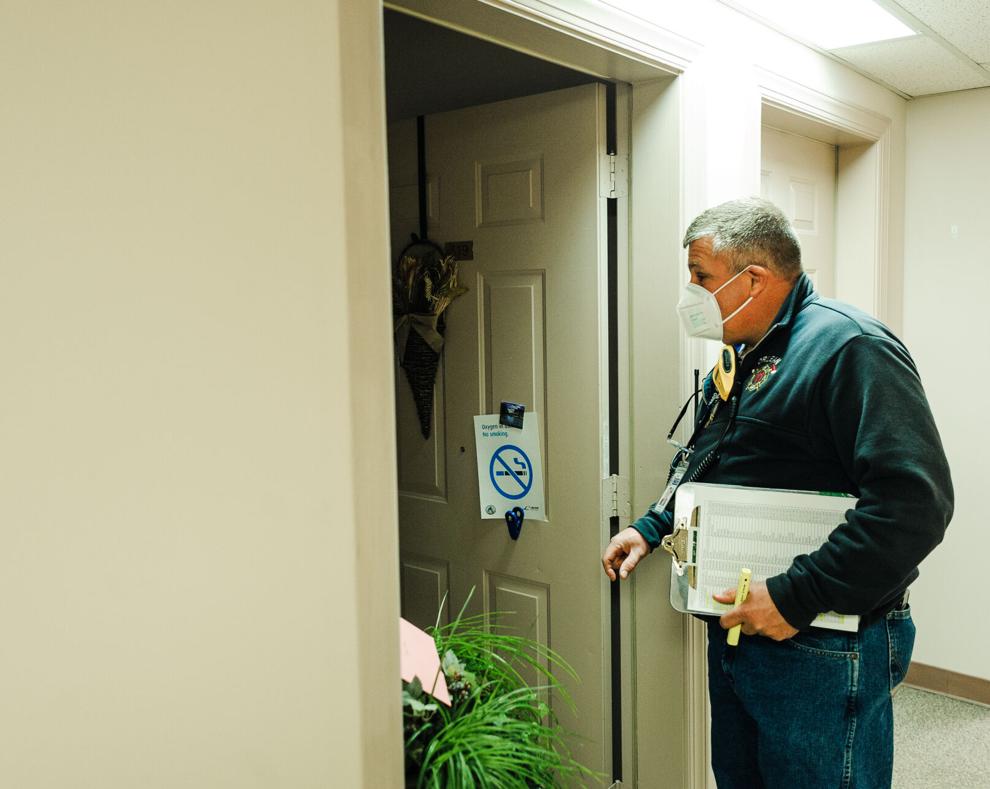 "They had people crying," recounted DFREM Emergency Manager Michael Guditus. "They were so happy that no one had forgotten them."
By Wednesday morning, the department set up a call center for residents to register. Even if they didn't sign up this way, Mary Tarr of the Orlean Volunteer Fire & Rescue Department spent Thursday morning making her way up and down hallways with an iPad, striking up conversations with residents, addressing questions and patiently entering the information for residents who wanted to be vaccinated but who hadn't signed up yet.  
Some of the residents already knew some of the EMS staff members. Tina Williams, who lives at The Oaks with her mother, explained her mother has suffered two strokes in the past two years. In those crisis situations, the Fauquier paramedics "were awesome," she emphasized; she thanked several EMTs personally as they prepared her vaccine dose.  
Down the hall, Lt. Sam Miller, who supervised Thursday's efforts, joked with residents and answered questions about the vaccine, often allaying concerns – and always with a personal touch. 
"You don't happen to like pink?" he cheekily asked one resident whose outfit was almost entirely pink, before answering her questions about COVID-19, vaccines and how certain health conditions affect the risk of the disease or reactions to vaccines.

The county's vaccine clinic scheduled to begin Feb. 16

 
April Achter, population health coordinator of the Rappahannock-Rapidan Health District of the Virginia Health Department, announced on Feb. 6 that Fauquier Health, the town of Warrenton, Fauquier County and RRHD are working collaboratively to host a vaccination clinic in Warrenton. The clinic was scheduled to start Feb. 11, but its first day will be Feb. 16 instead. 
Achter said, "RRHD will allocate doses to the effort and they will use patient information from the surveys collected on rrhd.org." Residents who have already signed up for a vaccine through the health district do not need to sign up again. 
County Administrator Paul McCulla said that the vaccination site will be in the former Fashion Bug store, next to Home Goods. 
The clinic will be by appointment only for those already registered for the shot through the health district. Fauquier County is operating a call center to help with those registrations and the scheduling for those receiving shots. The call center can be reached at 540-422-0111, from 10 a.m. to 6 p.m. on weekdays. Questions can also be addressed to covid.registration@fauquiercounty.gov. 
The county administrator emphasized that there will be no walk ins served at the clinic. 
McCulla said that the RRHD has management responsibility over the clinic and is providing the county with lists of names drawn from the health district's list of registered residents who qualify for the shot in Phase 1b.  
Fauquier Hospital will receive the vaccines allocated for the clinic through the health department and will prepare and deliver the vaccines for each clinic. 
The county will staff the clinic and shots will be administered by Department of Fire, Rescue and Emergency Management personnel, who are trained and qualified to administer the vaccine shots. 
Fauquier Health CEO Chad Melton said that the new site will replace the vaccination clinics that have been hosted at the hospital for the last several weeks.