When faced with data on projected student enrollment and teacher availability, the Fauquier County School Board was forced to acknowledge that schools cannot open Aug. 24 with a blended instructional model of virtual and in-person teaching, as planned.
Fauquier County Superintendent of Schools David Jeck announced at Monday night's school board meeting that the school division will have to be 100% virtual for the first term. "I'm sorry to have to make this statement. I want our kids to be in school," he said.
He said that he hopes the school division can resume face-to-face teaching by January. "I don't see anything COVID-related changing by October."
Board member Stephanie Litter-Reber (Lee District) agreed reluctantly, "I'm a numbers person. I have looked at every number every which way. The numbers are not there to bring kids back safely, to bring teachers back safely."
School board members were given the harsh realities last week and have been trying to find a way to make it work, said board member Suzanne Sloane (Scott District). "We asked questions of staff all weekend. It just didn't add up."
Jeck said he was surprised by the enrollment numbers. Based on two surveys of parents conducted over the last couple of months, he said he'd expected 10% of students to be learning 100% remotely. But the latest numbers show that out of 8,816 student registrations so far, 32.4% have chosen virtual – 1,324 elementary school students, 698 middle school students and 831 high school students. The school division has only 37 instructional staff ready to support virtual students.
Why not move in-classroom teachers to the virtual model? "Then we wouldn't have enough classroom teachers," Jeck explained.
Almost 400 special ed students with Individualized Education Programs registered for virtual instruction. The school division has only five special ed certified teachers on the virtual list.
The school division does not have any English as a Second Language teachers at all for the 136 ESL students who have chosen the 100% virtual option.
Last year, the school division employed 354 active substitute teachers. For the 2020 start of school, 130 substitutes are available. Jeck pointed out that after substitutes were used to fill vacancies for virtual learning, Family and Medical Leave and leave of absences, the division would likely be left with 90 or fewer substitutes.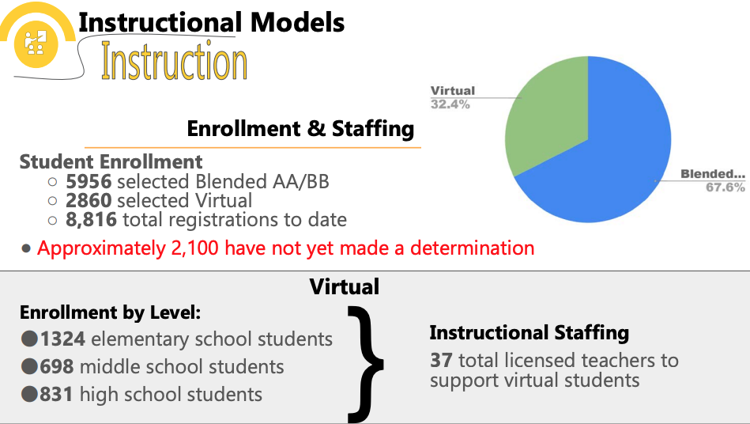 As school bus drivers and aides continue to send in their resignations and requests for leave of absences, the division is short 20 drivers. A slide revealing the driver data read, "Staffing has been a challenge unlike we have ever seen before in transportation."
And the last statistic that seemed to put an end to any hope of opening the school buildings to students: four schools do not have school nurses.
"We can't open any school that doesn't have a nurse during a pandemic," said Jeck.
He was resigned. "In coming up with a reopening plan, we dealt with all the issues and barriers that COVID presented. We listened to everyone, we overcame many hurdles. We came up with a good plan. But when we added the workforce barriers, the challenges were insurmountable… the weight of that burden is too much to bear."
Jeck said that he and his staff are still working on trying to "have face-to-face learning for our youngest learners, K through second grade. We are looking for a way to do that; we are trying to come up with plan… There is a great fear among our administrators that our youngest students seem to be the most vulnerable."
The school division will bring kindergartners and first and second graders into school, he said, "only if we can do it well, and safely."
Jeck said his staff will be studying the issue over the next couple of weeks. By Labor Day, he said, he'll have a recommendation.
As the school division attempts to shift to 100% virtual learning, Jeck and his staff realize that this will be an adjustment for teachers and children, and their parents as well. The week of Aug. 24 will be used as an orientation period for everyone, he said. "A lot of parents haven't even looked at virtual learning, because they were planning on sending their kids to school."
Each school has an information technology resource teacher. They will be responsible for teaching parents how to help their children manage the technology of learning.
Each school will produce a schedule for online classes. Students will experience activities in real time for two days and spend two days working independently but with teacher support. Some teaching will be streaming, some on video. One day a week will be a planning day for teachers, when they will also be available to provide extra help to students who need it.
As in the spring, the school division will provide devices and/or hotspots to students who need them. Although Chromebooks and hotspots are on order, Fauquier is competing with every other school division for the same technology. Jeck said, though, that he believes the division will be able to provide equipment to every student who needs it when school starts.
Devices are less of a challenge than Internet access. In addition to personal hotspot devices – which only work when there is a cellular tower within range – hotspots positioned on ten buses parked throughout the county will continue to be available; more powerful county-sponsored hotspots are positioned throughout the county as well. In a pinch, students can park in school parking lots to use the school Wi-Fi.
And for students who just don't have access to Internet service at all, hard copies of schoolwork will be given out. School bus drivers could be called into service to deliver the packets, or to pick up schoolwork from children and deliver them to their teachers. For students who don't have Internet, video lessons copied onto thumb drives could be delivered to them.
Jeck said that about 150,000 meals have been distributed to families in need since schools closed in March. Meals will continue to be provided, but the delivery models may change. Currently, meals are distributed to students from locations throughout the county several times a week. The school division may have the school kitchens remain open so that parents can pick up meals at specified times. No decisions have been made as yet.
All school board members acknowledged that the decisions surrounding whether or not to resume in-person teaching has divided the county. Susan Pauling (Center District) was emphatic that the community needs to come together for the good of all. "Social media has been toxic. The dialog on community pages has been atrocious. As a small community, we need to reevaluate how we discuss these issues."
She referred to intense pressure from the Fauquier Education Association to open schools with 100% virtual learning, adding, "Not everyone on our teaching staff is a member of the FEA. This decision was not a sell out. It was not a cave in. We made the best decision for our community."
She encouraged the community to come together as school administration, teachers and parents move forward, "Let's be wise, smart, gracious adults."
Lauren Brill, president of the FEA, said in a statement after the meeting, "As we move forward and focus on our work ahead without the fear of our safety, the FEA is encouraging you to please reach out to our school board members, Dr. Jeck, and our senior staff once more. Please let them know just what this decision means to you! They have worked harder than any over the last several months to bring our students back to school and to work toward a year that is undisputedly the hardest one that any has yet to see in their careers! Their decisions have been with the best of intentions and we thank them, no matter their position, for the work that they do for their school community and staff!"
School Board Chairman Duke Bland (Marshall District) said that in his 15 years on the school board, the last six months have been the most difficult. "All of us wanted our kids in school, all of us wanted face-to-face learning."
"We have no one to blame except Mr. COVID. We have to face facts and accept reality," said Jeck. He also said that he and his staff are bracing for the hundreds of questions parents will have in the next few weeks.
Litter-Reder said she wasn't looking forward to facing her high school freshman at home. "He's not going to be happy. He was going to do ROTC…  he was going to be in the band. He can't do any of that…
"At the end of the day, it was a crap decision to have to make."