As a percentage of the total labor force, the number of claims for unemployment insurance benefits by residents of Fauquier County continues to be much less than the state and national averages.
According to employment data released Thursday by the Virginia Employment Commission and the U.S. Bureau of Labor Statistics for the filing week ending June 20, 19.4 million workers across the country filed either an initial or continued unemployment insurance claim during that week, including 400,872 in Virginia and 2,156 in Fauquier County.
(An initial claim represents the first time an individual applies for unemployment insurance after being laid off; a continued claim represents an individual who has previously been approved for benefits and continues to receive benefits during that week.)
The unemployment claims filed by Fauquier County residents last week represented 6% of the county's labor force as measured in April. For comparison, total unemployment claims filed in Virginia represented 9.3% of the April labor force, and the national numbers indicated 12.3% of individuals in the April labor force filed a claim.
Statistics from recent weeks also indicate both Fauquier County and Virginia are far past their peak levels of unemployment. The percentage of claims as a percentage of the labor force peaked in Fauquier County at 7.4% during the weeks ending May 2 and May 9; in Virginia, the percentage peaked later, on May 16, at 10.1%.
The official unemployment rates – the BLS uses data obtained from a representative survey of workers, not just the number of unemployment claims, to calculate this number – lag far behind real time, but those rates have followed a similar pattern, with Virginia faring better than the national average, and Fauquier County better still.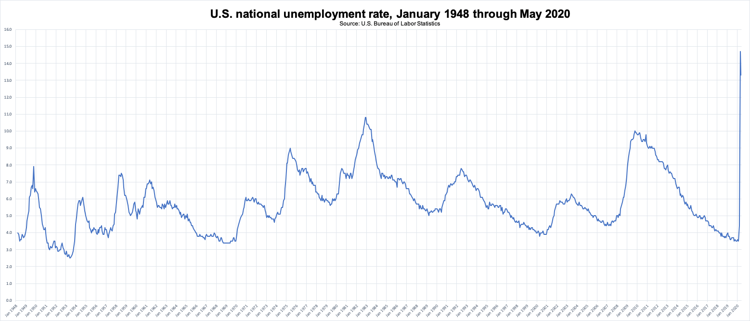 In April, the unemployment rate was 14.7% nationally, 10.6% in Virginia and 8.8% in Fauquier County. Following a similar pattern, the unemployment rate nationally in May was 13.3% and 9.4% in Virginia. Local unemployment rates for May will be released by the BLS before the end of the month.
Despite the signs of recovery, the number of unemployed individuals continues to be very elevated in an historical context. For instance, the 375,579 continued claims filed in Virginia last week is more 19 times greater than the claims filed in the comparable week in 2019. The national unemployment rates for April and May were both far higher than any rate recorded since the BLS began recording that statistic in 1948.