Katelyn Rockefeller, music teacher at Grace Miller Elementary School, and Annie Glascock, civics teacher at Warrenton Middle School, have been selected as the FCPS Rookie Teachers of the Year, the school division announced in a news release.
This award is presented to one elementary and one secondary teacher "to recognize the outstanding efforts of teachers just entering the profession," the news release said. Both winners received a $500 check funded through a grant from Apple Federal Credit Union Educational Foundation.
Here's more information about the winning teachers:
Elementary Rookie Teacher of the Year-Katelyn Rockefeller, music teacher, Grace Miller Elementary School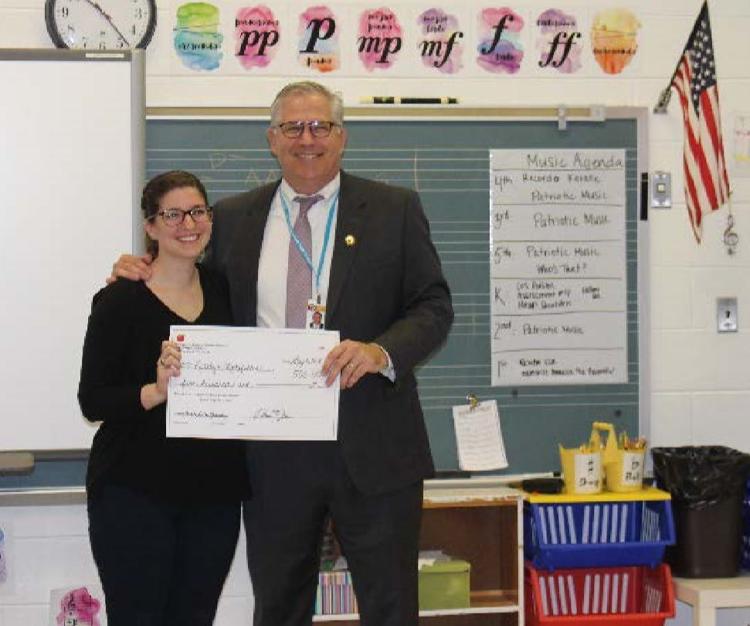 "As a first-year music teacher, Katie has gone above and beyond in helping all students succeed," said Michelle Breslin, assistant principal and Bruce McDaniel, principal at Grace Miller Elementary.
A native of Fauquier County, Katelyn Rockefeller attended M.M. Pierce Elementary School, Taylor Middle School, and graduated from Liberty High School in 2012.  She earned a bachelor's degree in music in 2016 and a master's degree in education, curriculum and instruction from Virginia Tech in 2017. Rockefeller always loved working with children, but it was the key adults in her life who influenced her to become a teacher.  Her parents, Brian and Jennifer Rockefeller, have worked as occupational therapists for Fauquier County Public Schools for many years. She also credits several special teachers for impacting her career choice.
"I think the teachers I had going through school really influenced me to want to teach. I had some very caring and great teachers that I learned a lot from, especially Rich Griffith and Pat Neidich, my middle school and high school band directors. They started my love for music, and if it wasn't for them, I don't think that I would be teaching music," she said.
Looking back on her first year, Rockefeller believes she made the right career choice.
"I love working with all the children. Each student has a different personality, and I enjoy trying to connect with each student to figure out what each student needs to succeed. I enjoy the moment that a concept you are teaching finally clicks, or a student finally understands why we do something. For example, I recently had a student tell me that they understand why we do vocal warm-ups before singing and that we need to make sure we do them before every time we sing! That made me smile," she said.
She also considers herself a lifelong learner and appreciates the learning opportunities she experiences as a teacher.
"I love that I can learn something new every day. Even though I just got out of school, I am constantly learning whether that is something new, or a new strategy to teach, or something that the children teach me." Rockefeller credits the support of her colleagues at Miller for her success this year. The advice she would give to new teachers is to lean on the experts nearby and to ask plenty of questions.  "My resource team and administration have been super supportive and helpful with all my questions. I don't think anyone around me expected me to have all the answers, or at least that's what I keep telling myself," she said. In her free time, Rockefeller likes to cook, bake, craft, and spend time with her family. She also enjoys playing the clarinet.
Secondary Rookie Teacher of the Year- Annie Glascock, civics teacher at Warrenton Middle School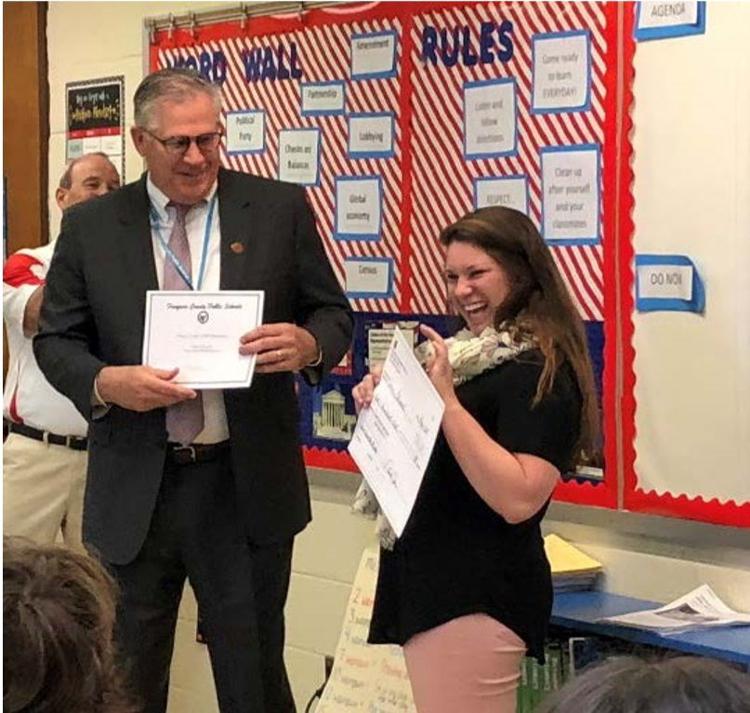 "She keeps her students engaged, and her lessons are creative, hands-on and interactive. Anyone visiting her classroom can feel her love of teaching," said Karyn Spahr, assistant principal at Warrenton Middle School.
 Annie Glascock's path to becoming a teacher also went through Fauquier County.  The native of Marshall attended FCPS throughout her schooling.  After graduating from Fauquier High School in 2012, she went on to earn a bachelor's degree in history in 2016 and a master's degree in education in 2017 from Christopher Newport University.     
"I have always wanted to be a teacher, and I owe a lot of it to the amazing teachers I had throughout my life, many of whom are still in the county -  Cheryl Ward, Kara Fewell, and my own dad," she said. "The relationships I had, and continue to have, with teachers in this county shows me that teachers can have a lasting impact on your life. That is exactly the type of educator I plan to be."
Her father, Robert Glascock, has been a teacher in Fauquier for 35 years and is currently teaching at Fauquier High School. And he's not her only relative employed by FCPS.
"We are a proud Fauquier County family, and many of my family members have chosen to work for us," Glascock said. "My aunt, Mel Brown, has been in the county for over 30 years and is currently the instructional technology resource teacher at Marshall Middle. My sister, Brandy Glascock, currently works in the front office of FHS. My grandmother, Paula Glascock, retired a few years ago after working in the guidance office at FHS. We obviously love this county."
Her favorite things about teaching are the unexpected moments and rich discussions with her students.  "I teach civics, so there are often these unexpected life lessons that get brought into classroom conversations. We have had life talks about mental health, life choices, college, and those are some of the best lessons I had with my students.  They are moments that I did not plan for, but they have been some of my favorite memories throughout this year."
Glascock admits the first year of teaching can be tough, however.  To overcome the challenges, she offers two pieces of advice for rookie teachers.  
"The first, get to know your students. Most teachers say this, but I cannot stress enough how much that helps. Go to events, support your students, and remind them of the good you see in them beyond academics. The second, let your students get to know you. It is not fair for us to expect students to be open with us if we are not open with them. Let your students ask you questions and give them honest answers. Let them know about your life, your stories, your past, and even your mistakes. It will help them to see you as a person and not just a body in a room."
Glascock enjoys spending time with family and close friends. Her favorite travel destination is the Outer Banks.