On Friday, May 15, Executive Order 61 went into effect, signaling the beginning of the first phase of the Forward Virginia plan for much of the state. Phase 1 aims to gradually ease public health restrictions while containing the spread of COVID-19; it remains in effect until midnight on June 10, unless amended or rescinded by further executive order.
Some Fauquier businesses were eager to reopen their doors Friday, but others chose to maintain the business practices they adopted in March; they are not quite ready to embrace the challenges that Phase 1 offers.
In Old Town Warrenton, Cammie Fuller, owner of The Open Book (104 Main St., 540-878-5358), stated in a blog post dated May 14 that her store would not be among the businesses reopening. Some safety items have not yet been received for use in the store -- a plexiglass divider for the checkout counter, hand sanitizing items and single-use gloves.
On the morning of May 15, Fuller said she walked to work and "sent good vibes to everyone opening. We have all been through so much. I have received warm responses from customers and fellow business owners that we need to do what we feel is right." She continued, "I have worked harder in the past two months than I have since opening the store. It would be easier to just reopen, but we just aren't there yet. I don't have what we need."
Her neighbors Jeanne-Marie and Maximilian Tufts at The Town Duck (100 Main St.; 540-347-723) took ownership of the business from long-time owner Annette Johnson on March 7, fewer than 10 days before at-home orders went into effect. "We rely on foot traffic," said Jeanne-Marie Tufts. "We have no ecommerce system and no plans to implement one."
She admitted that the cancellation or postponement of all gatherings greater than 10 people has impacted the gift side of the shop. "We have a lot of gifts for weddings, graduations and can add to any tailgate party," she said.
She has relied on FaceTime and texting to communicate with her customers. Considered an essential business because the shop sells food and wine, the store did not see any changes with Phase 1 in place.
With Phase 2, she hopes business will continue to improve. "Our customers have all been patient with the changes and the town has been responsive to our questions," she said. "This isn't how you want to kick off a new business or entrepreneurial adventure. Everyone is mindfully approaching the gradual reopening. We hope for big changes in the next few weeks," she said about the anticipated return of foot traffic.
Twelve miles north, in Marshall, The Whole Ox (8357 W. Main St.; 540-724-1650) has been closed to customers since March. But owner Amanda Luhowiak has added curbside pickup and delivery, both of which have been well received. She did not anticipate any changes with Phase 1; customers are still not permitted in the shop.
"We have welcomed new customers who are unable to find what they need at the grocery store," said Luhowiak. "Other new customers have begun to purchase meat from us instead of the grocery store as an added safety measure."
Luhowiak and her husband Derek decided to move their holiday giving program from the end of the year to now. "Each year we invite customers to donate to the purchase of beef for Fauquier FISH and we match donations. The response from the community to this call was overwhelming," she said. To date, The Whole Ox has received $4,000 in donations.
"The relationship with FISH has strengthened during the pandemic," said Luhowiak. The food pantry and butcher have negotiated a deal for other meat items beyond the donations.
Juan Villaseñor, one of the owners of El Agave in Marshall (7391 John Marshall Highway; 540-253-5084), said his restaurant is weathering the storm. Without an outdoor patio at the northern Fauquier location, owners have no choice but to limit services to curbside pickup. While El Agave offers the same menu as it did prior to the pandemic, business has declined over the past two months. Owners hope that the eased restrictions of Phase 2, tentatively scheduled for mid-June, will allow them to welcome back customers.
Happy Creek Coffee, located in The Plains (6485 Main St.; 866-447-9275), has also experienced a decline in business. Manager Mary Breeden said, "We had a lot of customers who stopped by on their way to work in the mornings and we lost that business."
In response to the pandemic, the coffee shop increased its offerings of bulk and frozen items that customers can take home and bake. "We now carry baking mixes and continue to sell bulk coffee bags," Breeden said. She is grateful for all her loyal customers who have been keeping the coffee shop afloat.
Meanwhile, Haymarket Bicycles Studio, which is collocated with the coffee shop, has had an increase in customers because of the at-home orders and renewed interest in fresh air and exercise, Breeden observed from her vantage point at the coffee counter.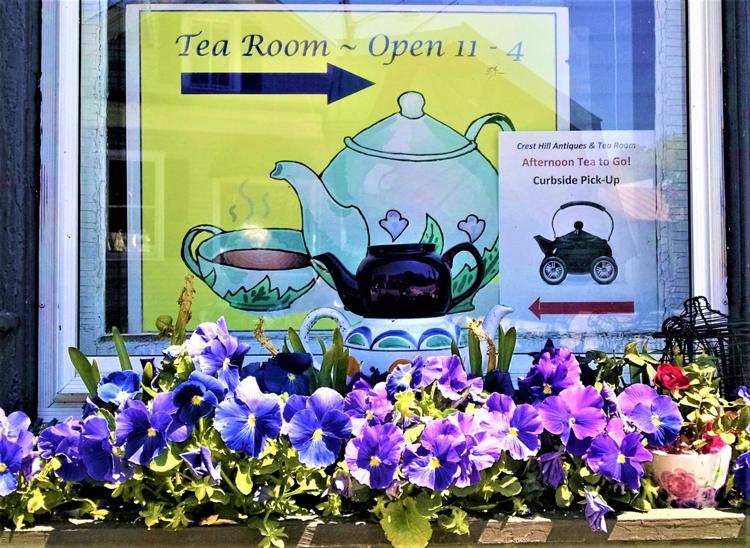 Across the street from Happy Creek Coffee and Haymarket Bicycles sits Crest Hill Antiques and Tea Room (6488 Main St.; 540-253-5790). Owner Sally DeLuca closed the tearoom to table service when at-home orders were implemented. Foot traffic that would browse the shop's line of vintage jewelry and other items has decreased as a result.
"Mother's Day is the Superbowl Sunday of tearooms," said DeLuca, "And we needed to make sure we were able to accommodate our customers this year." To continue offering a Mother's Day treat, DeLuca created a special Mother's Day Tea to Go that is available through May 31. This, combined with the take-home menu of items that would travel well, is helping the tearoom make ends meet, despite a 75% decrease in April sales from the same month last year.
"We are nowhere near the business we had before [the pandemic] but we are doing well." With Phase 2, she will open the retail store; she has already been selling items online. "We also have an Etsy store, which carries all of our vintage items. We are just going to ride it out," DeLuca said.
Ivan Melson, general manager of Grioli's Italian Bistro and Pizzeria in Bealeton (11085 Marsh Road; 540-439-3332), expressed his gratitude for the restaurant's loyal customers, "We can't thank people enough for supporting all the changes that have been implemented. We are busier than normal, and people are being extremely patient waiting for items from the parking lot in their cars."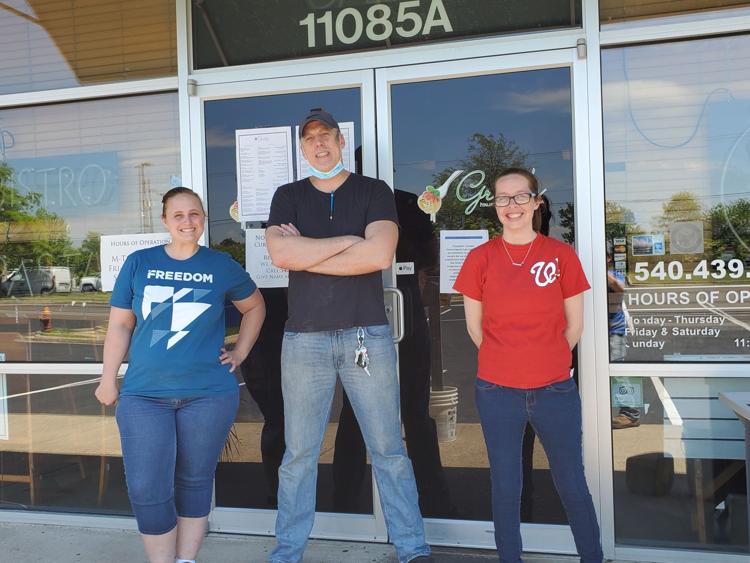 He added, "We have gotten really good at curbside and delivery and have no intentions of doing away with these services," even when the restaurant can welcome customers inside.
The staff has used this time to complete upgrades throughout the restaurant, he said. The projects should be finished before the restaurant is able to reopen its dining room.
Melson said, "We have a strong presence in the community. The owner never says 'no' to a fundraiser. All that community support has come back to us in full. You reap what you sow."
Alexandria Scadden, general manager of Morais Vineyards in Bealeton (11409 Marsh Road; 540-729-4823), is taking a slower approach to reopening the vineyard, which has been severely impacted by the pandemic.
"After we closed our doors, we were only able to offer curbside pickup and delivery. The hardest part is that the vines keep growing. The farm work doesn't stop," Scadden said. "We have also had to deal with the late frost and drastic temperature changes."
With Phase 1 in effect, the winery can open outdoor seating at 50% occupancy while maintaining social distancing, but the winery decided to wait one additional week before opening up its outdoor seating. "We know everyone is eager to get out and we want to welcome our customers back, but we want to be as safe as possible. This [past] weekend, we decided to wait and see how it went at other vineyards. It seems to have gone well and we are optimistic that our reopening this weekend will also go well," she said.
The wedding component of the business has been rescheduling events. "Our bridal couples have all been great and most are rescheduling their weddings," Scadden said. The vineyard has been able to keep all their employees during the pandemic. Morais will be open to club members by reservation for the last two weekends in May, from noon until 6 p.m.-- lawn seating only.
Brian Roeder, owner of Barrel Oak Winery & Farm Taphouse in Delaplane, said that the winery was open to the public in limited ways this weekend, which also marked the 12th anniversary of the winery's opening. This anniversary weekend, he said, "was vastly different than any that has come before."
Roeder explained that, in addition to the curbside pickup program already in place, the general public were offered limited access to the outdoor spaces at the winery, although this was not widely advertised. "We did not want to risk being overrun," he said.
New systems have been put in place to manage guests, Roeder added, and customers were pleased. "We were very happy with the results," he said.
Additionally, a new package available at the winery allows customers to purchase four hours in a outside reserved private space for up to 10 people. The package includes wine and beer, which can be taken home. Roeder said that the winery has already received 23 bookings.
On the weekend before Memorial Day and on the holiday itself the winery will be open from 11 a.m. to 5 p.m. for the general public – this service is dubbed "Barrel Oak Chill" – as well as for curbside pickups. Customers who had booked a private space in advance will also be welcomed to the winery.
"The good news is that our new guest management system worked perfectly and we will expand upon it this weekend!" Roeder concluded.