In the 1980s, New Orleans Saints fans would cover their faces in paper bags as a sign of disgust and frustration over their forlorn team.
The bag-head mentality seemed to permeate Falcon Field in recent years as the once-proud Fauquier football program went through a dreary period of seven straight home losses and a 0-13 run overall until this year.
As the calendar turns to fall, the sun is out again at Falcon Field.
In Friday's rousing 21-7 home win over rival Kettle Run, the Falcons looked reborn as they began to reverse their miserable track record against the Cougars. The Falcons beat Kettle Run for the first time since 2012, playing with a bounce in their step and an eye toward a promising future after ending an 0-19 run against Fauquier County teams (0-6 against the Cougars and 0-13 against Liberty).
"We are a great team right now. Everyone should be awake right now. We are coming with firepower," said Falcon quarterback J.T. Diehl, whose team is 3-3 for the first time since 2016.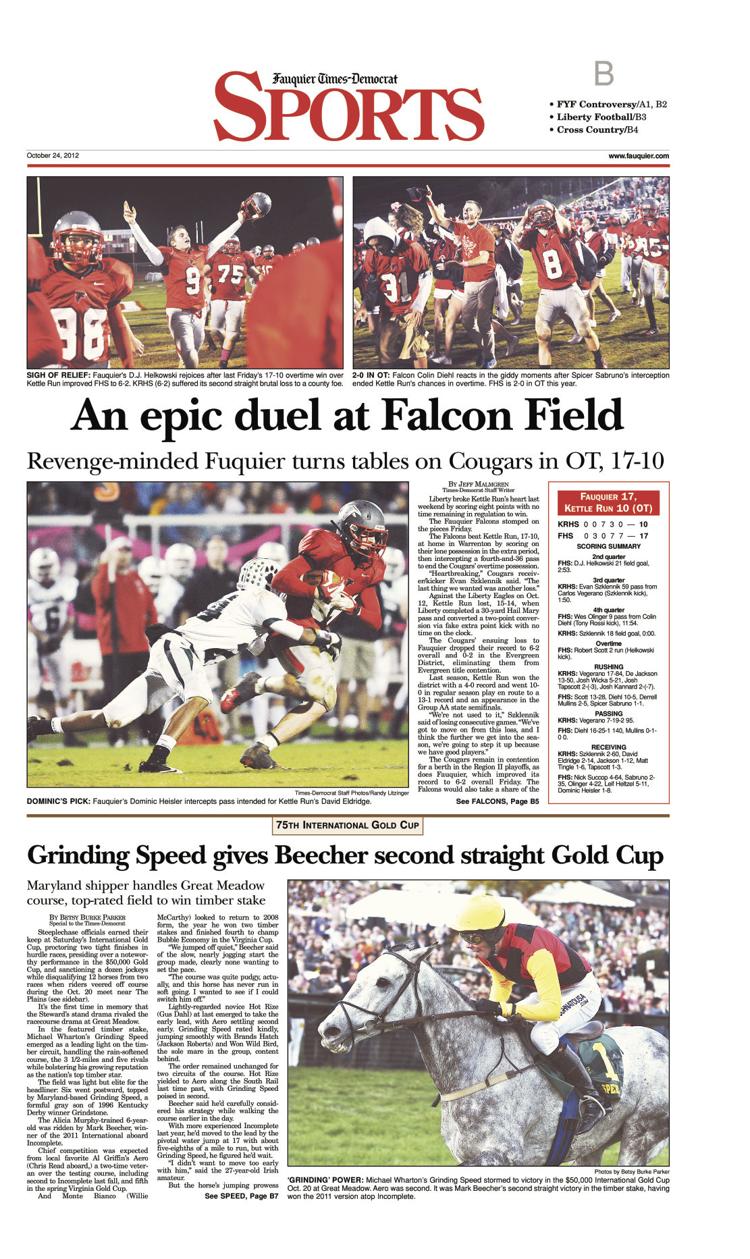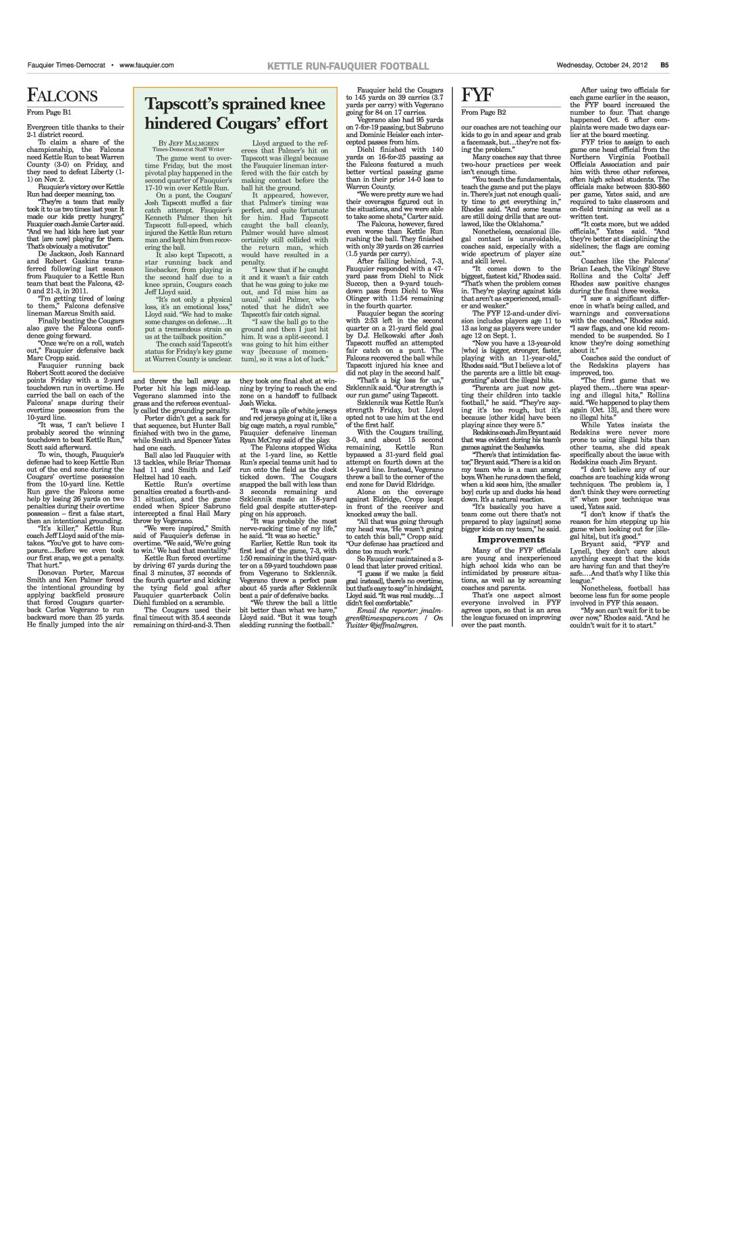 Diehl was essential to the victory. He threw a 27-yard first quarter touchdown pass to Cameron Swift as the Falcons jumped on top 7-0, then added a huge 10-yard third down run to stymie a Kettle Run comeback in the fourth quarter.
Also coming up big were Nick Shadyac, who ran 17 times for 81 yards and had the clinching 8-yard TD run with 2:03 left in the fourth quarter, and Logan Railey, who had 48-yard interception return for a TD. The Falcon defense was also stout.
While the Falcons are only 3-3, the mood was sky high Friday.
"We're getting better in all facets. The kids are hungry. It's starting to sink in and believe. And it's a fun thing to watch," said coach Karl Buckwalter.
Earlier in the week, Buckwalter motivated his kids by telling them what a win would mean to their school and families. "I told them, 'You can take six years of community frustration away in 48 minutes. It's all gone. In 48 minutes six years is wiped away. Think about that. It's not even an hour,'" Buckwalter said.
Despite battling back and getting the ball with a chance to tie, Kettle Run fell to 0-6.
"I figured it would be close," said Kettle Run coach Charlie Porterfield, who suffered his first career loss to FHS. "My message to the guys was they're gonna want to get this one. The guys that are graduating have never beaten us. Kudos to the Fauquier kids for finding way to get it done."
Sometimes the expectation of a victory puts undeniable pressure on a team. That didn't seem to bother the Falcons, who roared out of the gate with energy and confidence Friday, well-prepared to grab a lead and seize the day.
Kettle Run briefly started very well. With excellent field position at their own 44, Kettle Run ripped into Falcon territory on the first play as Brandon Strickland ran nine yards and then another five to reach the FHS 41.
Freshman quarterback Peyton Mehaffey then hit A.J. Williams on an 8-yard route as the Cougars reached the FHS 33. The Falcons stiffened, tackling Williams for a 4-yard loss on third-and-one.
On fourth down, Kettle Run kept Mehaffey on the field in shotgun formation. When Mehaffey tried to punt, Falcon Jack Gilliam was on him quickly to block it.
Fauquier took over on the Kettle Run 39 and scored in five plays as Diehl hit Swift on a 27-yard touchdown pass in the end zone. Diehl threw a high lofted ball that gave Swift time to locate and grab it above his head.
"It was flag route," said Swift. "I knew it was man coverage. I trusted J.T. to throw the ball up and he threw a beautiful ball and I just went up and got it. Touchdown. It was cool to start the game off and get momentum for the offense."
Kettle Run's Darian Lambert ripped off three strong runs for 20 yards as the Cougars again moved into Fauquier territory near midfield. But the drive again went backwards as Gilliam sacked Mehaffey for a 10-yard loss.
Two plays later, Mehaffey, under heavy pressure from a blitzing Falcon, threw into the right flat where Railey picked it off and cruised 48 yards for a touchdown. Diehl's extra point kick made it 14-0 with 1:30 left in the first quarter.
"I had the flat area and he just threw it and I had perfect timing and just caught it," said Railey, who enjoyed a clear majestic trip up the sideline to paydirt. "It was pretty cool. I've never had anything like that before in my life happen."
The elated Falcons seemed on the verge of a blowout, but Kettle Run, fueled by its rugged defense, made it a game in the second half.
The Cougars' turnaround was fueled by Cougar linebacker Jacob Osteros, who intercepted a Diehl pass setting Kettle Run up at the FHS 45.
After a Mehaffey-to-Jacob Robinson screen pass gained 21 yards, three FHS penalties got Kettle Run to the doorstep of the FHS goal. On first down, Lambert powered in for a 3-yard TD run. Will Landis' extra point kick made it 14-7 with 2:24 left in the third.
Fauquier mounted a promising drive to the Kettle Run 14, but it ended after a 14-yard loss due to a bad snap, followed by an incomplete pass into the end zone.
Bidding to tie the game, Kettle Run marched from its own 9-yard line to the Fauquier 40, where the Falcons made a huge fourth down stop.
Taking over with 5:47 left, Fauquier embarked on a precarious, but clutch 60-yard TD drive to seal the win.
With the Kettle Run bottling up runs up the middle, the Falcons relied on outside runs by Shadyac and Diehl to steadily gain ground.
The biggest play of the drive was a 10-yard scamper by Diehl on third-and-eight. Chased in the backfield, Diehl had to improvise big-time. He even dropped the ball, picked it up, and somehow managed to reach the Kettle Run 37.
"I had to act quick. There was pressure coming left and right. Once I fumbled it I was like, 'Ohh,' I just hustled and pushed forward through it," Diehl said.
Shadyac took it from there, running five straight times, the last on a 7-yard run for a TD with 2:03 left to make it 21-7 after Diehl's kick.
In Buckwalter's mind, Diehl's amazing run had saved the Falcons.
"That's a gamer," Buckwalter said of his junior field general. "He doesn't get that who knows what happens? That's the first down that took us home."
For Kettle Run, it was another competitive loss in a rebuilding year.
"We spot teams 14 points and we're not good enough to do that. We can't fall apart the first three drives of the game," Porterfield said. "Honestly, we haven't won any games but I see positives every week. Things are not falling our way right now."
Porterfield praised the winners.
"I thought Fauquier's game plan was awesome. Coach Buckwalter did a great job getting those guys ready. They played super hard. They wanted to win the game," he said.