About 15 clergy members and lay leaders from Christian communities around the country walked north along Warrenton's Eastern Bypass on Monday, part of a "faith pilgrimage of reckoning, resolve and love." Several marchers held signs reading "Black lives matter." Another sign quoted the biblical prophet Micah: "Do justice. Love mercy. Walk humbly." The procession was flanked by several Virginia State Police vehicles, and at times traffic slowed to a crawl for more than a mile behind them as the police vehicles blocked off one northbound lane.
The march, called Walk the Walk 2020, was particularly focused on what organizers see as American Christianity's complicity in racism. It is sponsored principally by three organizations: Vote Common Good, Red Letter Christians and Faith in Action. The event began in Charlottesville Aug. 20, the 401st anniversary of the first enslaved Africans arriving in Virginia. It will conclude in Washington, D.C., this Friday, the 57th anniversary of the 1963 March on Washington, during which Martin Luther King, Jr. gave his "I have a dream" speech.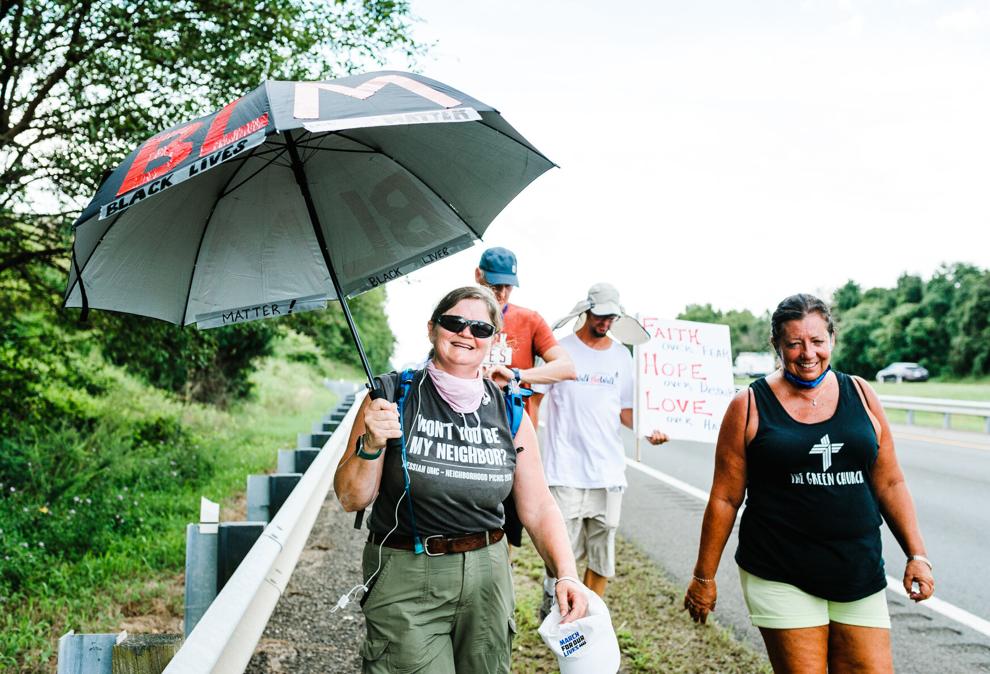 Doug Pagitt, a pastor from Minneapolis, Minn. who founded Vote Common Good, explained there is a core group of about 30 people who have marched or provided support services to the marchers every day; others join for just for a day or two. "The reason we are walking on the street is because we are trying to capture people's attention," he said. "What we've been upholding as the norm doesn't work anymore," he added, citing what he sees as systemic racial inequalities in American society.
Though not explicitly stated on the march's mission statement, Vote Common Good is clear about its opposition to the re-election of President Donald Trump; the group is looking to sway evangelical voters ahead of the 2020 election. "We believe that many Christians voters recognize that their faith calls them to oppose the policies and approaches of the Trump administration," said a statement on the organization's website.
Shane Claiborne traveled from Philadelphia, Pennsylvania, to represent Red Letter Christians in the march. He expressed opposition to the president, but said that, in his view, Trump is a symptom and not a cause. "Many of the same people who led me to Jesus led us to Trump," he said. "Donald Trump didn't change America, he just revealed America."
Claiborne decried what, in his view, was a tendency toward "white fragility and white supremacy" among Christians in the United States, a problem he sees as having manifested itself in many white Evangelicals' support for the president.
"For us to say 'Black lives matter' doesn't mean white lives don't matter," he added. "We are just trying to affirm what for 400 years our country has neglected."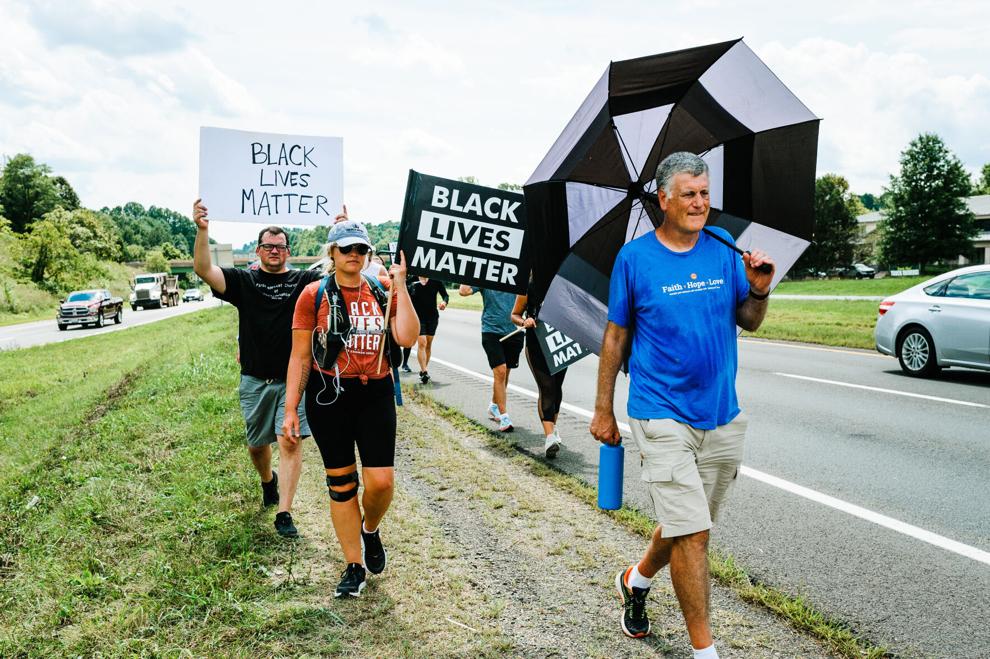 Troy Jackson, of Columbus, Ohio, is a former pastor and currently works for Faith in Action. After the death of George Floyd in Minneapolis, Minnesota, he said, he participated in a conference call with Black clergy members. "Black clergy should not have to say a damn thing," he quoted one of the call's participants as saying. "Right now," he added, "it's time for white clergy to step up."
"Many of us, and particularly our white Christian traditions, have been complicit with racism through colonization, slavery, segregation, lynching, and racialized mass incarceration," read a statement on the Faith in Action website. "Collectively, we have allowed our fear to give way to silence, allowing racist theologies and praxis to find welcome in our places of worship and our communities."
"As an act of reckoning with our heritage of white supremacy and anti-blackness," the event's website urges faith communities to "publicly repent" for past complicity with racism, to build "justice teams and "racial justice initiatives" and to "financially support Black and Indigenous led efforts."
The document urges elected officials to pass a "new Civil Rights Act," to "fund reparations efforts for Black and Indigenous communities" and to redirect funds "from the criminal justice and immigrant detention machine" to pay for expanded access to education, transportation and health care in minority communities.
When the march reaches Washington, D.C. on Friday, the event's sponsors have encouraged participants to join an anti-racism demonstration organized by the Rev. Al Sharpton's National Action Network to commemorate the 1963 March on Washington.