Eric Maybach won the election Tuesday for Fauquier County commissioner of the revenue over Angela Smith, taking a little more than 63 percent of the unofficial total vote.
Maybach received 14,031 votes to 8,058 for Smith, with 56 write-in names, according to unofficial returns from the Virginia Department of Elections.
The commissioner of revenue is the chief tax-assessing official in the county who maintains property tax and business tax records and provides tax revenue projections.
Reached at a post-election celebration at the Black Horse Inn, Maybach said he was feeling "gratitude for the county and all the support I had. My family's support and my wife's support was absolutely amazing."
Maybach said he delivered "a well-received message" during his campaign.
"I tried to run a clean campaign. This county respects that," Maybach said.
Maybach carried all 20 precincts in the county and won the absentee vote count.
Maybach raised $33,306 for his campaign this year. Smith raised $47,506 -- $45,000 was her own money.
Maybach won endorsements from Del. Michael Webert and Scott District Supervisor Holder Trumbo, among others.
Maybach cited his 14-year background in banking and financing. He works for a vehicle financing company. He noted his supervisory and mentoring of new staff, management of multi-million portfolios, setting budgets, providing growth projections and analyzing trends.
Maybach beat an opponent for the Republican nomination in June with nearly 70 percent of the vote. Smith then entered the race as an independent.
Both Maybach and Smith have deep family ties in Fauquier County.
Smith is a realtor and former events and catering business owner. She formerly headed the Fauquier Chamber of Commerce.
Smith called herself a "numbers nerd" rather than a politician. She cited her business experience and knowledge of accounting and finance.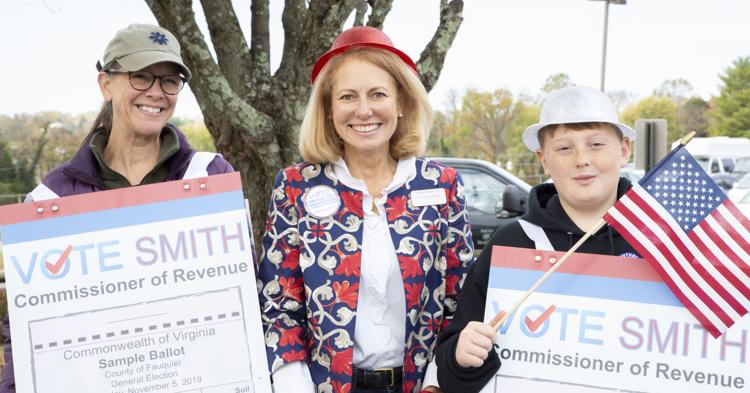 As commissioner of revenue, "you want to make sure you are being fair and accurate," she told the Fauquier Times earlier this year. I do think it's important to have someone who has management and leadership experience and knows how to run an office."
Maybach succeeds Ross D'Urso, who opted not to seek re-election after serving for 24 years in the post; he served for five years before that as chief deputy.
Maybach takes office on Jan. 1.
Reach James Ivancic at jivancic@fauquier.com