Most Warrenton Town Council members expressed openness Tuesday to the idea of pursuing an electric-scooter rental program in town. The ventures have become popular in many Northern Virginia cities and towns in recent years, and a company approached Warrenton town officials this spring about implementing a program.
Bird, a California-based company that runs electric-scooter and bicycle rental programs in dozens of cities around the world, approached Warrenton town officials in April; an inter-departmental work group led by Warrenton Police Chief Mike Kochis has been studying the framework proposal since May. Bird already runs scooter rental programs in Alexandria, Arlington, Fairfax and Washington, D.C.
The electric scooters would be rented using a smartphone app and dropped off at "parking corrals" around town, although there is no need to "dock" the scooters at a specific point, according to an explainer document published by the town's work group. A company representative would be responsible for recharging the scooters. Under state law, rental scooters may not have a top speed over 20 miles per hour.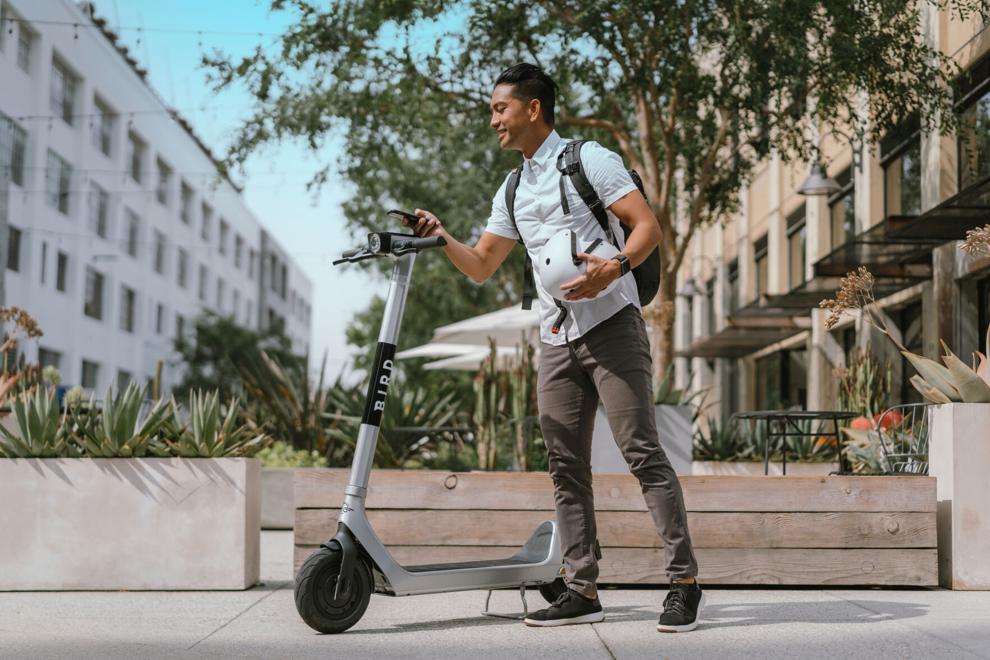 The issue at hand is not whether to allow electric scooters in town; the town has no authority under state law to ban electric-assisted scooters or bicycles outright, and their use is permitted by state law on streets with speed limits of 25 miles per hour or less by anyone 14 years or older.
Beyond those constraints, the town has some latitude to regulate the use of electric scooters in general. Currently, town of Warrenton ordinances don't prohibit riding electric scooters on sidewalks, for instance, but the town council could restrict using electric scooters on some or all sidewalks. Electric-powered vehicles — including scooters and bicycles — are already prohibited on the county-owned Warrenton Branch Greenway.
An agreement with a rental company like Bird could come with specific restrictions on its devices. Bird's software, for instance, can make its rental scooters inoperable in certain parts of town.
Alexandria entered into agreements with several scooter-rental companies, including Bird, beginning in 2019. The next year, the city banned the use of electric scooters on all sidewalks. Similarly, the city of Fairfax bans the use of electric-assisted vehicles on all sidewalks and trails. Alexandria also worked with the companies to make rental scooters inoperable in particularly congested areas.
"We're already beginning to see these scooters on our streets," said Mayor Carter Nevill on Tuesday. "We are beginning to see private ownership; they are becoming more affordable." Even if the town doesn't ultimately pursue an agreement with Bird for a large-scale rental program, he added, "I think we need to be having this discussion about how we are going to address — and be welcoming to — [electric scooters]."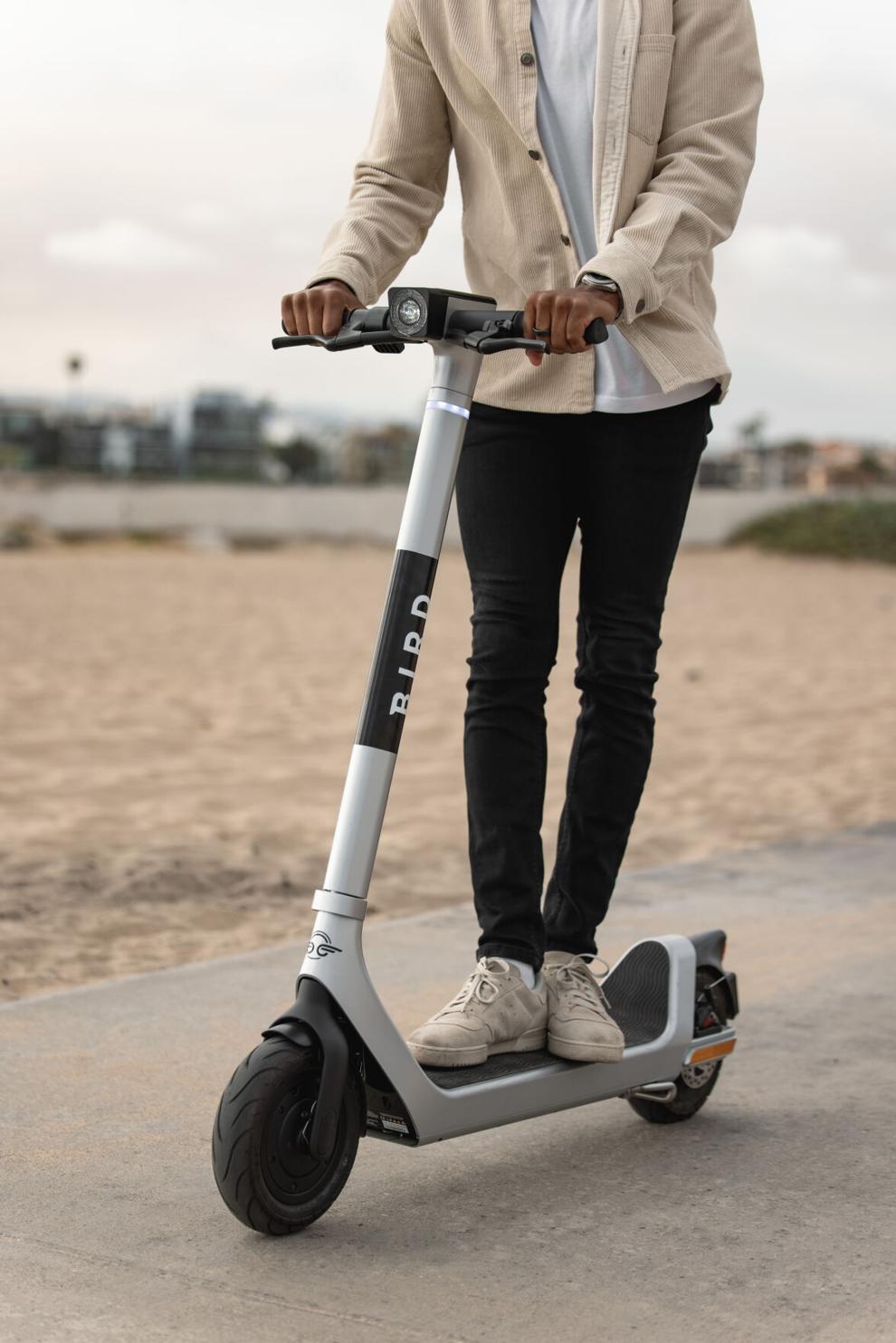 Most town council members ultimately agreed Tuesday morning to explore further an agreement with Bird and to look at regulations about electric scooters more broadly. "This is not a commitment to fulfilling this agreement [with Bird] or bringing these scooters to town," said Nevill. The next step is to have Bird representatives present more details about what a rental program could look like, he said, and explore legal issues like liability.
"This is a reality we have to address," said Nevill. He pointed out that a business like the Bike Stop, for instance, could rent electric scooters or bicycles without any approvals needed from the town, emphasizing again that many people own electric scooters already.
"We're going to have to do it one way or another, whether it's Bird or private individuals," said Town Attorney Whit Robinson of exploring a regulatory framework for electric scooters in general. He said he needs to speak with attorneys from other localities that have already implemented a scooter-rental program like the one proposed by Bird.
If the town does pursue an agreement with Bird, Robinson said, the company would most likely need to use public spaces for its "corral parking" areas, giving the town leverage to negotiate specific details of the rental scooters' use.
Police chief answers questions
Chief Kochis answered questions from council members Tuesday morning. Having worked for the Alexandria Police Department before coming to Warrenton, he has direct experience with a scooter rental program like the one proposed by Bird.
Kochis said that at first, Alexandria and other cities had many complaints about scooters being left in random places.
But companies like Bird have since addressed this issue, he said, with the use of designated drop-off points and by hiring "fleet managers" to be the company's point of contact to address any issues with scooters being dropped off at inappropriate locations. (According to Bird's website, the company's app has a built-in feature to "submit complaints directly to our team and … address any issues that arise right away.")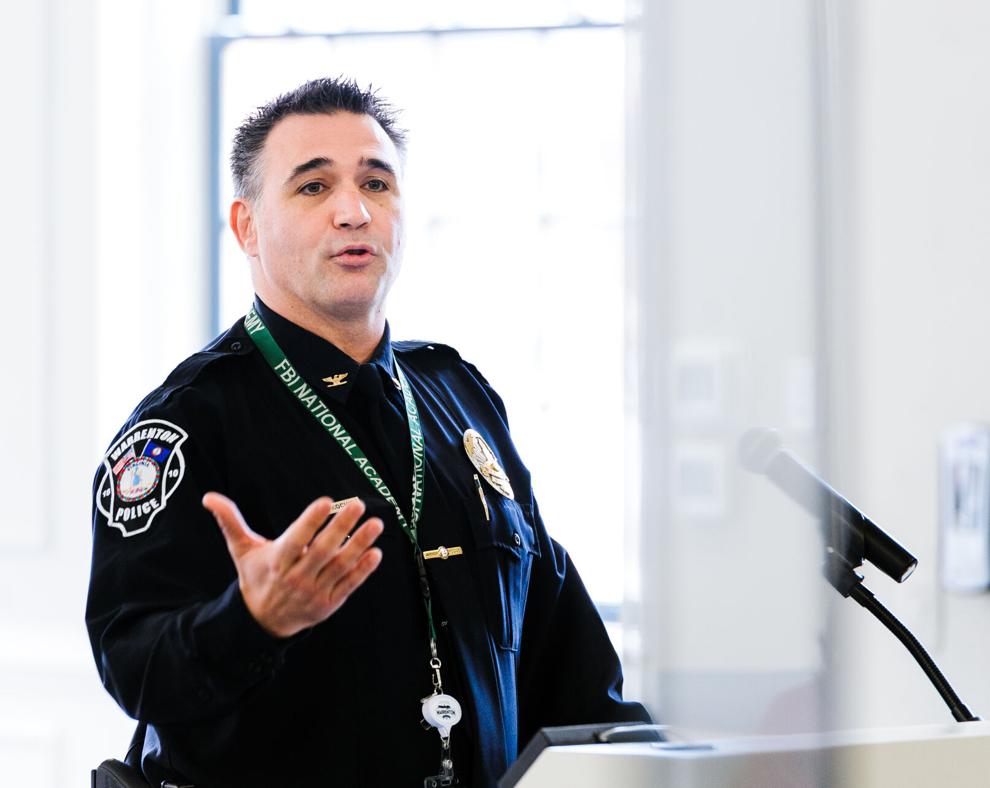 "This new program — I've spoken to Manassas city, Fairfax city; I've spoken to the chief in Alexandria — I think that's changed with this new fleet management program," said Kochis. "I think that model seems to work much better than the one they used to have."
Kochis also addressed safety issues. In response to a question from Councilman Bill Semple (Ward 2), who said that his friends in Washington, D.C. say that electric scooters are a "disaster" and dangerous for pedestrians, Kochis said that his discussions with police chiefs in the area do not indicate a high level of crashes involving the scooters.
"They have not seen a lot of [crashes]," said Kochis. "The numbers don't stand out."
Because large-scale electric scooter rental programs are relatively new, there is little long-term research on the issue. A 2018 study commissioned by the Austin, Texas health department found that 14.3 crashes per 100,000 trips occurred involving rental electric scooters, though the study's authors said that it "likely underestimates the prevalence of e-scooter related injuries."
Kochis did say that allowing the scooters on sidewalks would most likely be problematic, pointing to a 2017 "walkability audit" that found that many town sidewalks were too narrow. That study found that many sidewalks "barely [meet] accessibility standards, which makes using a stroller or wheelchair difficult, if not impossible."
Educating the community on the allowable uses and best practices of the scooters would be key, said Kochis. "When you look at the [electric scooter] programs that are out there and have really been successful, they did a really robust education campaign."
The town work group report recommended "an education and communication campaign be initiated to include familiarity with the devices" if the council decides to pursue an agreement with Bird, including opportunities for members of the public to try the scooters for themselves. "This will also serve as a way to receive feedback from the community on the program," said the work group's report.
Council members generally supportive
"We are either a community that continues to say 'no' to everything, or we are a community that lives up to our comp plan," said Vice Mayor Sean Polster (at-large), referencing the comprehensive plan's emphasis on promoting transportation options beyond motor vehicles in town. "I'm 100% on board."
Polster said that he explored the possibility of a rental scooter program several years ago but was told that Warrenton was too small to sustain that model. "I think that [Bird] reached out to us is beneficial. … I think there are opportunities here."
Councilwoman Heather Sutphin (Ward 1) agreed. "These things I think would be a really good option for folks who have a hard time getting around," she said, referencing her husband's mobility issues.
Both Sutphin and Polster said that having rental scooters readily available would capitalize on already-successful events like the weekly farmers market, encouraging people to explore the town and businesses. Polster said he would like to explore allowing golf carts on roads in the town in the future.
Councilman Bill Semple (Ward 2) was the only member to express outright opposition to the idea. "We get these gadgets — it's another silly way to do something," he said, expressing concern that teenagers would be some of the primary users of the scooters, that the scooters would interfere with pedestrians and that people would use the scooters on the Warrenton Branch Greenway despite the prohibitions on electric-assisted vehicles there.
Polster later addressed Semple's concern about teenagers. "I have no doubt that this will be one of the most popular modes of transportation that will both benefit them and our community. … At the end of the day, they are the next generation," Polster said. He suggested that the town could do specific outreach to students at Fauquier High School if the council ultimately decides to move forward with the Bird program.