Hospitals practice regularly for disasters or disease outbreaks that bring a flood of patients to their doors. But those drills are predicated on the assumption that it's temporary – that the dire event will soon pass and operations return to normal.
The coronavirus pandemic is not like that.
"The only thing we didn't practice for is that this isn't going away anytime soon," said Fauquier Health CEO Chad Melton. "Everyone fully expects that 12 to 18 months from now, we're still going to be dealing with COVID-19."
That will mean the extra precautions and screening of those who come to Fauquier Hospital and the adjacent long-term care facility, Fauquier Health Rehabilitation & Nursing Center, will be the new normal.
To date, Fauquier Health has identified seven employees who have tested positive for COVID-19. In early April, three employees were identified; Fauquier Health worked with the Virginia Department of Health (VDH) to notify and test all exposed staff members who came into contact with these individuals and they self-isolated while waiting for test results. At that time, all tested negative for COVID-19.
Four more employees have tested positive since then, and the same procedures were followed. Sarah Cubbage, Fauquier Health spokeswoman said that if testing is indicated, it is done in accordance with VDH and CDC guidelines.
Fauquier Health is the county's largest private employer with a staff of 1,100 and 200 physicians for the 97-bed acute care hospital and 113-bed nursing home. The health system also runs an assisted living facility, The Villa at Suffield Meadows, where similar precautions are in place.
More than two months into the maelstrom, Fauquier Health selected a cross-section of staff to respond to questions in writing. They all expressed pride in how they and their institution are meeting the challenge -- and gratitude as well, for an outpouring of community support including donations of masks, gift cards, lotions, pizzas and other treats.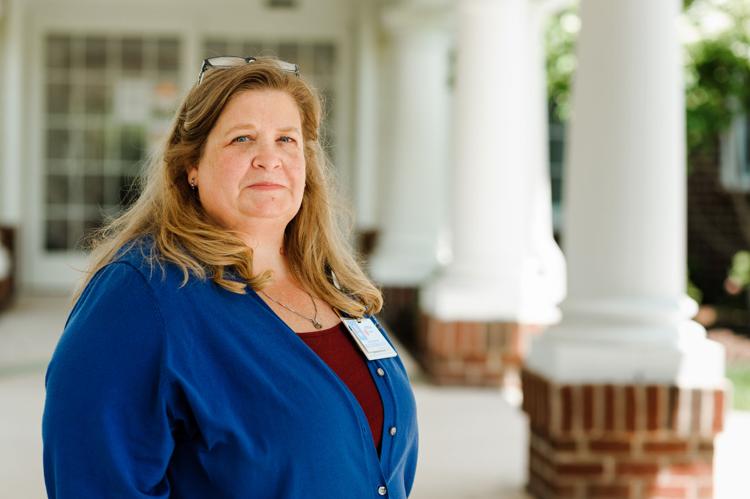 "It's humbling," said Angela Hurst, the nursing home's dietary director. "The generosity of our families, local businesses and community groups has been overwhelming."
Across the country, the pandemic has been unsparing of the elderly patients in nursing homes and some caregivers as well. In Virginia, 190 outbreaks of COVID-19 have occurred in long-term care facilities, resulting in 4,404 cases and 681 deaths. But not a single patient nor staff member at the Fauquier home has contracted COVID-19 thus far, Melton said.
"We got ahead of it very quickly," he said in an interview. "We went to a no-visitor policy over a month ago, started screening everybody at the door, started taking temperatures well before [others] did. We started masking our staff right off the bat. We don't allow visitors or any vendors unless it's absolutely critical. Deliveries are left at the loading dock area and staff bring it in."
Long-term care workers often work at more than one facility. FHRNC administrator Katy Reeves said she has asked employees to choose only one place to work during the pandemic to prevent cross contamination.
Hurst knows that the no-visitor policy is tough on the families of residents. She said, "My heart goes out to the families of our residents .... Many residents have dementia and limited understanding of what is happening and we as staff have taken on the task of trying to fill this void. Video chats and phone calls are a way to allow those visits to occur, but it isn't the same as being with your family. I keep trying to imagine what it would be like to have my mom in a community senior care setting and not be able to walk in and see her."
Elective surgeries
Gov. Ralph Northam's initial executive order in March shut down elective surgeries statewide. Fauquier, which normally sees 500 surgeries a month, saw that volume drop 78 percent. The hospital furloughed 61 employees.
With Virginia, like other states, starting to open up and allow elective surgeries, Melton believes hospital operations will climb toward 50 percent of normal, then reach 75 percent by the end of June; over the summer it could rebound "back to where we were previously."
"That's our goal, but we'll see if it happens or not. There are a lot of variables," said Melton, including the fact that a lot of those in the community who lost their jobs may also have lost their health insurance.
The hospital is taking a cautious approach to who will be admitted for elective surgery, he said. It requires prospective surgical patients to test negative for COVID-19 and adhere for seven days prior to the Virginia Department of Health's "safer at home" guidelines, which requires minimizing trips outside the home and contact with non-family members. Surgical candidates must also check their temperature twice a day during this seven-day period and report temperatures higher than 100 degrees to their provider.
Employees' concerns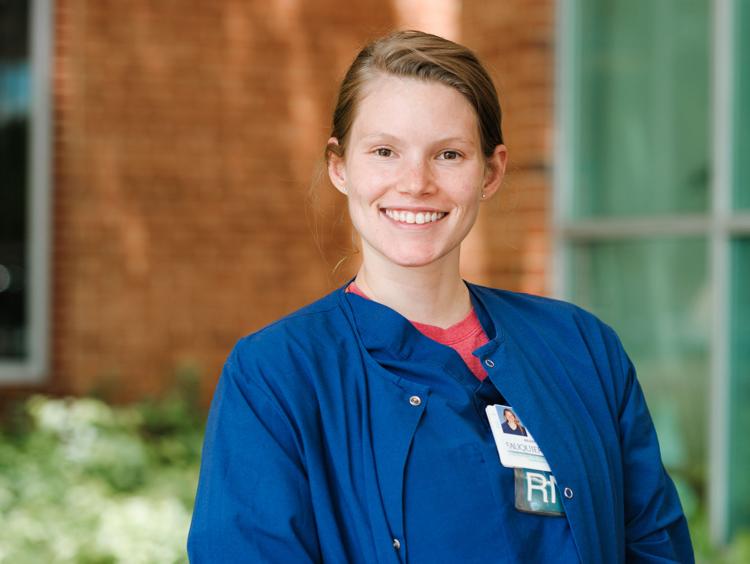 Nurse Shannon Vooys has less to do these days in the cardiac catheterization lab, where she normally assists cardiologists with angioplasty and stent procedures. So instead, she helps screen patients, visitors and employees at one of the two entrances the hospital has left open.
"As a pregnant nurse, I am of course worried about catching the virus," said Vooys. Apart from her husband, she has "not seen my friends or family in well over two months."
Sarah Bales, a nurse who directs the Wound Healing Center, said, "Our job during the pandemic is to maintain the healing process and health of our medically fragile patient population, which, in turn, keeps them out of the ER, urgent cares and hospital settings."
"My team brainstormed and implemented changes to … provide care through alternative and creative methods," including telemedicine, for those whose regular visits to the wound center were interrupted, she said.
Environmental Services supervisor Leona Grandy, who's worked for Fauquier Health for 17 years, said her team has stepped up cleaning frequency and placed special emphasis on sanitizing "high-touch areas such as chairs, desks, handrails and elevators." They scour operating suites daily even if no surgeries have been performed.
Grandy, too, has been moved by the outpouring of public support. "The donations, encouragement, thoughts and prayers are astonishing," she said.
If there is a uniform message that the hospital workers have for Fauquier residents, it's that they want them to wear masks, practice social distancing and avoid spreading the deadly virus unwittingly.
They practice what they preach.
"Given the fact that the population we care for has the highest mortality rate, I am very aware of my actions and do everything possible to limit being out in public and to take the proper precautions," said the nursing home's Hurst. "We would be devastated if [COVID-19] was brought unknowingly into our senior care communities."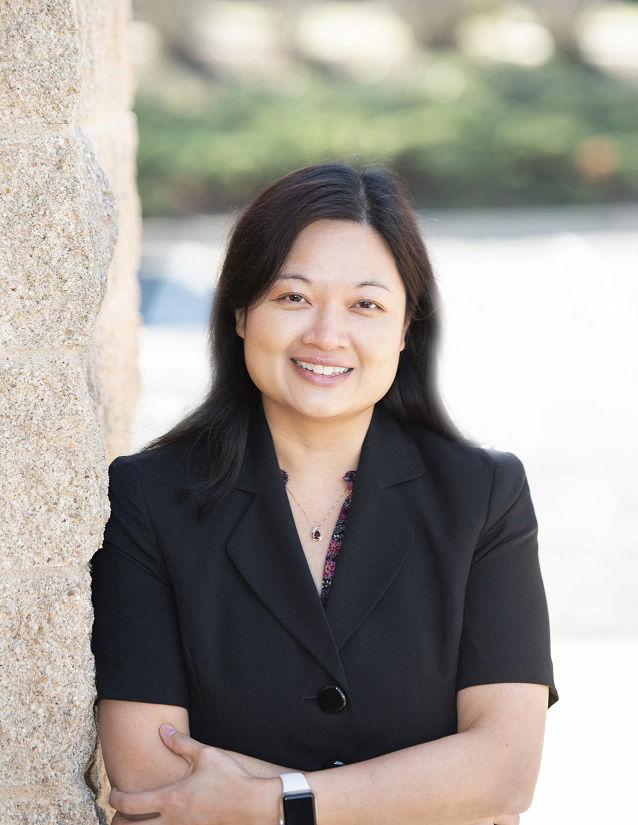 Dr. Tam Ly, an infectious disease specialist, said her workload has shifted. "I still see hospitalized patients, wound clinic patients and patients in my clinic," she said, but "maintaining preparedness and providing the most up-to-date care for our COVID-19 patients are a big part of my daily responsibilities now."
"My family is very supportive of my work, but in turn, I also do not want to bring any infection home," said Ly. She checks her temperature daily, washes her hands even more than she always did, changes clothes before going home, "and I avoid unnecessary interactions with my elderly family members and those who are immunocompromised."
Bales agreed, "Fortunately, our families understand the risk we take, COVID-19 or not, when providing medical care to patients with a multitude of communicable diseases.  All we can do as a family is follow the recommended guidelines to prevent contracting the infection," she said.
Lab technician Kim Lomax said the work the phlebotomists and technicians do is "very hands on" with patients. Everyone already wore gloves and coats. Now they're masked and "if any testing would result in aerosols, we perform those under the safety hood," she said.
No one leaves their cares behind at work.
"I have a young son at home who understands what is going on and even he is worried and frustrated dealing with this situation, but we try to take it one day at a time and be thankful we get to spend more time together," said Lomax.
Apart from going to her job, Sarah Mawyer, a supply management worker who makes sure nurses have all the supplies needed to care for patients, limits "my trips in public to only when absolutely necessary."
The staff has the gratitude of the public and admiration from their boss.
"I do appreciate our team. It's been very hard and stressful on them, taking care of patients and showing up every day," said Melton.