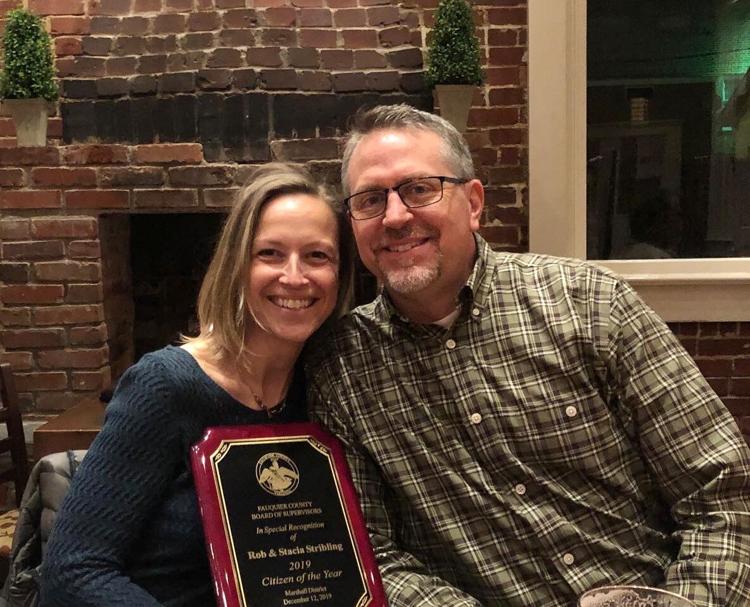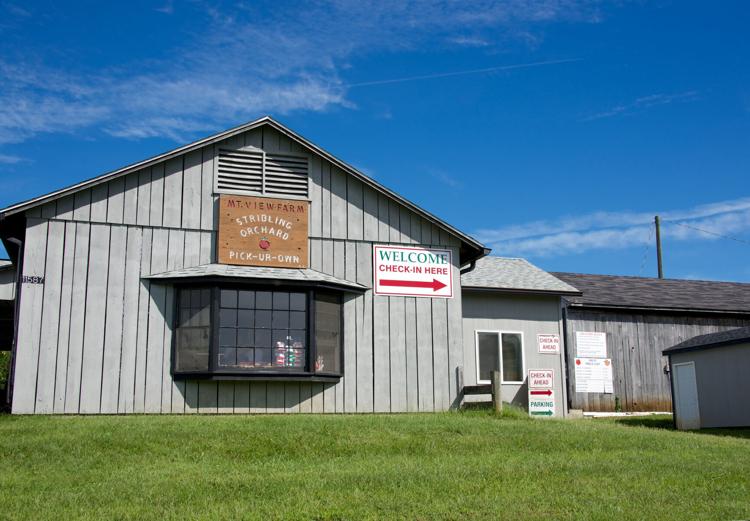 Since 1819, the Stribling family has worked the land. The first Robert Stribling was also the town doctor, and in the ensuing two centuries, an unbroken chain of Roberts has never wavered in their commitment as stewards of the land.
For over half a century, tens of thousands of Virginians have picked fruit and picnicked at the pastoral setting. The farm produces pick-your-own peaches and apples with 35 of the acres devoted to apple growing. A bakery, honey, jams and jellies round out the offerings.
Today, Robert Stribling VI, or Rob, and his wife Stacia, both 47, carry the legacy forward. But the cost of the operation has been overwhelming in this "year of disbelief." There is not sufficient revenue to make it a full-time endeavor.
Rob Stribling is a network engineer for Northup Grumman, and Stacia Stribling is an assistant professor at George Mason University. The couple and their two children live on the farm.
Three catastrophes conspired in 2020 to highlight how the delicate balance between profit and loss can shift suddenly. First, COVID-19 struck, then a killing frost devastated the orchard. Finally, a major fire destroyed a large barn and other buildings, housing all the signage, tools and machinery needed to operate the business.
Practicing sustainable agriculture is a challenge but has been achievable for the Striblings. But running a sustainable business given such repeated blows is not. The farm was compelled to close for the entire year.
While the picking season runs from July to November, operating expenses of up to $15,000 a month continue year-round, with or without paying customers. The farm's projected losses could total more than $200,000 until a robust revenue stream returns.
Hitting brick walls
The pandemic was the first chapter in this Book of Job tale. While everything in the economy went into a swoon in March, the farm wouldn't even be open for business until summer, so no loss of revenue occurred at first.
With people eager to escape the lockdown, it was hoped that a successful season could be achieved. "We probably had the best spring we've ever had," said Stacia Stribling. "The trees were gorgeous. We had an amazing bloom, and the tiny apples were starting to grow. Then the frost hit."
Perhaps a farmer's greatest fear is frost. In one chilling night, an entire harvest can vanish. And the timing of the natural disaster is brutally exquisite. Just as earth's solar energy surges with warmth necessary for rebirth, a layer of cold air silently descends, killing the emerging life.
"We lost about 98% of our fruit," said Stacia Stribling. "With our incomes, we knew we'd be OK as a family. The question was whether the business could survive."
One option was opening the farm for picnicking. "People were crying for places to be out and about. They were tired of quarantining and being stuck in the city. So, we started planning how we could stake out an acre per family and offer up to a hundred sites for picnicking. We planned to offer honey, jams, jellies and baked bread." Selling wine produced by nearby Naked Mountain Winery was also considered.
Then the news broke that the couple's two young children were not going back to school. Managing reservations related to picnic sites would be difficult "because, in addition to teaching two graduate courses at George Mason, I would now be teaching a first-grader and third-grader at home," said Stacia Stribling.
Two varieties of apple trees survived the frost: Rome and York. So, the couple shifted to yet another idea: open the orchard for one weekend in October and sell what small number of apples had survived the frost. Fall weekends typically see thousands of people come out to the orchard.
"Once the plan was in place and we were ready to go with it, we had an electrical barn fire in September." The 70-year-old barn housed all the orchard supplies and equipment, including signage, picking poles, bags, three donkeys and two pregnant goats. All the animals were rescued.
A nearby small storage shed and separate workshop also went up in flames.
"As the structures burned down, we crumbled into a ball on the ground and cried," remembered Stacia Stribling. Insurance covered the cost of the destroyed structures and their contents but left the family with zero options for covering operating costs until almost a year into the future -- assuming all went well in 2021.
The Striblings are working now with their cousin Jim Stribling, who raises cattle on the farm.
"He approached us about selling a quarter, half and whole cows this year. Most of the money raised will go to the cost of raising the cows, but we are hoping to build up this business. We will be launching the order site this month," said Stacia Stribling.
GoFundMe
When it was apparent the farm could not even proceed with a one-weekend picking event, the Striblings posted the news on its Facebook page about the season's fire and closure. "The response from the public was just overwhelming," said Stacia Stribling.
"It was so heartwarming that all of these people were supportive and understanding. They wanted to know if we had a GoFundMe page. 'If you do, we will donate,' they said." GoFundMe is a for-profit crowdfunding website that allows people to raise money for life challenging circumstances like accidents and illnesses.
"My sister, Jennifer Blessing, who lives in Florida, said, 'Sissy, you need to create a GoFundMe page. All these people want to help you.' Rob and I felt a little funny about it since insurance was paying for the lost buildings."
Her sister reminded her of the ongoing operating costs that could go well into the six figures. Blessing established the funding page.
Ron Stribling echoing his wife's thoughts said, "The support has indeed been overwhelming. We will be back, one way or another."
Contributions totaling more than $8,000 have been received to date; the goal is $25,000. Anyone interested in helping this farm family in their hour of need can visit www.gofundme.com/f/help-support-stribling-orchard.