Three Marine Corps veterans and a medical doctor – R.D. Huffstetler, of Charlottesville; John Lesinski, of Washington, Virginia; Claire Russo, of Earlysville, and Cameron Webb, of Charlottesville - are competing to become the Democratic Party's nominee for the 5th U.S. Congressional District. An open primary will be held on June 23 and the winner will go on to face the Republican nominee in November.
The 5th Congressional District covers the largest geographic area of any of Virginia's 11 congressional districts, stretching from Fauquier County to the North Carolina border.
First-term Republican Rep. Denver Riggleman currently represents the district in Congress; he is being challenged for his party's nomination this year by Bob Good, a former Campbell County supervisor. The district's Republican committee will hold a convention next month to choose its nominee.
Republicans have won each congressional election in this district since 2010. Since then, Democrat Leslie Cockburn came closest to reversing this trend, receiving 47% of the vote in 2018. Donald Trump won 55% of votes in the district during the 2016 presidential election.
---
R.D. Huffstetler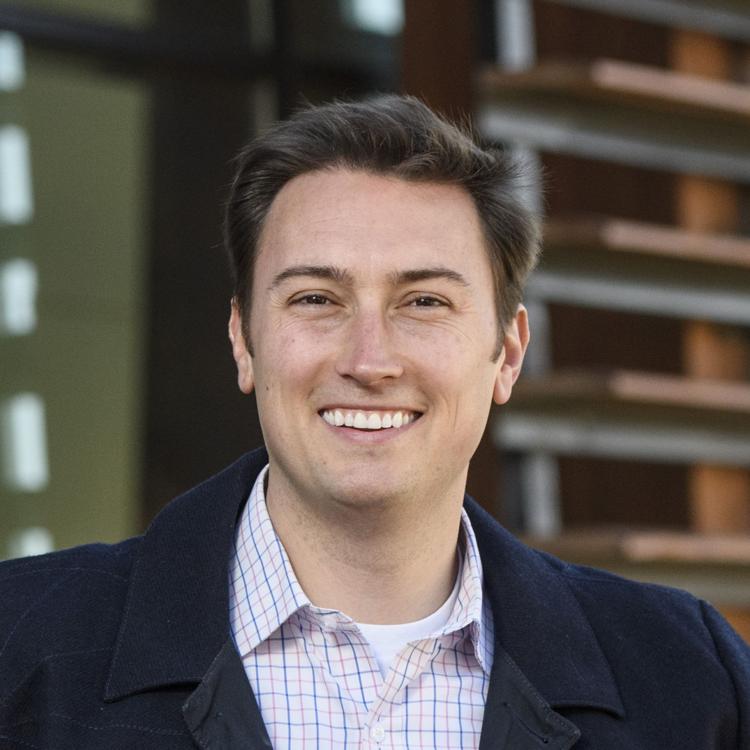 Roger Dean "R.D." Huffstetler grew up in North Carolina in a union household. "I'm the only candidate in this race that's from the working class and for the working class," he said in a May 21 interview. He was the first in his family to graduate college. "I was brought up to revere people who work with their hands," he said.
After graduating from college, Huffstetler enlisted in the U.S. Marines and afterward attended Harvard Business School through the G.I. Bill, eventually founding a technology company in Silicon Valley, California. He and his family moved to Charlottesville in 2016.
Beyond policy issues, he said that he is confident that that he can relate to a wide swath of voters in this predominately rural district. "We want to invite the Trump voters in Campbell County and Bernie [Sanders] supporters in Charlottesville," he said.  
Like the other candidates for his party's nomination, Huffstetler supports adding a so-called "public option" as a way to expand access to health insurance. In this model, the federal government would offer a health insurance plan on the public market alongside private plans. This is especially urgent for rural areas, he said, because often there is little competition on the insurance marketplaces created by the 2010 Affordable Care Act.
He said another effect of this model would be to reduce the reliance on employers for health insurance, which would remove barriers for those wishing to start their own companies. Beyond issues specific to health insurance, Huffstetler said that he would support legislation putting a price ceiling on prescription drugs and would support allowing individuals to "buy in" to Medicare early.
He argued that access to health care is also key to combatting the opioid epidemic; Huffstetler's own father died of an opioid overdose. "Every health care program in America has to offer evidence-based treatment for addiction, he said.
He was also careful to emphasize that health care was not just about insurance but also the availability of quality health care providers, an issue especially pertinent in rural areas. He talked about the correlation between the distance to the nearest hospital and fetal outcomes, an issue with which he is especially familiar; Huffstetler's wife is an OB-GYN.
These measures would build on the Affordable Care Act, he said, and he would not support upending the system entirely. Consequently, he would not necessarily support moving ultimately to a single-payer system, which would provide universal coverage through a single government-run plan.
The lack of broadband internet access in many rural communities is another important issue for Huffstetler. A lack of internet access leaves people in rural communities behind, he said. "I'm extremely passionate about this. Nobody in this country should be treated differently because of the color of their skin or because of their ZIP code."
He argued that while the federal government has a role in incentivizing telecom companies to expand their networks to rural areas, local governments would also need to play a role to raise capital for rural broadband projects.
On climate change, Huffstetler again emphasized a more local and cooperative approach. "We need to incentivize farmers to be a part of this discussion," he said. This would be accomplished, he argued, through carbon sequestration programs; he envisions progressive cities partnering with rural landowners.
On education, Huffstetler said that an emphasis on workforce development – that is, education geared toward a certain job – is central to reducing the overall amount of student debt and driving economic growth, adding that local employers should consult on curricula.  
---
John Lesinski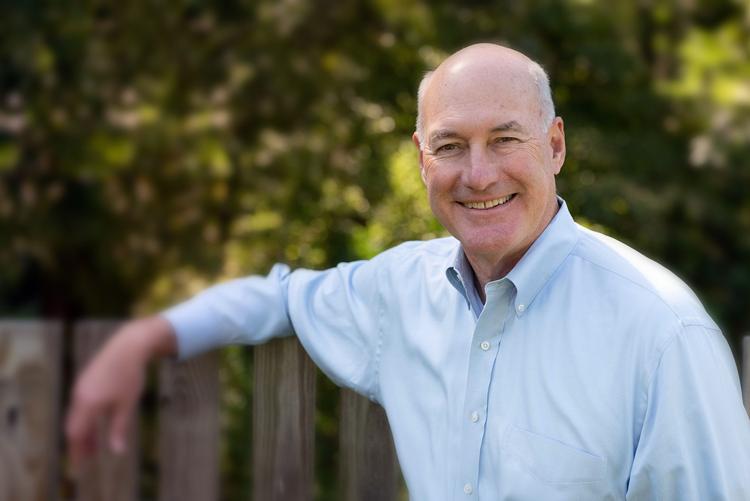 John Lesinski, who lives in Rappahannock County, is the only candidate who has previously been elected to public office. He has served on the Rappahannock school board and on the board of supervisors. "I really think that you have to bring a body of work and a certain experience to represent people in Congress," he said in a May 7 interview. "I really feel that Congress shouldn't be your first rodeo."
A retired businessman and a retired career officer in the U.S. Marines, Lesinski argued that he will appeal during the general election to people in rural areas who might not otherwise vote for a democrat. "I feel that now there are moderates and independents who would consider voting across the aisle, who feel left behind by their party," he said.
Fundamentally, Lesinski's appeal is that improvements to society can be made within existing political and economic structures, and that he is well-positioned to work with people who hold more conservative views to move forward on important issues.
On health care, Lesinski's argument is similar to the other candidates in the nominating contest. He said that his first priority would be to add a public health insurance option; the economic disruption caused by mass layoffs, he said, mean there is a political will to do so. "This is a chance to do a major reset, to fast-track a public option and get people on it."
Lesinski expressed support for moving toward a single-payer health care system eventually, although he argued that building on the Affordable Care Act would be more politically feasible in the short term. Regardless of the mechanism, he said, "I believe health care is a right, not a privilege."
Climate change, he said, is a national security issue as well as an environmental one, claiming that as the crisis worsens it will create a parallel refugee crisis and spark armed conflict around the world. Although some regulation of emissions is needed, the federal government's role is primarily one of leadership, he said. "If the federal government sets the direction, I believe the markets will respond."
Infrastructure – and in particular broadband Internet – is another central point in Lesinski's message. He argued that a domestic program similar to the so-called Marshall Plan – a $130 billion (in 2020 dollars) bill passed in 1948 to rebuild western Europe after World War II – is needed to stimulate the economy and provide an environment in which commerce could thrive.
Expanding access to broadband Internet in rural areas – he compared his proposal to the electrification programs of the 1930s – is vital to attracting businesses and industry. Additionally, he said, Internet access will also equate access to health care as the telehealth model becomes more widespread.
He said he supports "on-shoring or near-shoring" of some manufacturing processes, especially for items like personal protective equipment for health care workers. This, he said, would shorten supply chains and create manufacturing jobs in the United States.
But he was careful to emphasize his support of a free-market economic system. "I'm not an isolationist. I'm a capitalist. I'm a global markets guy."
---
Claire Russo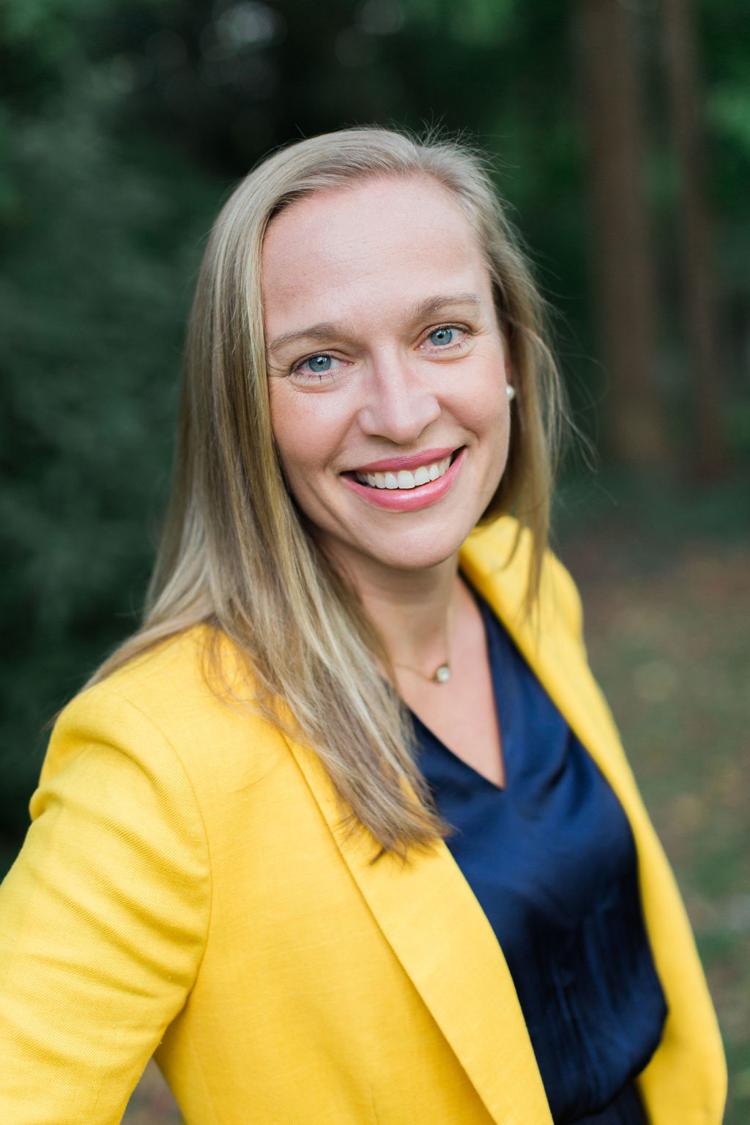 Claire Russo, of Albemarle County, is a retired intelligence officer in the U.S. Marines, a fact that permeates her message. "I have never shied away from a fight," she said in an interview on May 8.
Of the four candidates for the nomination, Russo is the most outspoken on gun policy. "I think that's actually what makes me the most viable candidate," she said. She argues that her experience in the military - "I've carried an assault rifle in two battlefields for this country"– makes her especially suited to speak on the issue.
She likened her stance on gun policy to the laws surrounding driving a car. When speaking to gun-owning rural voters, she said, she emphasizes that "I absolutely respect his right to own a gun, but it has to be safe and not hurt other people."
She would support legislation requiring background checks on every firearm transfer and the creation of so-called "red flag" laws, a mechanism by which police or individuals can petition a court to remove temporarily an individual's firearms if that individual is deemed to represent a threat to public safety. She elaborated later, "It is unacceptable that people convicted of domestic violence can continue to possess guns."
That last point is especially personal for Russo. While in the Marines, she was raped by a superior officer, she said. She talked frankly about her efforts, often frustrated, to have the man prosecuted, describing a system more concerned with protecting the accused than the victims of sexual violence. "Ultimately, for me as a victim, the experience of reporting and going through that process was equally traumatic as the assault," she said.
Russo argued that victim protection laws similar to those that already exist in California should be implemented on the federal level. This legislation would limit the evidence not directly related to an alleged sexual assault that can be used against the victim in an attempt to discredit them. Under this framework, Russo said, "both parties are heard and given the opportunity to present the evidence that is relevant to the incident."
Her advocacy for herself and other victims makes her especially qualified to be a legislator, she said. "I am up to the task of speaking truth to power and bringing people along with me." She summarized later, "I have fought the bureaucracy of this country and won."
Russo, like the other candidates, supports a public health insurance option alongside private offerings on the market. "I do believe health care is a human right." She will not commit to working toward a single-payer model, preferring instead to build on the existing system by having the public option compete in the marketplace.
"We have to be honest with ourselves about who the legislators are and what we can pass now," she said. And, she said, "I have not seen a [single-payer] plan that does not increase the amount I have to pay in taxes [compared to] what I do now for health care."
---
Cameron Webb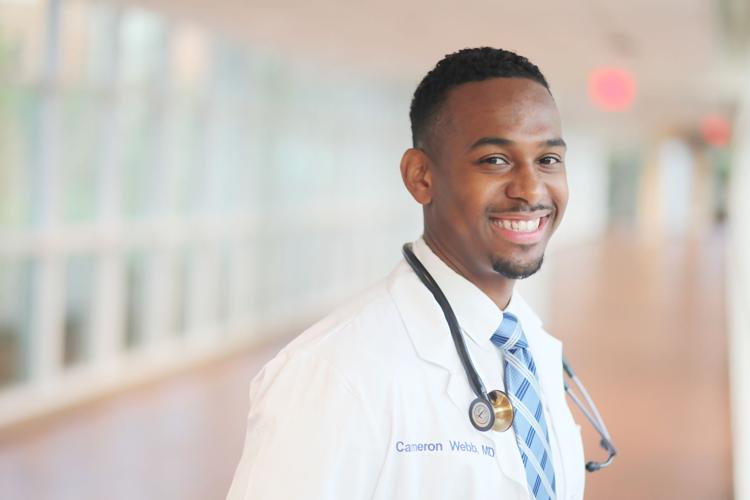 Bryant Cameron Webb, who lives outside of Charlottesville, is a practicing physician, a professor of medicine and the director of health policy and equity at the University of Virginia. His wife is also a physician. Webb also holds a law degree, and he was a White House Fellow from 2016 to 2017.
"I see all of society's challenges through the lens of health care," he said in a May 6 interview, adding that he approaches policy problems the same pragmatic and evidence-based way he approaches diagnoses and treatments as a physician.
He lamented what has been, in his view, the increasing polarization of public discourse in recent years. "Ideology is winning out over 'the best,'" he said, arguing for a more pragmatic approach to improving society.
On the home page of his campaign website Webb is quoted as saying, "I'm running because access to affordable health care is a defining issue of our time." In an interview with the Fauquier Times, he elaborated, "I am absolutely committed to the idea of universal health coverage." In a pitch to voters, he said of his experience in health care, "You'd be sending a fierce advocate and an expert on a number-one issue [to Congress]."
He said that although he supports in theory a single-payer system - he called it "the most equitable and just" model - adding a public insurance option to the marketplace is more immediately feasible. "We need to make the right next step," he said, asking rhetorically, "What can I accomplish immediately?"
His argument is essentially a market-based one: by having a public insurance option compete alongside private plans, consumers will have real choice, and the best option will prevail in the open market. "People will just say it's a better product," he said of the public option.
He was clear that any movement toward a single-payer system would be gradual and based on market forces. "I think it's folly to suggest in one fell swoop that we just up and change everything," he said in response to calls from some in his party to implement a single-payer system immediately.
Webb also said that he would support legislation requiring health insurance companies to be nonprofits. He would support price caps on prescription drugs and other mechanisms to reduce the price of medications. "There are so many levers to pull that down," he said.
His educational priorities would be concentrated on public schools, saying a focus on issues like college tuition in a district with a lower rate of college education than some areas of the country would be misplaced.
"Our first investment has to be in elementary [schools]," he said. In general, the current school funding system, which relies heavily on local taxes, is subject to residential – and often racial – segregation, he argued.
Webb argued that despite the fact Republican candidates have consistently outperformed democrats in recent elections in the district, "it is a mistake to say that the 5th District is heavily Republican." Instead, he explained, Democratic candidates should focus on outreach to district residents who usually do not vote at all, especially African Americans. "Field a full team," he said. "Expand the electorate."
He summarized, "We can win on demographics. We can win on the issues."
---
May 12 Virtual Candidates Forum
On May 12, the Rappahannock Democratic Committee hosted a virtual forum including each of the four candidates for the 5th District nomination. The forum was moderated by Leslie Cockburn, who ran as a democrat for the 5th District seat in 2018. The full video can be viewed here.