Spanish-speaking residents in Northern Virginia continue to see far higher rates of sickness from COVID-19 than other groups. Now, some lawmakers and advocates are saying more effective outreach in local Hispanic communities is needed to slow the spread of the disease. 
Del. Elizabeth Guzman, D-31st, said during a virtual town hall on Friday that the state's efforts to provide information to Spanish-speaking residents have fallen short.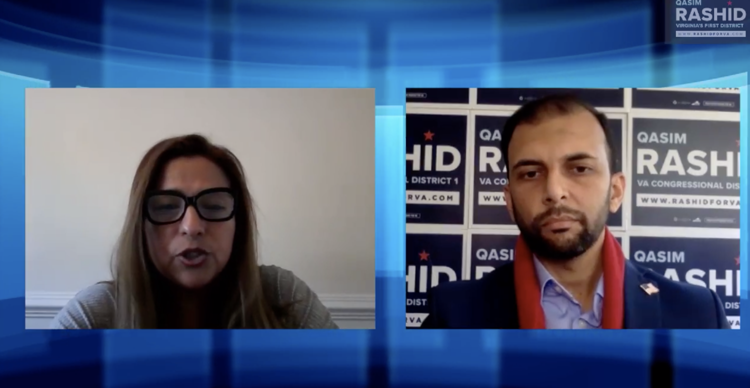 "When I speak with the Virginia Department of Health, they're telling me, 'Well, we have all of our information in Spanish.' But that's not enough," Guzman said. "We are not a community that is going to read the flyer … on the street or go to a webpage to read an article."
Guzman has both personal and professional insight into the local Hispanic community. She immigrated from Peru in the late 1990s when she was in her early 20s and a single mother and initially worked three jobs in fast food and retail to support herself and her daughter before eventually landing an office job and enrolling in classes at Northern Virginia Community College. 
Guzman went on to earn a bachelor's degree and two master's degrees and now works as a social services administrator for the City of Alexandria, which has also been hit hard by the COVID-19 pandemic.
VDH has expanded the information available on its website that is available in Spanish, including information about symptoms, self-quarantine and where testing is available. But that information may not be reaching those who need it most, Guzman said.
Guzman said the state should focus more of its funding on TV and radio advertisements to reach the Spanish-speaking population in Virginia. Guzman added that she has not seen "any educational communication in media outlets" that Latinos frequently listen to or watch. 
"We are a visual community. We spend a lot of time together. So, I would like to see these in radio and TV," Guzman said. "Anytime grandparents or friends are watching their soap operas, I would like to see in commercials how they could be educated."
Guzman said that many Latinos working in construction could benefit from radio advertisements. The construction industry is considered essential during the state's lockdown order, and many construction companies and construction projects have continued unabated during the crisis.
"They spend a lot of time traveling to different sites and we don't have any advertising on the radio," Guzman said.
 Yanet Limon-Amado, a student activist and DACA-recipient who participated in the virtual town hall, said many Spanish-speaking residents, including undocumented immigrants, "are not able to get the help they need" because of the language barrier. 
"You cannot just translate one document to Spanish and think the community is going to read it," Limon-Amado said. 
Limon-Amado added that the lack of federal assistance for undocumented people may also be compounding the problem. Limon-Amado said many in the Latino community have to make the difficult decision between "being sick or going to work" to pay rent and put food on the table. 
Latino and Hispanic residents in Northern Virginia have been hit especially hard by the COVID-19 crisis, according to VDH data.
In Prince William and Fairfax counties, Latino and Hispanic residents account for more than 60% of all patients who have been hospitalized for COVID-19. But they account for only 24% of Prince William's total population, and 16% of Fairfax's population. 
In Prince William, testing sites for vulnerable communities in hard hit areas of the county have only recently become available. Walmart began providing limited free COVID-19 testing on Friday, May 15. George Mason University's Mason and Partners Clinic in Manassas Park began providing some free testing in mid-April.
With the exception of Northern Virginia, Accomack County and Richmond City, Virginia entered phase one of state's three-step reopening plan Friday. Under phase one, some restrictions on non-essential businesses were lifted. Hair salons and barber shops were allowed to reopen as long as patrons and staff wear face coverings, and restaurants were permitted to allow outdoor seating at 50% capacity. Northern Virginia has delayed entering phase one reopening status until May 29, however. 
Guzman said she is "extremely disappointed that we're going into reopening process," in Virginia, but said she is thankful Northern Virginia was able to delay its reopening for the next two weeks and remain in "phase zero." 
"Our numbers are not declining. We're seeing more people, not only getting tested and getting sick, but also people dying," Guzman said. 
The online town hall, held Friday afternoon, was hosted by Qasim Rashid, a candidate for the Democratic nomination in the 1st District congressional race. Rashid faces fellow Democrat Vangie Williams in the June 23 primary. The town hall can be viewed here. 
Reach Daniel Berti at dberti@fauquier.com