Virginia added another 945 new confirmed cases of COVID-19 Monday morning. Between June 8 and July 9, the state enjoyed a bit of a respite, with a high of 716 new cases daily and a low of 354. The surge in cases in Virginia began to appear July 10, when 943 new cases were reported; since then, the daily increase has not been less than 900 since July 14, when it was 801.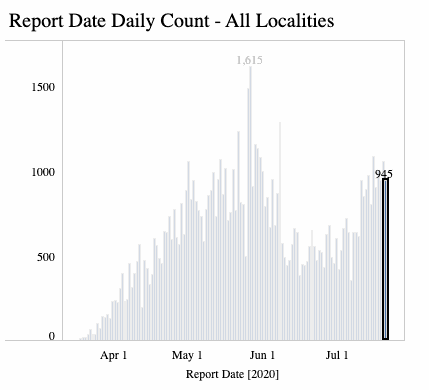 The seven-day positivity rate (total tests compared to positive tests) is at 7.7% for the state as of Monday. On June 28, the rate was 5.8% and has been on the rise since then.
In the Rappahannock-Rapidan Health District, of which Fauquier County is a part, the positivity rate was 1.7% on July 1; Monday it was reported at 4.8%.
The RRHD has reported a total of nine outbreaks so far, three in long-term care settings, five in congregate care settings and one in a health care setting.
State-wide, there have been 291 outbreaks in long term care settings (resulting in 7,581 cases and 1,192 deaths), 175 outbreaks in congregate care settings, 40 in correctional facilities, 39 in health care settings and 22 in educational settings.
In Fauquier County, the cumulative total number of COVID-19 cases stands at 536. Since July 1, the number of new cases each day has varied from 0 on July 1 to 16 on July 12. In July, 109 new cases were added, as compared to June 1 to 20, when the county added a total of 86 new cases.
Fauquier has not had a COVID-19 related death since July 7, and has logged a total of eight deaths since April 9. Hospitalizations remain at 32 for the county. There have been five hospitalizations so far in July; there were six in June, 11 in May and 10 in April.
A look at the numbers by age, gender and ethnicity shows that all residents have not been affected equally. For instance, although men and women seem to be represented equally in case numbers, both in the local health district as well as the state, males represent a greater number of hospitalizations and deaths. In the RRHD, there have been 842 cases in women and 845 in men, but 51 women have been hospitalized compared to 75 men. Fourteen men and 10 women have died from COVID-19 in the health district.
In the state, 39,769 women have tested positive compared to 38,116 men, but 3,894 men have been hospitalized compared to 3,299 women. The number of men and women who have died is nearly equal, 1,010 women and 1,014 men.
Sixteen people older than 70 have died in the health district, while nine under 70 have died.
In the state, the majority of people who have died have been older than 80 (1,016), compared to 1,013 for all residents 79 and younger.
Hospitalizations tell a slightly different story, one that shows more younger adults are becoming ill enough to require acute care. In the health district, 29 people from 50 to 59 have been hospitalized, the largest age group. Twenty-one residents between 40 and 49 were hospitalized, the second largest age group. Eighteen who are aged 30 to 39 were hospitalized as well as 18 who are 60 to 69.
In the state, 1,423 COVID-19 positive residents in the 60 to 69 age group were hospitalized, followed by 1,330 of those aged 50 to 59.
Looking at ethnicity, Latinos reported a higher number of cases (677) than white residents (415) or Black residents (98), although they make up a smaller percentage of residents. In the state, the same is true; Latinos represented 24,526 cases and whites accounted for 17,413 cases. Black residents accounted for 12,758 cases.
The hospitalization numbers were similar. In the health district, 57 Latinos were hospitalized, as compared to 36 white residents and 19 Black residents.
In the state, hospitalization numbers were: 2,432 for Latinos, 2,131 for whites and 1,847 for blacks.
Wade Kartchner, M.D., health director of the Rappahannock/Rapidan Health District, offered some comments on the COVID-19 outlook in Virginia. "We are a couple of months away from schools reopening and this is proving to be one of the most difficult challenges school districts are ever going to face. An article by the Center for Infectious Disease Research and Policy out of the University of Minnesota (https://www.cidrap.umn.edu/news-perspective/2020/07/nas-report-urges-school-districts-prioritize-reopening) outlines these challenges: 'Schools will have to implement costly mitigation strategies to limit transmission of the virus, staffing will be a challenge, closures could occur based on the progress of the pandemic, and federal and state governments will need to provide significant financial help to districts and schools to enable them to reopen.'"
Kartchner said, "The report also notes that reopening schools cannot be 100% safe as long as the pandemic persists."
He added, "This is in line with what we have been telling the various public school districts in the district. There will be cases in schools this coming fall and we are working with each school district, reviewing their plans to reopen and identifying how to best respond when a case is identified in a school."
Kartchner also addressed the use of face masks, saying "On July 14 the CDC issued a press release, calling on Americans to wear masks to prevent the spread of COVID-19. A case study was published that showed that wearing a mask prevented the spread of infection from two hair stylists to their customers in Missouri.
"The investigation focused on the two stylists — infected with and having symptoms of COVID-19 — whose salon policy followed a local ordinance requiring cloth face coverings for all employees and patrons. The investigators found that none of the stylists' 139 clients or secondary contacts became ill, and all 67 clients who volunteered to be tested showed no sign of infection. The finding adds to a growing body of evidence that cloth face coverings provide source control – that is, they help prevent the person wearing the mask from spreading COVID-19 to others. The main protection individuals gain from masking occurs when others in their communities also wear face coverings."
Kartchner concluded, "Remember the 3 Ws to ward off COVID-19: wear a mask, wash your hands and watch your distance. Oh, and stay home when you are sick."