Fauquier County is at a "higher risk" for transmitting COVID-19 in local schools based on its number of COVID-19 cases per 100,000 residents over the past 14 days (89.14), and at "lowest risk" based on the local health district's percent-positivity rate on COVID-19 tests during the last two weeks (2.3%), according to a new U.S. Centers for Disease Control and Prevention measure aimed at guiding local decision-making about public schools.
(Fauquier County has seen higher case numbers and more fatalities in September because of an outbreak at the Brookside Rehab and Nursing Center. The facility has reported 93 cases and 15 fatalities since Sept. 5, in both residents and employees.)
The measures – cases and percent positivity level -- are two of three "core indicators" school division administrators and local health officials can watch to better assess the safety of opening schools for in-person learning based on community transmission of the novel coronavirus, the CDC says.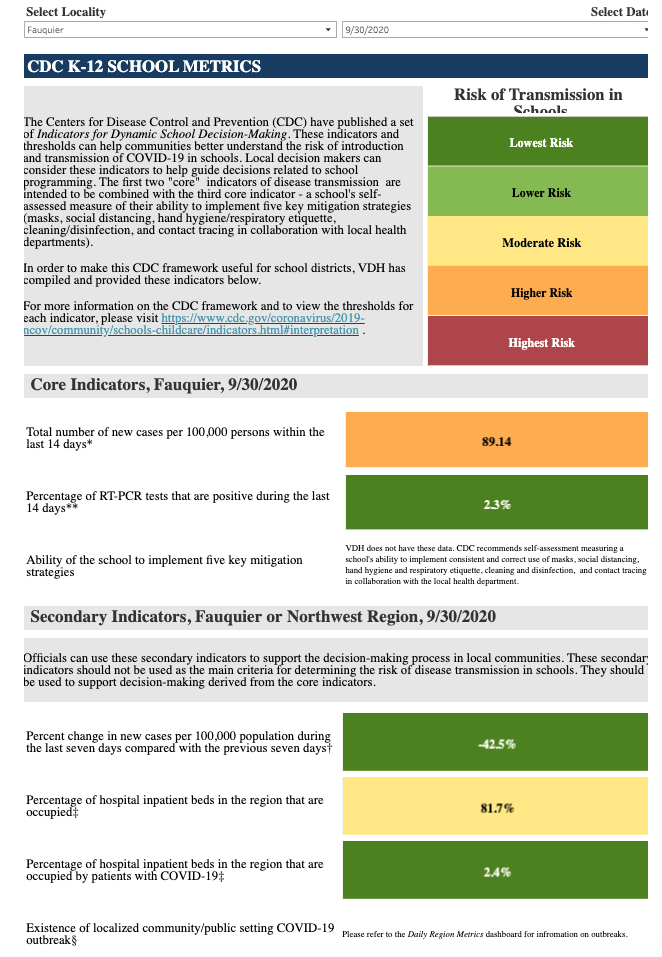 The third core indicator is the school division's own assessment of its ability to implement what the CDC calls "key mitigation strategies."
These strategies include the "consistent and correct use" of face coverings; maintaining 6 feet of social distancing between students and staff at all times; following hand hygiene and "respiratory etiquette;" regular and frequent cleaning; and contact-tracing in collaboration with the local health department, according to CDC guidance about the new tool. These numbers are not available on the VDH website, since they are up to local school districts to access.
The CDC also includes five "secondary indicators" in the new metric, which should be used "to support the decision-making process," the CDC said. 
The secondary indicators include the percent change in cases per 100,000 residents compared to the previous week as well as hospital measures, such as the occupancy rates of hospital beds and intensive care units, particularly by COVID-19 patients. Local outbreaks are also a secondary indicator. 
Such measures can "indicate the severity of illness in the community and whether the health care system can serve more patients," the CDC says of the secondary indicators. 
Fauquier is in the lowest risk category for percent change in new cases per 100,000 metric (-42.5%) and for the percentage of hospital beds in the region occupied by patients with COVID-19 (2.4%). The VDH metrics consider Fauquier to be in the moderate risk range for the metric "percentage of hospital inpatient beds that are occupied (81.7%)."
The CDC K-12 measure was one of two new pandemic metrics Virginia Department of Health officials unveiled Monday, Sept. 28. 
The second was the VDH's own "pandemic metric dashboard," which was designed by state health officials to assess and measure community spread of COVID-19 for the same purpose -- helping local school division officials decide when it's safe to open schools. That tool breaks down the data by region -- not locality -- and incorporates more measures and different thresholds than the CDC tool.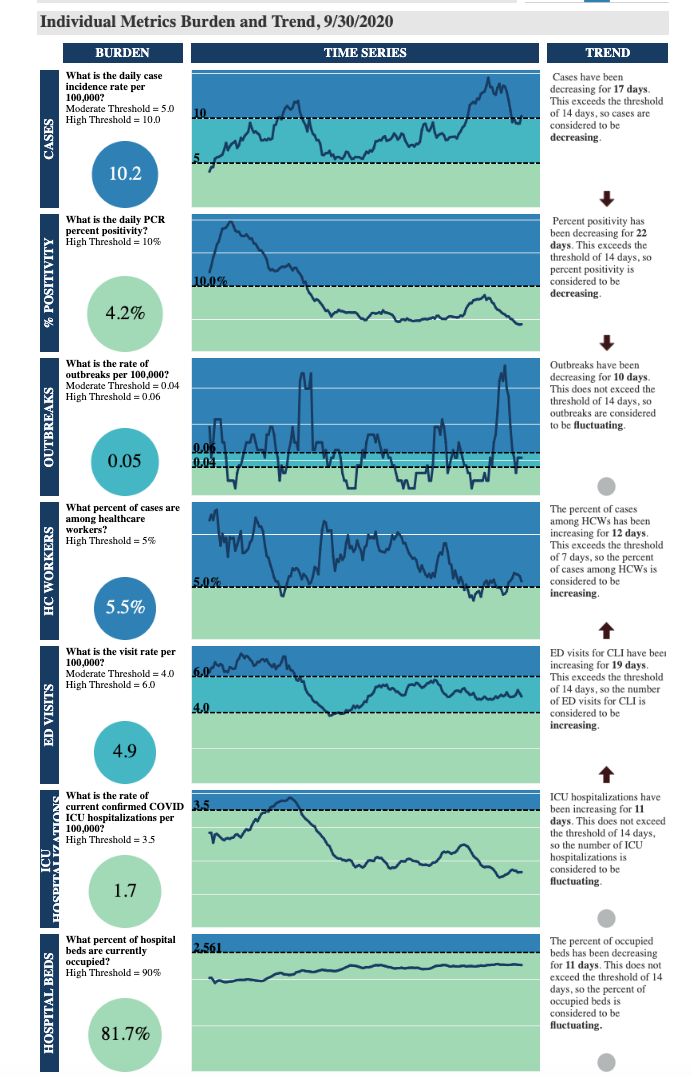 The CDC's K-12 measure has five levels of risk: lowest risk, lower risk, moderate risk, higher risk and highest risk.
The state's pandemic metric dashboard uses two or three levels of severity – "high threshold" and "moderate threshold" – to categorize its measures. According to these regional metrics, the Northwest region (of which Fauquier is a part) has a higher threshold of cases (10.2), but that number has been decreasing for 17 days. Outbreaks (.05 per 100,000) and percent positivity (4.2%) are also trending downwards, but percent of healthcare workers is increasing (5.5%).
Speaking to reporters Monday, state epidemiologist Dr. Lillian Peake said the two tools can be used together by local officials to better understand the risk at the local level that COVID-19 will be transmitted through local schools. It's also meant to help communities understand what must be done to mitigate the risks, Peake said.
"The data that we're showing are not intended to be a forecast," Peake said. "They really are available to take within the context of the local setting to understand what steps they need to take to reduce transmission of the virus."