As expected, county supervisors unanimously approved a $349 million budget for fiscal year 2021 at their Thursday meeting; the budget includes no change to the real estate tax rate, which will remain at $0.994.  
In a change from previous years, supervisors will allocate funding in FY 2021 on a quarterly basis as a way to respond more quickly to the COVID-19 pandemic and its effects on county revenues.  
County Administrator Paul McCulla said at the meeting that if revenues during the fiscal year are higher than projected, supervisors would have the option of allocating those funds to that year's budget.  
Supervisors also adopted a revised FY 2021-2025 capital improvement plan, which, while delaying some projects, keeps the Cedar Lee Middle School expansion project on schedule. The Taylor Middle School renovation and expansion project is also still set to begin on schedule, with the design phase starting in FY 2023.   
Supervisors and a handful of staff gathered at the otherwise-empty Warrenton Community Center at 4 p.m. Thursday. The 40-minute meeting was livestreamed but the public could not attend in-person due to the 10-person maximum on all public gatherings implemented by Gov. Ralph Northam.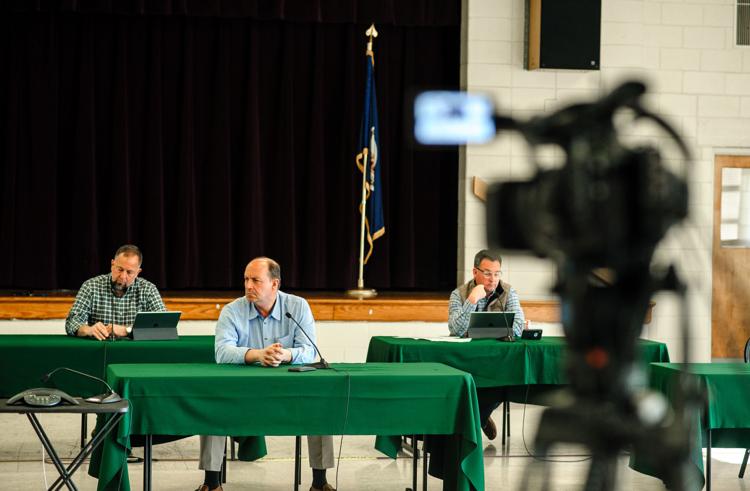 Supervisor Rick Gerhardt (Cedar Run District) attended the meeting by phone; Gerhardt has been self-quarantining at home after recent international travel as a precaution, but said he shows no signs of having been infected with the novel coronavirus.  
County staff had spent the previous week overhauling the budget proposal after supervisors committed at a March 19 meeting to passing a "flat" budget for FY 2021. The original budget proposal included a 3.6 cent increase to the real estate tax rate and, among other expenditures, an increase to the school division contribution and 15 new fire-and-rescue personnel, all of which was nixed in the adopted budget.  
Supervisors also unanimously approved a resolution authorizing the county government to establish a line of credit of up to $50 million to "permit the county's normal operation of business during a period of lowered cash flow experience which may result from the COVID-19 virus pandemic."  
The resolution requires that any principal amount drawn from the line of credit must not exceed the projected revenue from that year.  
Reach Coy Ferrell at cferrell@fauquier.com