Although spring sports seasons came to an abrupt halt when schools closed on March 13, one local team managed to squeeze in a competition this weekend and walked away (at a distance, in their own homes) victorious. 
Fauquier High School's Academic Team members, who dub themselves "The Fighting Nerds," won the first round of competition on Sunday, April 19 in "It's Academic," television's longest-operating quiz show. Running since 1961 and aired by local NBC in Washington D.C. on Saturday mornings at 10:30, the quiz show matches up three high schools, each represented by three team members. The show was hosted virtually for the first time in its 59 years, with the producers and the host of the show, Hillary Howard of WTOP, meeting contestants and coaches via a Zoom video conference call instead of at the Washington, D.C. recording studio.
The FHS Academic Team coach, Catherine Croft, selected the three contestants from the dozen FHS Fighting Nerds. She chose two seniors, Zita Ribeiro (captain) and Luke Patusky, and one sophomore, Nathaniel Ribeiro. Normally, for live competitions during the school year for the Virginia High School League's Scholastic Bowl, Coach Croft rotates players between rounds, depending on the team members' specialties and on the ferocity of the competition.
At 10 a.m. on Sunday, students from the three schools, coaches and producers each "Zoomed" in from their own homes. Both Fauquier High School and Rappahannock High School had an older sister-younger brother pair on their teams, so they were stationed in different areas of their own homes. One team member from Rappahannock with poor internet connectivity at home joined the competition from inside a car parked outside his local library.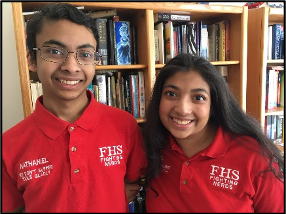 Coaches remained on the hour-long Zoom conference call while school teams alternately left the virtual meeting when another team was given its question rounds. They only rejoined for their round when prompted by a text or phone call from their coaches. Due to potential lag issues with connectivity, toss-up rounds in which one team beats another to the buzzer, were eliminated.
With a final score of 495/500 points, the trio of FHS Nerds bested students from Rappahannock and Orange County high schools.  The FHS team will progress to round two in May to challenge the winning schools from the Central Virginia region. The winner of the May competition will compete in a "Super Bowl" match against the winning schools from the D.C. area and the winning school from the Baltimore area.
Scholastic Bowl competitions rarely receive coverage comparable to their physical sports counterparts, but team members are designated as junior varsity or varsity players and can earn a letter and pins in this sport. During the Winter Sports Banquet, the Academic Team is there, right alongside baseball, basketball, track, swim, cheer, etc. It is fitting recognition of their consistent practice to hone their skills and strategize, their hosting of meets and traveling to competitions.
For some, Academic Team will be their only sport in high school, but others like senior Luke Patusky, managed to fit this in while also being a member of the FHS swim team. Patusky plans to major in economics this fall at Brown University.
For Croft, an FHS biology teacher, this is a throwback to her high school years in Texas, where she too was both a swimmer and a member of her school's Academic Decathlon team.  Rather than an extracurricular activity, Academic Decathlon was a full-year course on ten subject areas and included written tests every Friday. Croft says she is not sure she would have joined if the competition had been verbal. "Oh my gosh! When I was 16, I was the shyest person you ever met," recalled Croft, who had joined the team because she was following in her siblings' footsteps. 
Croft earned her bachelor's degree in biology at Duke University and her Ph.D. in neuroscience from UVA. As a scientist, the constant need to present scientific work helped Croft overcome her shyness. As a teacher, of course, she presents daily.
Zita Ribeiro plans to pursue a degree in nursing through George Mason University's Honors College. Her brother Nathaniel Ribeiro is the fifth child in the family to participate in the FHS Academic Team. 
Other team members include seniors David Harris, Abigail Glenn, Jared Vinluan and Michael Frost, junior Helene Burch, sophomores Andrew Locke, Tristan Do and freshmen Raeid Ebhrahim and Evan Hunter.  The team finished the VHSL Scholastic Bowl as district champions, and placed second in the region.  This was Dr. Croft's first year coaching the Academic Team by herself. 
Last year, she co-coached with Liz Monseur, who wound down a decade of coaching and dozens of years of teaching in preparation for retirement in the next few years. The FHS Fighting Nerds had been state champions in 2016 under Monseur. Given the team's trajectory, there are hopes for a repeat of this success under Croft.
And if nothing else, this weekend showed that some sports can carry on, coronavirus or no.

Vineeta Ribeiro is a mathematics teacher at Mountain Vista Governor's School. She is also the mother of two of the Academic Team competitors.