He was named Charles William Bopp, III when he was born. But to the 400-plus family, friends, neighbors and law enforcement officers who gathered to celebrate his life Friday, he was just "Trip."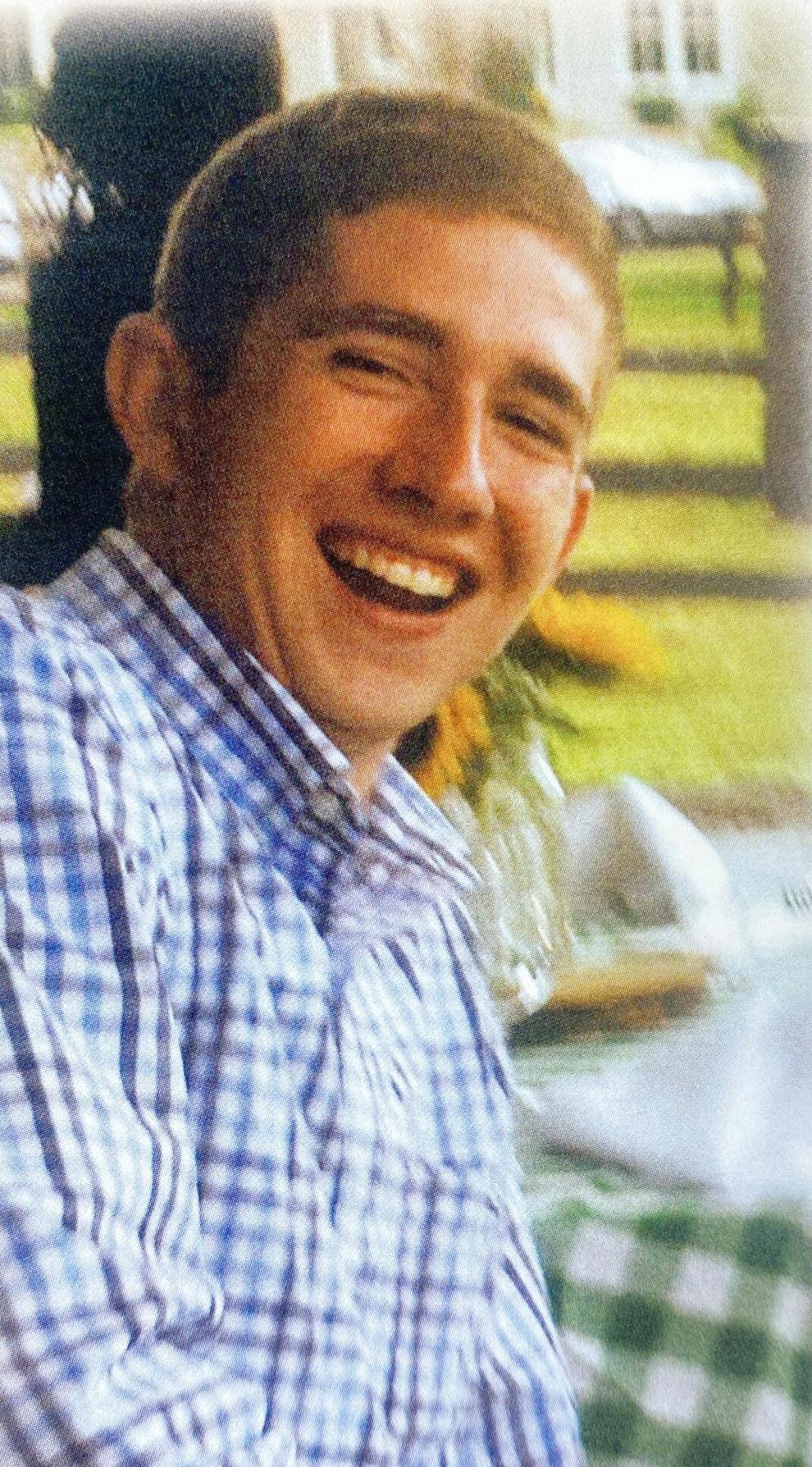 To the father who remembered holding him and talking to him in the first hours of his life, the mother who advocated for him, the friends he laughed with and those he worked beside, he was Trip. They described him as a laughing, loving, hard-working farmer.
Although everyone who attended the 24-year-old's celebration of life had the right to be bitter at the way Trip Bopp was taken from them, Friday was not the time for bitterness. It was a time for laughter, story-telling, hugs and tears.
Four suspects have been arrested and charged with first-degree murder and other felonies related to the shooting that killed Trip Bopp. According to the Fauquier County Sheriff's Office, where his father worked for 16 years, Trip Bopp came home on the afternoon of April 22, interrupted a burglary at his cottage in Remington and was shot before the burglars fled.
His father, Charles Bopp, II, a retired sheriff's office major, was one of the first on the scene. He said it was a comfort to see his friends and colleagues there. "It was a relief to see someone I knew."
Friends he knew from before he worked for the FCSO, from the U.S. Secret Service, Department of Homeland Security and the Federal Bureau of Investigation, called him within minutes, he said. '"We're on this,' they said, 'We're going to help.'"
The celebration of the life of Trip Bopp was held at Trip's Field, a piece of land in Remington his parents turned over to him five or six years ago. Trip's dad said it was the first time the field was so neatly mowed. "I didn't ask anyone to do it. People just came," he said.
Trip Bopp's father told the crowd that his son would always call him at the end of a work day. "Hi Dad. Where's mom?" Trip would want to know. And, Bopp said, he'd always end by asking, "What's for dinner?"
Bopp said he talked to his son at 4:30 the afternoon he was killed. "He was dead 30 minutes later," he said.
But Charles Bopp II asked the crowd to put aside the horror of that day and focus on the life of his son. He described how the father-son bond formed during those first few hours in the hospital and grew over the years.
Forever a farmer
Everyone who spoke at the podium on Friday talked about Trip Bopp's love of farming. His father said that his son and a friend came to him one day with a "scheme" to grow something that would replace plastics. He described this "new stuff" that would be great for the environment and have lots of industrial uses. Bopp realized what his son was trying not to say. The father asked, "You want to grow hemp on my land?"
"He loved the land and wanted to protect it. I was proud of my boy," said his father.
Trip Bopp's mother Sue Bopp said her son had wanted to be a farmer since he was a little boy. She said that he wanted to have an excavation business one day – he loved being on the excavator -- and have his own farm to work on the weekends. He loved what he was doing, she said. "He loved farming and the open spaces. I never saw him so happy."
Sue Bopp said that when her son was doing his taxes and wrote on one line: "Occupation: Farmer," he said, "I like that."
One of the memories displayed on a table at the celebration was a scrapbook that a very young Trip made about himself. One page read: "When I grow up… I hope to be a farme. I want to be a farme because I want to do wote I want."
Trip Bopp's sister Tatiana said that people would always ask what her brother liked to do. That question was an easy one, she said, "Farming, farming and farming."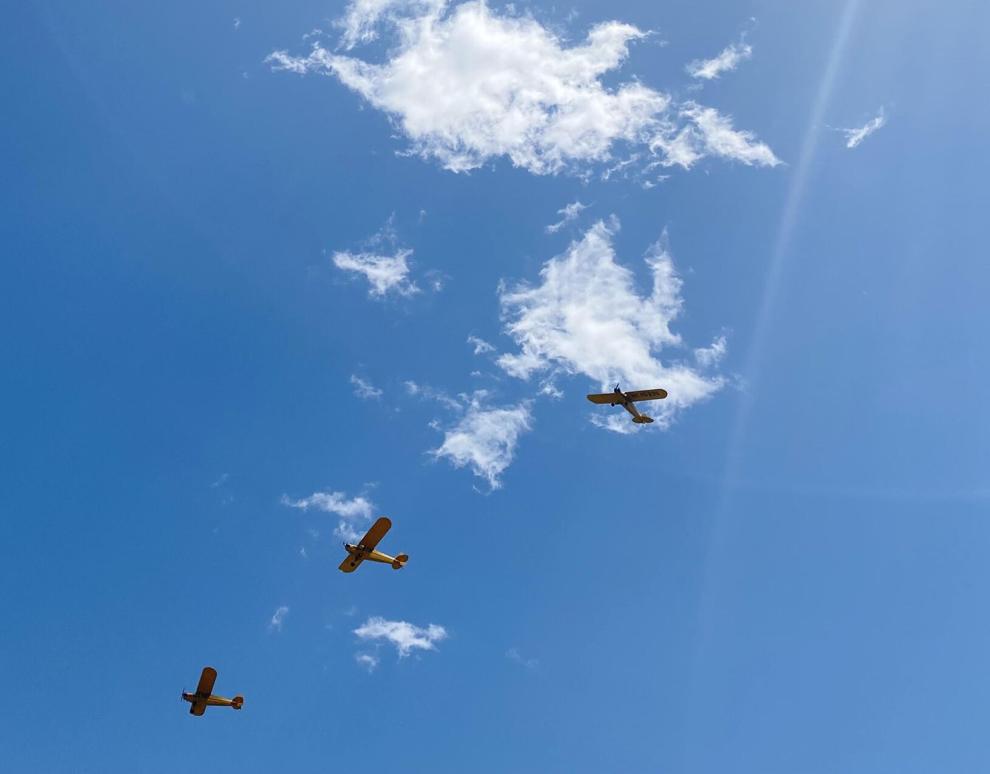 Tommy Lee Jones of Casanova, friend of the family and well-known Fauquier horseman, was master of ceremonies at Trip Bopp's celebration of life. He remembered a few years ago when his tractor was broken, Trip was worried that the grass in Jones' field was getting kind of long. He offered to bushhog it for him. "That's just who he was," said Jones.
Joe Gray worked alongside Bopp at Herren Farms near Remington. Gray said Bopp was the only person he knew who he could be arguing with and laughing with at the same time.
Gray said that of the two, he had more experience, but Trip Bopp would tell him, "Hang around a while and I'll teach you how to farm."
As Dennis Pearson, Trip Bopp's agriculture teacher at Fauquier High School, was telling the assembled that Bopp was an excellent student who made him a better teacher, three bright yellow planes swooped low over the field, dipping a wing to Bopp. On their second pass over, the planes flew in a "missing man formation." One plane veered off to take a different path upward while the other two kept steady.
Kenny Smith described himself as "Uncle Kenny." He said, "I have four daughters and two sons, one by birth and one by gift…. Trip was everybody's son, everybody's family."
He said, "If you had the opportunity to spend any time with him, it was good for you, and it was good for Trip."
At the time of his death, Trip Bopp was working for Jonathan Tufts at Springs Valley Farm; the company is a commercial hay production business and develops new products to assist in preserving the environment.
Tufts said he told his employee and friend that he was the only farmer he ever saw wearing a pink polo shirt with the collar popped. Bopp replied with a grin, "You gotta look good for the ladies."
Tufts described Trip Bopp as a dreamer. "By October, he wanted to have a farm from here to California. He was all about farming, having a great time and doing it all."
Coloring the fond memories that were shared on Friday was the unspoken understanding that Trip Bopp would never have the chance to have his own farm, to buy his own excavator, to see his dreams come to fruition.
The Springs Valley Farm owner said that every Monday when he handed Trip Bopp his paycheck, he'd shake it, nod and say, "Pleasure doing business with you."
Tufts finished his address on Friday by assuring his friend, "The pleasure was all ours."