This year's presentation of the Fauquier Citizen of Year awards honored a family that's run a business for 200 years, a nonprofit that rescues and cares for animals, a citizen advocate for better transportation and the recently retired commissioner of revenue for the county.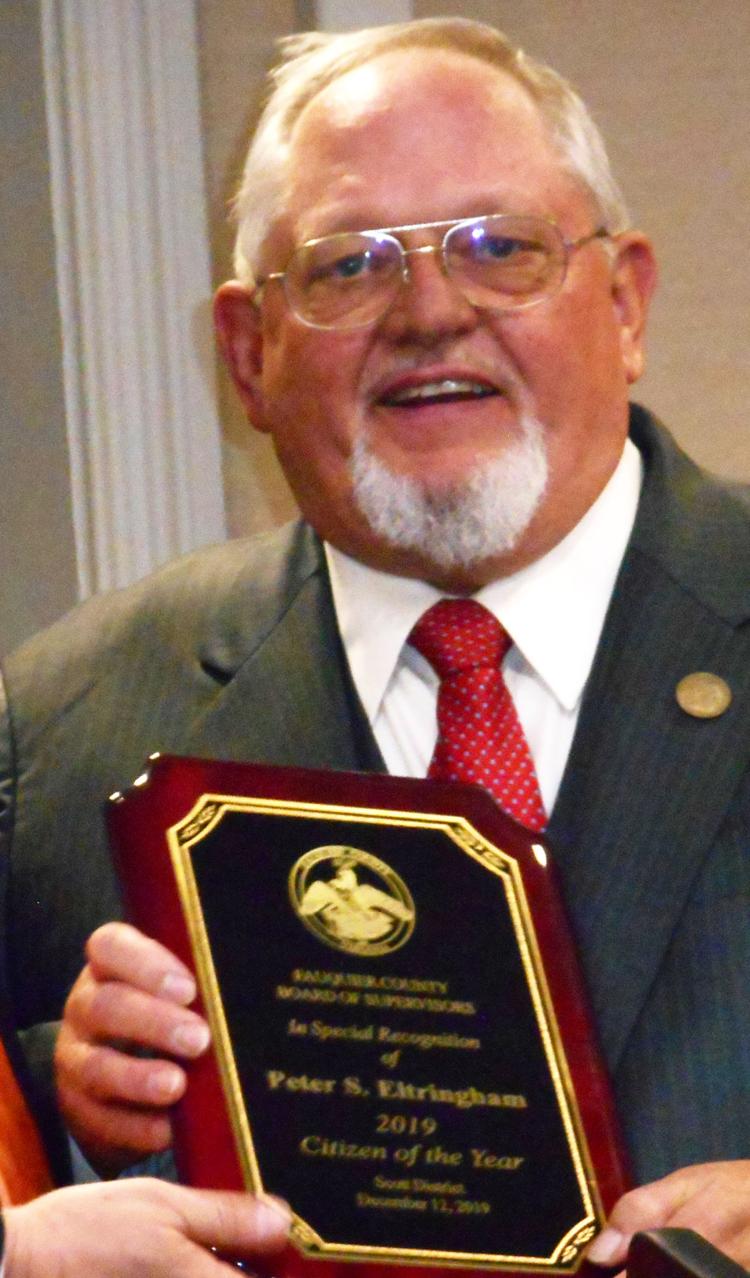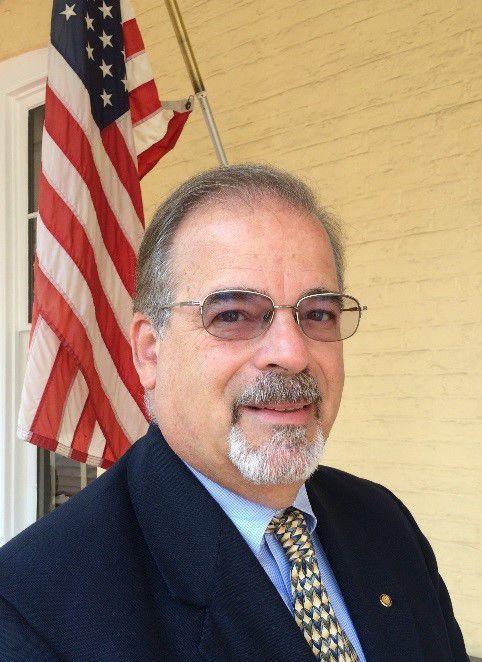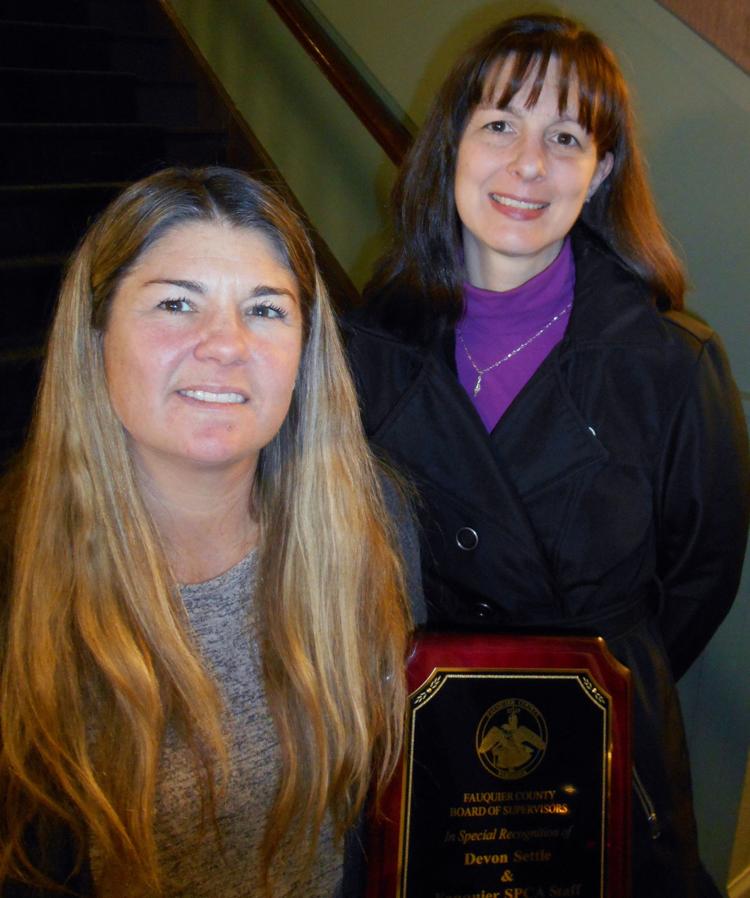 The awards each year goes to a person or an organization chosen by each the five supervisors for service in their district.
Present at the Jan. 9 supervisors meeting to receive their award were members of the Stribling family of Stribling Orchard in Markham, nominated by Marshall District Supervisor Mary Leigh McDaniel; Devon Settle and Dr. Elizabeth Krause of the Fauquier SPCA selected by Cedar Run Supervisor Rick Gerhardt; Peter Eltringham, a member of the Fauquier Transportation Committee, chosen by Scott District Supervisor Holder Trumbo, and Ross D'Urso, the county's commissioner of revenue until his retirement on Dec. 31, who was nominated by Lee District Supervisor Chris Butler.
The honoree from the Center District chosen by Supervisor Chris Granger will be announced and receive the award at the February supervisors meeting.
"This is really a family affair," said McDaniel, as she invited five members of the Stribling family to come forward. McDaniel, who was voted chairperson of the board for 2020 by her fellow supervisors earlier in the day, noted the Stribling family has been in business for two centuries.
"Two hundred years continuously in one family is pretty incredible," said McDaniel.
She recounted some of the history of Stribling Orchard, which exported apples to far away Europe and England, then started a pick-your-own operation after World War II that continues to this day. Stribling Orchard also sells baked and canned goods.
"This really is a family endeavor," said Stacia Stribling. "As a native New Yorker, I don't think I had any idea what the future held." She said that both she and her husband, Rob, have other careers, but feel that it's important to keep the orchard business going.
Gerhardt spoke about the work of the Fauquier SPCA in Casanova, a private nonprofit organization that provides shelter for neglected and abused animals, runs an adoption service, provides spaying and neutering and behavioral training. 
"I think many of us in this room have been fortunate enough to adopt a beloved pet from the SPCA, including my family – many times," Gerhardt said.
Devon Settle, executive director of the SPCA, said the award was "an unexpected honor. I wish there were a lot more names" on the plaque she was given. She cited the work of her "incredible" staff and board of directors.
Trumbo said he first met Eltringham a little more than 12 years ago during his first run for county supervisor.
"One particular fellow kept turning up at campaign events and kept pestering me about what I thought about transportation planning in Fauquier County," said Trumbo.
That fellow was Eltringham and his interest was spurred by a road that went in across from his house.
"I said if you are so interested, come work for me. He got himself appointed to the transportation committee. He has spent a whole lot of time straightening me out on what we should be doing about transportation planning," Trumbo said.
Eltringham is a member of an advisory committee that helped the Virginia Department of Transportation with the intersection project at U.S. 29 and Vint Hill Road. Part of the project involved a reduction of hills on the approach to the intersection that required the diversion of northbound traffic on U.S. 29 last summer.
The problem intersection was a "tough nut to crack" that took years before a workable, cost- effective solution was developed, Trumbo noted.
Eltringham admitted he's "persistent." He said the intersection project was tough because of environmental, safety and preservation of history challenges. The project area includes Buckland, the site of a well-known Civil War battle.
Eltringham credited the efforts of now retired VDOT chief engineer Garrett Moore, who had both professional and personal interests in the project because he lives in Fauquier County.
D'Urso served six terms as commissioner of revenue and was a deputy commissioner for five years prior to his first term. Butler said he picked D'Urso because of his long service. He continues to be involved in the community as a member of the Rotary, plus he's quite a guitarist on the side, Butler added.
D'Urso helped get Gloria's, a concert venue on Main Street in Warrenton, off the ground in 2018 as a member of its board of directors.
In other acts of recognition, the supervisors presented Capt. James Michael "Moose" Miller and Sgt. Robert H. "Bobby" Tarr with proclamations in thanks for their service to the Fauquier County Sheriff's Office. Both recently retired.
Reach James Ivancic at jivancic@fauquier.com