The town of Warrenton's 426-page comprehensive plan – titled Warrenton 2040 – is an official document that, once finalized, will serve as a policy guide for community facilities, parks and recreation, historic resources and other community features through the next 20 years. The plan does not dictate zoning regulations and it not legally binding. It's more of a roadmap for the next two decades.
The Warrenton Planning Commission held two work sessions on the plan in June, hosted a public hearing July 21, and will hold another work session July 28. The commission is expected to vote on the comp plan in August.
After the planning commission weighs in, the comp plan will be discussed by town council members beginning in September.
Warrenton 2040 was developed by Michael Baker Consulting, with support and input from town staff.
As a general introduction, the Warrenton 2040 plan states, "Warrenton wants to support a vibrant community with a full range of amenities to improve the quality of life of existing and future residents and employers and provide a diversity in housing choices that will accommodate a talented workforce."
The plan is organized around three key concepts:
Protect small-town community character and established neighborhoods,
Support strong community health outcomes, and
Retain sound economic and fiscal resilience policies that promote a balance of jobs and housing within Warrenton and ensure that desired commercial uses are viable.
Character districts
The concept of urban development areas is a key underpinning of the Warrenton 2040. UDAs were originally authorized by the Code of Virginia in 2007 (Virginia Code § 15.2-2223.1) and updated in 2009. UDAs are areas designated by localities in their comprehensive plans for proximity to transportation facilities, redevelopment/infill potential and traditional neighborhood design – incorporating walkable neighborhood centers, interconnected streets and blocks, diverse land uses and easy access to jobs, housing and recreation by a variety of travel options (auto, bus, walk, bike, etc.).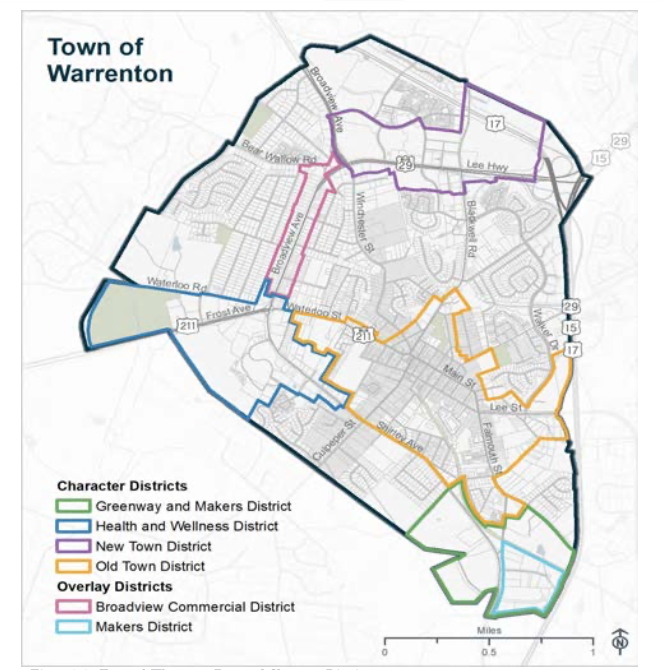 In 2018, four UDAs were proposed for Warrenton: Old Town UDA, Lee Highway UDA, Frost and Broadview UDA and East Shirley UDA. The Warrenton 2040 plan transforms these four UDAs into mixed-use "character districts," with specific development guidance, goals and policies for revitalization, the plan states, "while protecting Warrenton's residential neighborhoods' form and character." It also adds a fifth character district – Experience Broadview.
Each character district is conceived as a mixed-use area, the comp plan states, with appropriate ranges of land uses at varying intensities. The intent is to create discernible neighborhood centers for each of the districts, promoting connectivity to existing and/or proposed parks and trails. Character district policies also inform transportation and infrastructure decisions.
The comp plan states, "Unlike conventional land-use designations, character districts are more focused on form and the relationship of buildings to each other and the street. These elements have greater influence on how a place functions and feels. Character districts are also intended to inform updates to the town's zoning ordinance, translating the community vision into the land-use and building regulations that will shape the town's growth and change over the next 20 years."
The comp plan describes proposed improvements to character districts this way:
Old Town Character District -- Warrenton will continue to promote Old Town as the signature cultural, social and historic hub. The town will encourage infill housing and other adaptive reuse of structures to bring more foot traffic to Old Town, but maintain the historic character and scale.
New Town Character District -- With large lots, direct access from U.S. 29, and high visibility, this district could be a location for a signature office/jobs center, with greater intensity of mixed use and strong live, work and play options. A mix of uses could be organized around an internal street network and public amenities, such as civic spaces, parks, green space and public gathering areas.
Health and Wellness Character District -- This district could leverage Fauquier Hospital with  businesses, services, and housing options that promote aging in place, expanded health and wellness amenities, medical offices and commercial uses.
Greenway and Makers Character District -- This district could maximize use of industrial areas with a food and arts focus, create connective elements to the greenway, and enhance gateway form and function.
Experience Broadview Character District -- Maintain and enhance the existing commercial corridor, but add development with mixed-use residential anchors and improve transitions to adjacent single-family neighborhoods. Broadview Avenue would be transformed into a neighborhood commercial corridor, with a consistent street frontage along Broadview.
In section 7 of the draft plan, titled "Land use and character district plan," under the "Vision" section, the draft states as a "key aspiration," that the town should "create mixed-use character districts using a streamlined 'by-right' zoning for a range of land uses, at different levels of appropriate intensities, with specific guidance for form and transition to adjoining neighborhoods."
This "streamlined zoning" would require extensive changes to current zoning ordinances.
Housing
A key driver throughout the Warrenton 2040 plan is housing, expanding the town's "current base of detached single-family homes to a range of rental and for-sale housing options that cater to aging adults and professionals at different price points and types." The goal is to preserve established residential neighborhoods while expanding housing options to support those who live and work in Warrenton, now and in the future.
The plan calls for designing "new housing developments as walkable communities with shared open spaces, creating a sense of place."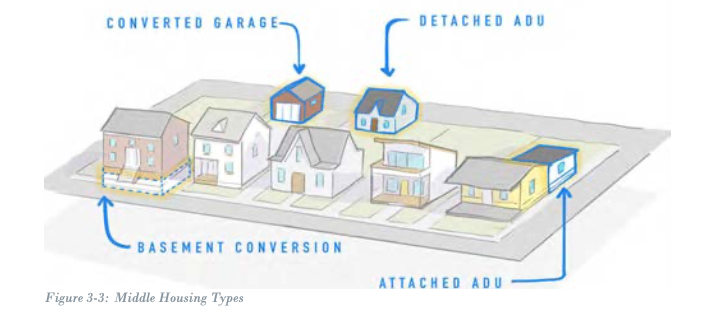 The Warrenton 2040 plan explains that although the town has relatively few available undeveloped parcels, a variety of new housing types can be accommodated through infill and redevelopment. "Housing should be provided for young families as well as older empty-nesters with options that include higher-density, market-rate, mixed-use residential for sale at all price points and in a variety of housing types that are missing from the current housing inventory," says the plan.
Examples of other types of housing that should be accommodated include:
Accessory dwelling unit (carriage house) -- An accessory structure typically located at the rear of a lot providing space for a small residential unit, home office, or other small commercial or service use. This unit could be above a garage or at ground level.
Duplex -- Side-by-side or stacked
Fourplex
Bungalow Court -- A series of small, detached structures providing multiple units arranged to define a shared court.
Courtyard apartments
Townhouse
Multiplex apartments
Live/work dwelling -- A small- to medium-sized attached or detached structure consisting of one or two dwelling units above or behind space for residential, service or retail uses.
The draft comprehensive plan includes an analysis of demographics and housing options in the town. The white paper was completed by RKG Associates, Inc., economic, planning and real estate consultants.
Under a section titled "Course correction for the future," the analysis states, "The [comprehensive] plan's primary economic development goals include the following:
More jobs located in Warrenton/Fauquier (less out-commuting).
More entertainment venues/options in Warrenton/Fauquier.
More diversity of shopping options (fill empty storefronts).
Attract more visitors to Warrenton to spend money here.
Preserve all the great things about Warrenton.
"The baseline of all of these goals will require a larger, more diverse resident base. Simply put, the town's current regulatory environment has shaped the housing market to be attractive to specific market segments — with retirees being the primary market. While attracting more established households meets a market need, it does not address any of the aforementioned goals. In order to achieve these goals, a course correction is necessary."
Other comp plan highlights
Broadband -- According the draft comp plan, town leaders recognize that broadband service is an essential service. Data indicates that while there is internet service within Warrenton, there are still noted service coverage and performance gaps. Since the major internet service providers have not expressed interest in bringing improved fiber-optic telecommunications technology into the town, fifth-generation wireless (5g) technology may not be available for Warrenton in the short-term, the draft states.
Recognizing the challenges, one immediate option for the town is to build a viable business case to continue negotiations and to convince major ISPs to invest in improved telecommunications infrastructure. As an alternative, says the draft plan, "the town should study whether to develop its own municipal broadband network."
Upgrading community facilities -- Actions in the plan include:
Redevelop the town's public works site with office, storage and maintenance areas designed to meet growth needs. The plan also recommends the construction of a new public works facility.
Maintain an effective law enforcement officer-to-resident ratio and provide police with the facilities and equipment needed to assure short response times.
Strengthen volunteer fire/EMS staffing and provide adequate facilities and equipment to assure short response times.
Construct an amphitheater at the WARF.
Undertake appropriate capital works projects to provide adequate water and wastewater services to residents.
Parks and green spaces – The proposed comp plan calls for more and varied parks and other recreational options.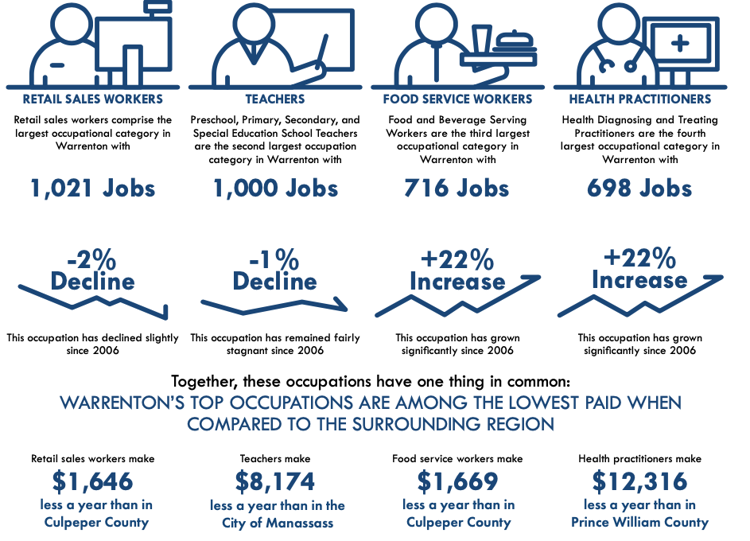 Transportation – The section on transportation covers a lot of ground – from making walking and biking easier and safer, to developing public transit, to construction of the Timber Fence Parkway in the western part of town and a "Southern Parkway" along Shirley Avenue between Alwington Boulevard and Culpeper Street. Both roadways are under pressure from traffic that originates outside the town.
Jobs – The comprehensive plan contains an analysis of the current job market, commuting patterns and opportunities to improve retail business. The comp plan states that Warrenton could also capitalize on the town's unique history by encouraging tourism.