Steven Wolf and his children Jarrett and Isabella were on their way home to Bellevue Farms on the north side of Warrenton when the rain and windstorm hit on Wednesday, June 22.
When their usual route proved impassible, he stopped for supplies. "We went to Tractor Supply but had to leave when their power went out," he said. They eventually bought a strap from Ace Hardware.
The family headed north on U.S. 17 to Watery Mountain Road and Cannonball Gate Road, a gravel road littered with trees.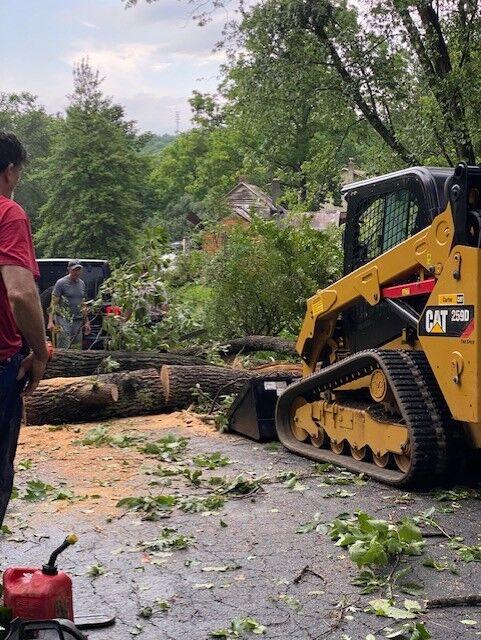 One by one, Wolf put the new strap around the trees blocking the road and attached the other end to his Jeep Rubicon and pulled each tree out of the way. He and his strap made his way up Cannonball Gate with a growing line of cars behind him.
Less than ¼ mile from Summerfield Hills Drive, he came to an old Ash tree with double trunks. He used the strap method again, but had run out of luck. The tires spun and the Jeep swerved.
But a community of chainsaw owners were making their way down the road with gas cans in hand. Jake Hall and Emily Tucker were trying to get to Summerfield Hills Drive, where Emily's father lives.
"A tree fell on the corner of their house and caused a lot of damage. We're trying to get there to help him and my stepmother, who is wheelchair bound," said Emily Tucker.
Jake Hall was prepared -- with two chainsaws and gas cans.
Three men were making progress on the tree when two of the chainsaws became pinched by the trunk. That's when another neighbor appeared in a 259D Carter CAT and bucket filled with more chainsaws and gas cans.
The CAT prevailed and the families were able to make their way home.