Candidates for the Fauquier County School Board addressed issues of funding, security, random drug testing, teacher pay and retention, and special-needs programs during an Oct. 2 forum at Taylor Middle School in Warrenton. The candidates seemed ready to engage on a broad range of topics.
The forum featured Suzanne Sloane, Shelly Norden and Michael Hammond, running for the Scott District seat; Rachel Bongiovi and Susan Pauling, candidates for the Center District seat being vacated by Brian Gorg; and Donald Mason and Stephanie Litter-Reber, candidates for the Lee District seat. Everyone is running as an independent.
The seven candidates all answered the same questions; some originated from a panel of journalists and others were submitted from an audience that numbered about 175. The candidates also gave opening and closing remarks.
Susan Pauling
Pauling noted that as a parent of three, she's been active with the Parent Teacher Organization, sports and music and arts groups in the schools.
"I have a clear understanding of the pressures facing our children," she said.
Pauling has been a drug and alcohol case manager and a bail officer in charge of a program helping non-violent criminals transition into house arrest and other programs.
If elected, she said that she will work to improve communication and transparency in decision making. She said "lunch bunch" groups and other initiatives in schools would help students get to know each other.
Supporting teachers: She said teachers should be given all the support they need to be effective.
Programs that need attention: Pauling said more support should be given to music and arts programs and sports. "Boosters keep these programs going" at present, she said.
Cellphones: Pauling thinks the issue of cellphones should be revisited. Whatever policy is enacted should be consistent division-wide.
Redistricting: She would be willing to look at school redistricting. "And the community should know what's coming" as a solution to even out school population takes shape, Pauling said.
Drug testing: Pauling said any random drug testing poses a "privacy issue" and how students are selected for testing would be a concern.
Vocational training: Pauling supports vocational education programs, noting she worked as a therapeutic masseuse in a chiropractor's office for 10 years. "We need to solve the transportation issue" to get student to the schools where the vocational programs are offered, Pauling said.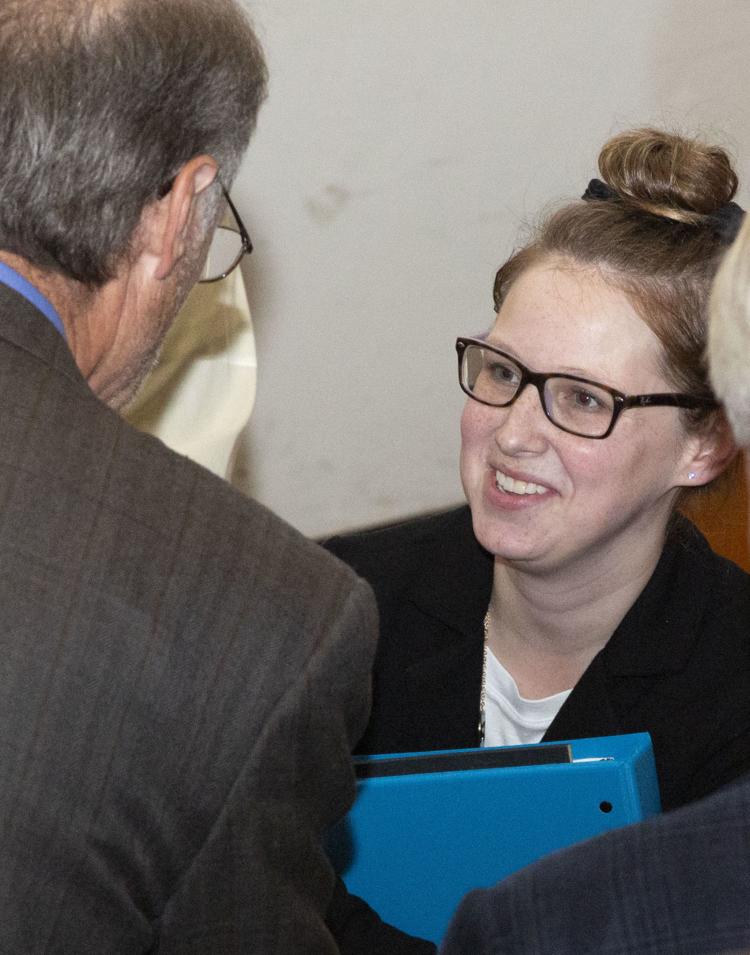 Rachel Bongiovi
Bongiovi is a mental health professional who works with children and referred often throughout the forum to the importance of meeting the mental health needs of students.
Bongiovi said she's running to give a voice to those who may have been overlooked.
Supporting teachers: "Morale is at an all-time low. They are not always treated in the manner they deserve" contributing to teacher burnout, she said.
Cellphones: Bongiovi said she didn't think students should be allowed to have cellphones in classrooms. "I think they distract kids more than they help."
Class size: Larger class sizes would put more pressure on teachers and perhaps lead to "more kids falling through the cracks," Bonjiovi said.
Drug testing: She said there needs to be communication before random drug testing is implemented and fixing the health problem, not punishment, should be the goal.
School security: "A child who is bullied is more likely to develop problems," she said. Teachers and staff need help recognizing the signs of such problems. And teachers and staff need support too, Bongiovi said.
Mike Hammond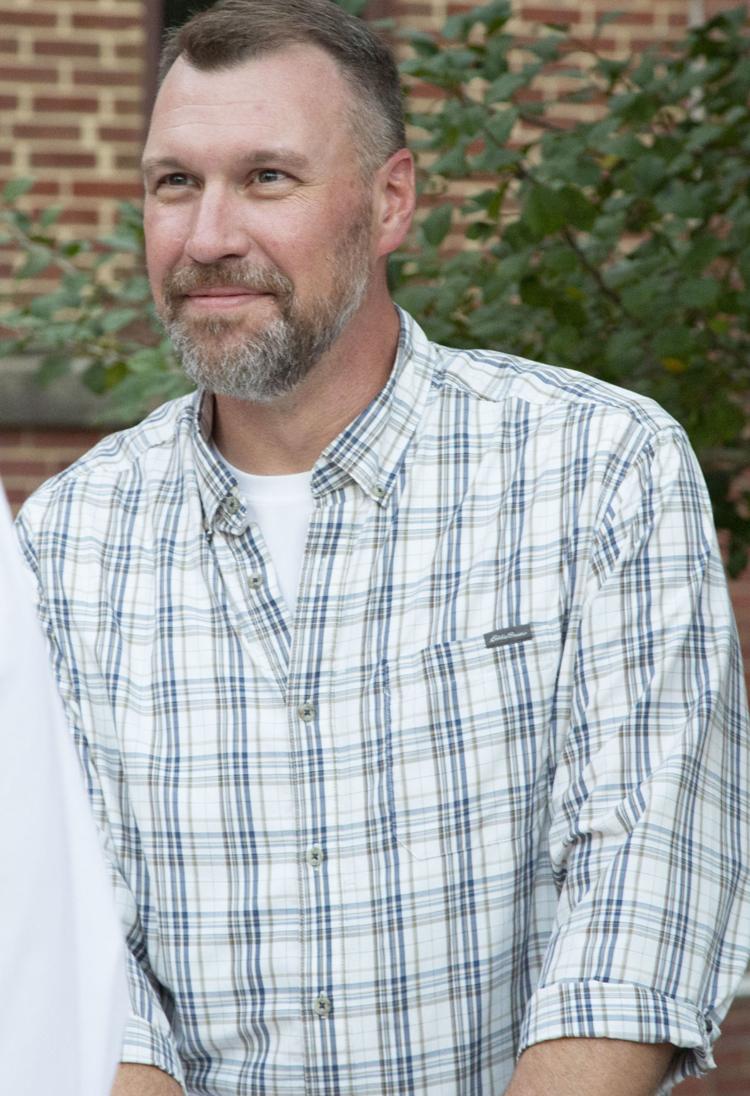 Hammond said a multi-year sustainable plan should be in place for salaries to ensure "appropriate and fair compensation." He said he will press to resolve the question of consolidating the two middle schools in Warrenton. He noted his professional background in project management and budgeting.
Hammond emphasized the importance of drawing parents into the schools and including them in solutions.
Supporting teachers: Hammond said more should be done to mentor young teachers to provide them support and not lose them. 
Programs that need attention: Parents of special-needs students should be made a part of improving programs that meet their needs, he said.
Cellphones: He said students should put their cellphones in their lockers and not have them in classrooms.
Class size: He said he wouldn't support increasing class sizes, reasoning "it makes the job more difficult" for teachers.
Drug testing: Hammond said there should be a community forum to gauge support for drug testing of student athletes. "We should make sure we're not violating the students' rights" should such a policy be implemented, Hammond said.
School security: Hammond said the adult owners of guns need to keep firearms out of the hands of young people by securely storing them. He said parents should be aware of school policy on bullying and their role in curbing such behavior by their children.
Vocational programs: Hammond said he attended a technical training school and supports doing more to promote the school division's vocational education programs for students not planning to attend college.
Suzanne Sloane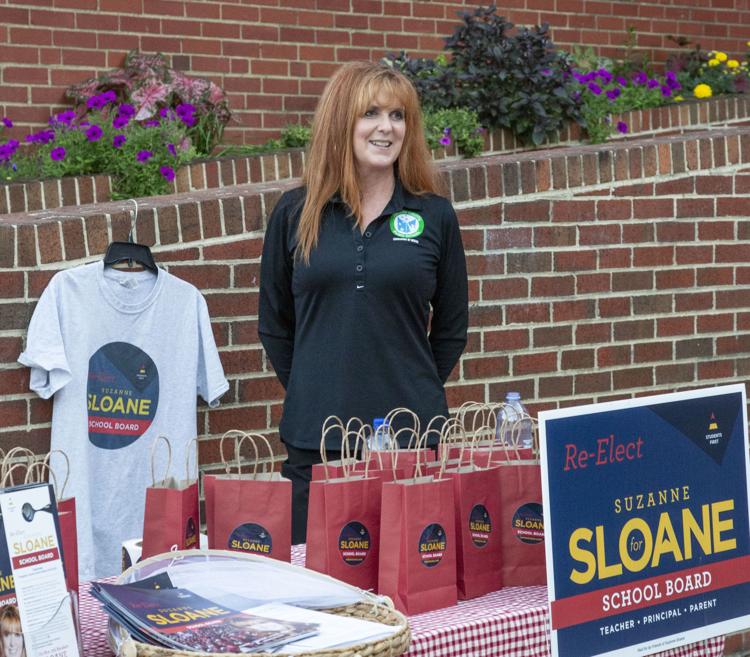 Sloane is an incumbent seeking re-election to a second four-year term. Her day job is as head of school of K12, an online school that had 90 students when she began working for there in 2001 and now has 2,600, she told the audience. She also serves on the board of the Boys and Girls Club of Fauquier County.
Sloane said each school member is just one of five and that getting things done requires a collaborative approach.
Supporting teachers: "What we're trying to do through our mentoring program is to surround them with people who can help," Sloane said of helping young teachers. While compensation is important, so too is the culture at school and giving teachers a role in decision making, she said. 
Longer-term teachers got a bump in pay last year, she added.
Programs that need attention: Sloane said that more money has been allocated to special education programs and instructional services in general.
Cellphones: She said individual school principals should set the rules and "teachers should make decisions on what happens in their classroom" when it comes to whether students should have mobile phones in the classroom. She said she supports revisiting and revamping the policy allowing cellphones in classrooms.
Class size: Sloane said she wouldn't support increasing class sizes. 
Redistricting: The school division has already started looking at redistricting, Sloane said. She supports redistricting if it means students attend schools closer to where they live.
Drug testing: She said "parents need to be fully aware" should the school division embark on random drug testing. "We would need to start a good communications forum with parents and students beforehand." It should also involve the Fauquier County Sheriff's Office.
School security: Sloane said strides have been made to make Fauquier's schools more secure. "There are 100 cameras alone at Fauquier High School. Did you know that?"
Color coding of hallway sections helps direct first responders to the proper area in case of an emergency. The school division also has a Copsync threat alert system (similar to a panic button) to bring help quickly when needed.
She said some school entrances need to be reconfigured to eliminate large, open lobbies, which present security challenges.
Vocational training: She'd like to see more internships providing real-world experience to students.
Shelly Norden
Norden noted that she's spent nearly 30 years in Fauquier schools, both as a student and as a teacher. She teaches English and journalism at Kettle Run High School.
"I feel a lot of changes are needed to make our schools the best they can be. We have long-term substitutes. We can do a lot better. We need to stand up for our constituents," Norden said.
Supporting teachers: She said the school division needs to do more to keep teachers from leaving and "allow teachers to have a voice." She added, "the administration needs to spend time in the schools."
She said that it's important that teachers are compensated fairly. 
Cellphones: Norden said the cellphone policy should be reviewed. 
Class size: "If there are three students in a classroom and eight in another, maybe it's time to have those classes looked at" to determine their need, Norden said of imbalance in class sizes.
Redistricting: Norden said she would need to look at the numbers before deciding if redistricting should occur anywhere.
Random drug testing: She said the goal should be "catching the problem" and not be punitive.
School security: She said the records of transfer students should be promptly provided the schools involved so that staff is aware of any problems.
Vocational education: She said apprenticeship opportunities for students wanting to learn a trade should be sought.
Stephanie Litter-Reber
Litter-Reber, a Remington resident, is a Navy veteran and works as an IT manager.
"I want our schools to have the best possible environment. I want to ensure that we keep our quality teachers," Litter-Reber said.
Supporting teachers: More can be done to boost the morale of teachers, some of whom Litter-Reber said "don't feel valued," based on what she's heard. More can be done to make them aware of training opportunities, she said.
Programs that need attention: More can be done to improve special education offerings by encouraging collaboration between all involved, she said.
Cellphones: She said she supports reviewing the cellphone presence in classrooms, noting the phones can be a distraction.
Drug testing: Litter-Reber said she supports random drug testing but not just of student athletes. The goal should be identifying addiction early and getting the user help rather than punishment.
School security: Improving communication can also stem the problem of bullying, along with drawing in law enforcement to help, she said.
Vocational training: Litter-Reber said more can be done to inform students about vocational opportunities and to expand the relationship the school division has with Lord Fairfax Community College to provide training.
Don Mason
Mason, seeking a full term to the board representing Lee District after his appointment in 2016 to complete an unexpired term, worked for 39 years in the Prince William school division as a teacher, assistant principal and project manager. He's now retired. He grew up in Remington and graduated from Fauquier High School.
"I'm seeking re-election because I care," Mason said.
Supporting teachers: Young teachers are being helped through a mentoring process, he said.
Cellphones: Mason said he supports barring students from having cellphones in classrooms. 
Class sizes: He said the school division is making strides in managing class sizes. "Smaller classroom size helps" the student, Mason said.
Drug testing: Mason expressed concern about protecting the rights of students in any move toward random drug testing.
"What do have in place to help that child? That would need to work before we get to that point" of drug testing, Mason said.
Vocational training: He said adding educational programs comes at a cost and that needs to be considered.
Mason closed with a call for those not registered to vote to do so.
"After you register, please vote," he said.
This last of a series of three forums featuring candidates for the Virginia General Assembly, school and commissioner of revenue were co-sponsored by the Fauquier Chamber of Commerce, the Fauquier Farm Bureau, Fauquier Bar Association, Fauquier Times, Fauquier Now and Fauquier Channel 1.
Reach James Ivancic at jivancic@fauquier.com