Naysayers and supporters of the plan for Broadview Avenue improvements in Warrenton have until Oct. 20 to submit comments to the Virginia Department of Transportation.
Forty-seven residents and business owners came out to the cafeteria at Fauquier High School on Oct. 10 to view diagrams and talk to VDOT and town government representatives about the $8.6 million project. The long-discussed project is designed to improve safety, reduce congestion and improve the look of a main artery in town. Crosswalks, 5-foot-wide bike lanes on each side of Broadview, sidewalk improvements and raised medians are part of the project.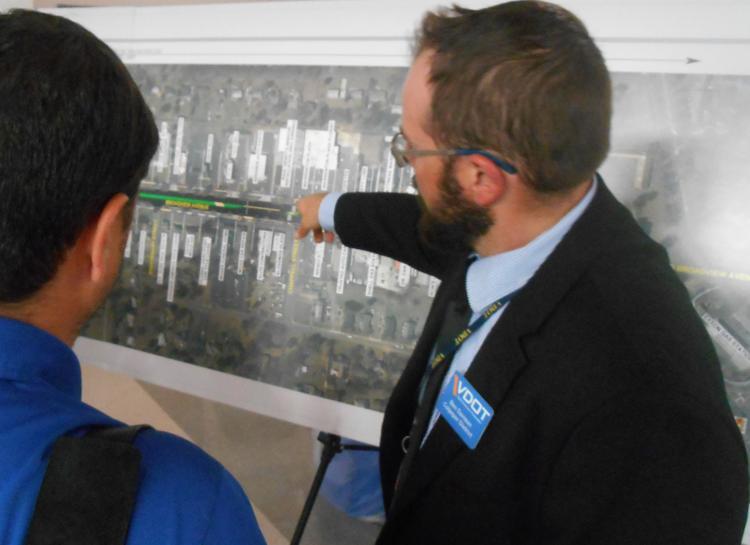 The project's length is just eight-tenths of a mile, running north from the intersection of Frost Avenue with Broadview.
The schedule calls for the acquisition of right of way and relocation of utilities next summer. Construction would begin in spring 2022 and be completed the following winter. Access to all properties will be maintained during the construction period, according to VDOT.
The project's latest design includes some changes the Town of Warrenton proposed, including mid-block pedestrian crossings and two-way left turn lanes.
Leo Schefer, who's lived in the Bellevue Farms neighborhood in Warrenton for 30 years with his wife, said he thinks the project is "a waste of money. They should put the money into the bypass," he said, referring to the once-proposed Timberfence Parkway link to U.S. 17. "The county took that off the map. What they need to do is reinstate it."
Schefer said he favored any improvements to Broadview that would make it safer. He liked the raised medians, but he thought roundabouts should take the place of two traffic signals.
"I hate to see money frittered away on Band-Aids," Schefer said.
Klaus Fuechsel, who runs Dok Klaus Computer Care on Waterloo Street near the Frost-Broadview intersection, said he likes the inclusion of bike lanes in the project and would use them.
"Everywhere in Germany there are bike lanes. I would hope there will be some separation from the road. I could bike and do some shopping. At the moment the street is very wide. There are a lot of lanes and a lot of accidents. I would hope whatever they do will cause less problems," Fuechsel said.
Comments about the project can be submitted by Oct. 20 via mail, email or delivered to VDOT. Comments should go to David Cubbage, project manager, 1601 Orange Road, Culpeper, Va. 22701; email David.cubbage@vdot.virginia.gov. Comments will go to the district engineer for consideration. The project will enter a final design phase once its major design features are determined, according to VDOT.
For more details about the project, visit http://www.virginiadot.org/projects/culpeper/broadview.asp.
Reach James Ivancic at jivancic@fauquier.com