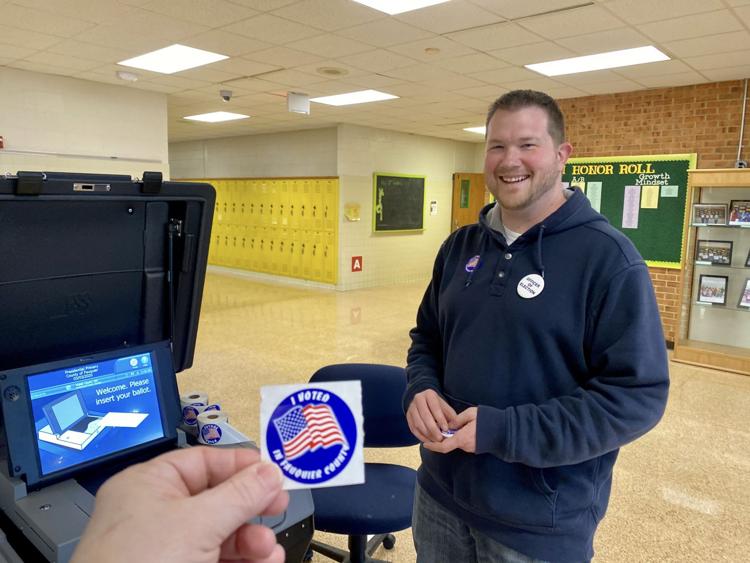 Joe Biden won a decisive victory Tuesday in Virginia's Democratic presidential primary with 53.8% of the vote, beating runner-up Bernie Sanders by 30 percentage points. Biden also received the most votes in Fauquier County, with 52.4% of the total. All results listed here are unofficial.
Virginia was one of 14 states and one territory voting on "Super Tuesday." Fourteen candidates were on the ballot in Virginia, but only five candidates were still in the race by the start of the primary.
Virginia's total voter turnout in the Democratic primary Tuesday was more than 23% with all precincts reporting. That percentage topped voter turnout in the record-setting 2008 Democratic primary, according to Virginia Public Access Project.
Biden led the vote count in each of Fauquier's 21 precincts, performing best in the Casanova precinct, where he received 64.2% of the vote. Sanders came in second overall in the county. Michael Bloomberg came in third, with his performance in Fauquier outpacing his overall numbers; he received 12.2% of the vote in the county, compared to 9.5% statewide. Elizabeth Warren placed fourth in Fauquier County.
The total number of votes cast increased by 87% in Fauquier County compared to the 2016 Democratic primary; that year both parties held competitive primaries. More than 9,800 county voters cast ballots in Tuesday's primary, compared to 5,244 during the last Democratic presidential primary.
In the polling stations around Warrenton, few voters in the middle of the day had to wait in line. Allen Bongovi, a volunteer standing outside the polling station at Bradley Elementary School on behalf of the Fauquier County Democratic Committee, said at noon that there had been a "steady flow of people" throughout the morning, but added that the rain might be keeping some people away.
As of 12:15 p.m., the polling station at Bradley had seen 9.3% turnout among the precinct's registered voters. Turnout at the polling station located in Warrenton's Our Savior Lutheran Church was slightly higher, with 12.8% turnout by about 1 p.m.
Jacob Lunsford, 23, of Warrenton, said before voting that he was still trying to decide between Bernie Sanders and Elizabeth Warren. "Both of them are pushing for higher minimum wage and free college tuition," he said. "I like their stance on economics."
His mother, Julie Lunsford, 52, of Warrenton, said she voted for Joe Biden. "I think he stands the best chance – with Warren [as a running mate] – to beat Trump."
Carol Dietrich, 80, of Warrenton, voted for Biden. "Of those who are left, I think that he's the best choice and I think he can beat Trump," she said.
Mickalei Lindquist, of Broad Run, brought her children along with her to the polls. She said that Pete Buttigieg was her first choice, but she voted for Elizabeth Warren. "She, of the people left, matches my ideas the best," said Lindquist.
Kinsey Laing, 19, of Warrenton, was voting in her first presidential election cycle, although she said she voted in last year's state elections. She voted for Bernie Sanders. "He believes in stuff that the current president doesn't – climate change, women's rights," she said. "And I think that's important for everyone."
Reach Coy Ferrell at cferrell@fauquier.com