The coffee was hot, and the doughnuts were fresh at Bethel United Methodist Church on Blantyre Road Tuesday morning. Commuters taking Blantyre because of the closure of U.S. 29 north for the "cut the hills" project were invited to stop for refreshment before continuing on their way.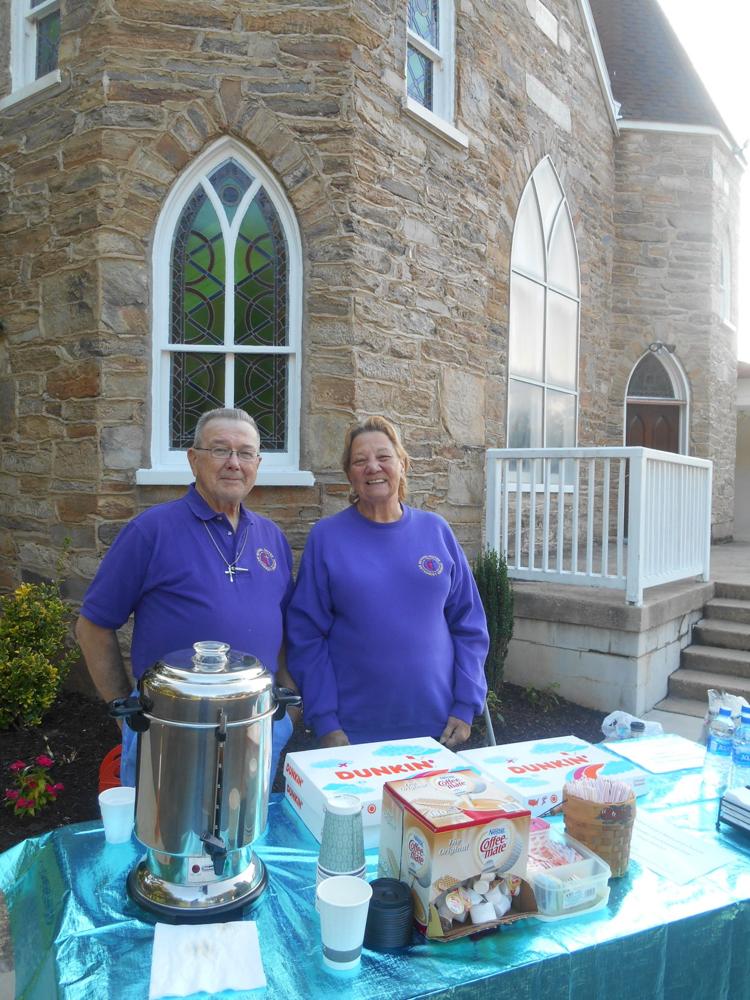 Brett Hahne, lay leader of the church, held a cardboard sign by the roadside that said, "Commuter Compassion Day" and underneath that, "Free coffee and donuts." He waved to each driver that passed by coming up from U.S. 17, most of whom didn't stop. But seven welcomed the respite during the 6 to 8:15 a.m. time frame.
Those who stopped were greeted with a smile and a greeting from church members Murray Edwards and June Wagner at a foldout table set up next to the church.
Sheila Wines was headed from her home in Midland to her job at SAIC in Chantilly when she stopped for coffee.
"I always go on 29 to 15 and then 66" to go to work, Wines said. But because of the roadwork she'll take Blantyre to Va. 55 then to U.S. 15 and Interstate 66 in Haymarket.
Wines said she takes Blantyre Road home every Friday, when traffic on U.S. 29 is particularly congested.
Wines learned about the coffee and doughnuts being offered at Bethel Methodist from Edwards' wife, who works in a dental office that Wines went to on Monday.
Wines chatted with Edwards and Wagner for a few minutes before heading off to work.
"We've been getting spurts of traffic. It's more than usual but not heavy," Wagner said.
Aside from a Fauquier County sheriff's deputy that stopped, the other drivers who paused for coffee and a doughnut were women, one of whom was headed to Haymarket and another to Fairfax, Wagner and Edwards said.
Setting up for the morning started at 5 a.m. 
"I'm an early bird. I have a daughter and her four children living with me, so the only way I have time to read the Bible and say prayers is if get up at 4:30," said Wagner.
Wagner worked at Appleton Campbell in Warrenton but is now retired. Edwards is also retired. He worked as an electrical estimator, providing estimates for electrical work based on drawings and specifications.
The idea behind Commuter Compassion Day was to provide a bright spot for commuters facing a work commute that was different -- and probably longer -- due to the shutdown of the northbound lanes of U.S. 29 at Riley Road. The contractor is blasting and excavating two hills and leveling the grade to improve sight lines near the intersection of Vint Hill Road (Va. 215).
Hahne said he suggested doing something for commuters to fellow members of the men's group at the church. 
"Maybe we can do something to help a little," Hahne said.
He stood facing traffic coming up Blantyre from U.S. 17 and waved to each driver.
"Friendly folks have been waving, but not as many have been stopping as I hoped," Hahne said.
But by the time he and Wagner and Edwards shut down for the morning they decided to continue the Commuter Compassion Day every Tuesday from 6 to 8:30 a.m., until the end of the northbound U.S. 29 shutdown on Aug. 2.
Reach James Ivancic at jivancic@fauquier.com.