Grandmaster Kun Hwa Lee is a ninth-degree blackbelt, the highest-possible rank in taekwondo. He's trained everyone from kids in Fauquier County to military forces around the world in martial arts and self-defense. These days, he's just as focused on fighting what he sees as the greatest enemy: deteriorating health that can come with age. 
"People think about martial arts and they think about punch and kick, right? The real enemy is our aging and sickness," said Lee.
In short, he believes the focused, deliberate movements of martial arts can be an effective tool to prolong health and wellness for older people.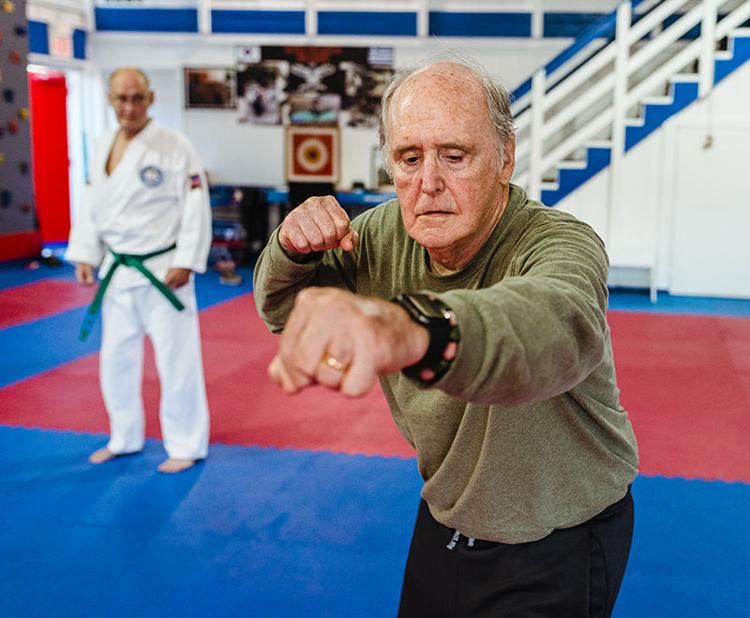 "Our eastern philosophy is that all living things must be moving," said Lee, who founded Warrenton's World Martial Arts Center in 2001. He himself is a "70-plus" year old, as he puts it, and he's determined that he and his clients keep moving as much as possible. 
He reflects on the injuries he sustained over his years of training, and wonders what would happen if he stopped his vigorous routine. "If I stop, maybe -- number one is what, arthritis? [High] cholesterol? Pow, done!" He punches the air for emphasis, as if his mortality was an assailant who had bettered him on the mat. "So [I have] no choice. I have to keep going." 
Strong seniors 
A group of three to five seniors meets regularly at the center to practice taekwondo under Lee's watchful eye. He takes meticulous notes on each of his older clients, complete with outlines of family medical history and charts of listing the number of repetitions performed of each exercise. The emphasis for the senior class is conditioning and building confidence, not competition. 
Benjamin Cooper, 78, of Orlean, began coming to the center two years ago. He appreciates the low-pressure environment and looks forward to each session. Specifically, he is here because his doctor diagnosed him with the early stages of Parkinson's disease, a progressive disorder of the nervous system. 
When he first started training, he walked stiffly and bent over. Now he can demonstrate an entire sequence of perhaps 20 movements. "The important thing I think is that I can remember the steps. Your body gets used to it." He is still cautious and deliberate with his movements, but ultimately, "I feel a lot better," he says. "It's a very worthwhile thing."
Each martial-arts discipline has its own emphasis, but all to focus both mind and body, promote control over even the smallest motions and refine balance. With the right instruction, circumstances and work ethic, concentrated exercise can greatly improve quality of life for older adults. Sometimes, the benefits can be dramatic. 
James Lee (no relation to Grandmaster Lee) of Warrenton is in his 70s and trains at World Martial Arts Center. He has practiced taekwondo all of his adult life, but it took on a new urgency several years ago. First, he contracted lung cancer, which then spread to his spine, necessitating intense radiation and chemotherapy. Shortly after, he contracted brain cancer, requiring even more radiation and ending with the surgical removal of part of his cerebellum, the area of the brain that controls balance and motor control.
"They had to take a whole lobe out of my brain and after that they told me, "you need to get your affairs in order, you'll be dead in six months," and I didn't want to die. So, I came back to Master Lee because no one else could help me."
He began training again with Grandmaster Lee about four years ago. "When I came in my wife had to hold my hand. I was down here like this." He bends over and stiffens his arms. "I had no strength; I really couldn't move very well. Master Lee got me to walking OK, after a while, I could drive myself, and I've been here ever since, and I come here every day."
His improvement is the result of careful instruction and an incredible amount of hard work and tenacity. He still has problems with coordination and balance, but he pushes through. 
"It's my lifestyle. I practice it at home, I exercise at home. What choice do I have, if I don't?" 
Grandmaster Lee chimes in with a grin. "Proudness. This is my wish for him. Saying, 'I can do it!' He fought for his life. We need someone to talk about [people like him], to celebrate them, motivate them. There might be similar people out there saying 'I don't know what to do.' [We want them to say] 'Oh, I can do it, I can go to any place and practice.' This is the idea."
 Conditioning mind and body
Healthy people should also continually condition the body during the latter stages of life. It is especially important, says Grandmaster Lee, for people who have recently retired. 
He observes that most people cease almost all physical activity in this stage in life, and laments the fact that people usually wait until they develop a major health problem before they make an intentional decision to start a concentrated physical routine like martial arts. 
Another student at the Center, Andralyn Allen, of Warrenton, is an exception. She's been practicing taekwondo for about three years. She simply wanted to be in better physical shape and have a better quality of life in her retirement. After her grandson started attending taekwondo class, she says, "I thought, 'I can do that too!' He inspired me." 
There are many opportunities to get moving in and around Fauquier County, says Grandmaster Lee. It's not important what discipline you choose or where you attend a class, so long as you are keeping yourself in motion. "Any place - not [just] here, but any place. We have to move."
To learn more about the World Martial Arts Center, visit www.warrentontkd.com or phone 540-347-7266. Located in the Oak Springs Plaza at 612-616 Blackwell Road in Warrenton.
Coy Ferrell is a freelance writer and photographer. Reach him at coydferrell@gmail.com or 540-729-8013.