Even as the pandemic has crippled many industries, data shows that the real estate market is thriving. Pent-up demand and limited supply are driving home prices up and creating a sellers' market. Additionally, interest rates are at nearly record-low levels – the average 30-year fixed mortgage rate is currently hovering around 3% – giving buyers incentive to shop more urgently, and at a higher price point, than they would otherwise. 
After a sluggish April and May that saw a significant drop in year-over-year home sales, the number of monthly sales in Virginia had by June increased to its 2019 level and in July was 13% higher than during the same month last year. Additionally, the median sale price rose 7.4% in July compared to a year ago.
"It's a lot hitting at the same time," Emily Henry, a real estate agent with Long & Foster in Warrenton, said of the various forces driving the market currently. She said that she's seen an increase in demand for residential properties in most price ranges recently. 
Many homeowners who hesitated to put their homes on the market earlier in the pandemic are doing so now, Henry said. Buyers are also wading in; many people who delayed purchasing a home because of the pandemic are taking advantage of low interest rates and trying to buy before home prices go up even further. "When time went on [after the pandemic began], when we realized this was not a two- or three-month period, then people started pulling the trigger," she said of prospective buyers. 
And, she said, many who were on the fence about buying a home are deciding to go ahead now, rather than risk being shut out of the market by a future economic downturn or lack of supply.
People seem to be selling homes for most of the same reasons as they did previously – Henry mentioned couples who recently retired, or whose children have moved out of the house or who have welcomed new children to the family recently. But some buyers are citing the pandemic as a reason for moving, she said.
Most especially, "home" is now also an office and classroom for many people working or learning remotely. "The biggest change I've seen is land," she added, noting that interest in parcels from a few acres to more than 100 acres has increased, a change she attributed to people desiring more space to spread out as they spend more time at home. 
"I think people just want to have space. People are regrouping and rethinking their lifestyles," Henry said. 
Anne Michael Greene, a real estate agent with Washington Fine Properties in Marshall, agreed. "Basically, their home is their vacation, their school, their work, their office," she said of buyers' changing priorities. Where location had been the principal concern previously, the size and layout are now more important to prospective buyers. "Upscaling is back," as she put it, a trend she said had been mostly dormant until recently.
Greene cited a family from Bristow that purchased a bigger home with more land in the Marshall area. Many people are moving for the same reasons they always have, she said, and others are taking advantage of low interest rates. Others – like the family from Bristow – "are looking for more elbow room." 
Additionally, both Henry and Greene cited what they view as a desire among some residents of densely populated cities to move to suburban and rural areas, a move made possible by the increase in some workers' new ability to work from home. 
Greene said most prospective buyers she has worked with this summer are from Arlington and seeking either a new primary residence, or in some cases, a second home. 
"I think it's almost an exodus out of the urban areas," Henry said in a separate conversation. 
Little statistical evidence -- at least not yet -- for 'mass urban exodus'
If moving from cities to suburban or rural areas is a major trend, however, the phenomenon hasn't show up in the data – at least not yet.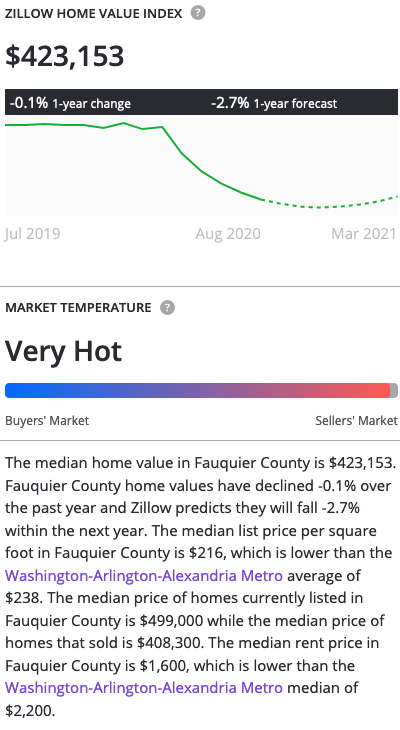 "Are people fleeing the cities for greener suburban pastures?" asked an Aug. 12 report summary from Zillow, an online real estate database company. "Some faint signals may have emerged in certain places, but by and large, the data show that suburban housing markets have not strengthened at a disproportionately rapid pace compared to urban markets." 
Zillow's county-level metrics show the housing market is indeed booming – and strongly favors sellers -- in Fauquier County. The same is true for its more rural neighbors, Culpeper and Warren counties, and more suburban places like Prince William and Stafford counties. If people were fleeing cities en masse, this would make sense; as demand for suburban and rural properties rose, those properties would sell more quickly and for higher prices.
But the converse would also be true: the real estate market in urban areas would consistently favor buyers, since a reduction in demand and a glut of supply would drive prices down and increase listings' time on the market. Except in isolated instances like San Francisco and Manhattan, that hasn't happened. The markets in Arlington, Richmond and Virginia Beach all strongly favor sellers, just like most of their suburban and rural counterparts.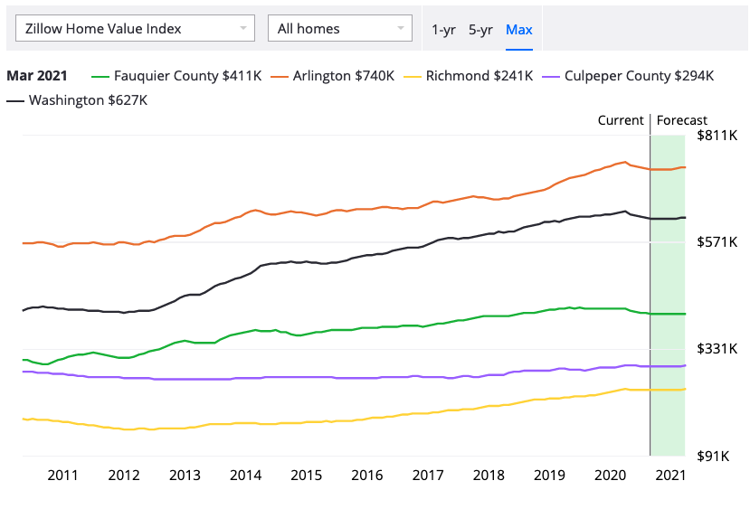 According to a survey of its members conducted by the National Association of Realtors in late June, 27% of homebuyers reentering the market that month looked more urgently to purchase a home. But of those homebuyers, only 4% cited a desire to leave an urban area for a home in a less densely populated location. 
A plurality, on the other hand, said the pandemic stalled their search and they "now very much need a new home," indicating that much of the current increased demand comes from people who would have bought a new home anyway and were delayed because of the pandemic. 
Even on the potential "upscaling" trend, the data is not clear. 
Zillow's Aug. 12 report said that, except for especially high-end listings, "There is also limited evidence that shoppers are searching for larger homes this year." And, the report added, compared to condominium sales, "there is no clear sign of a boom for the detached homes that are often synonymous with the suburbs."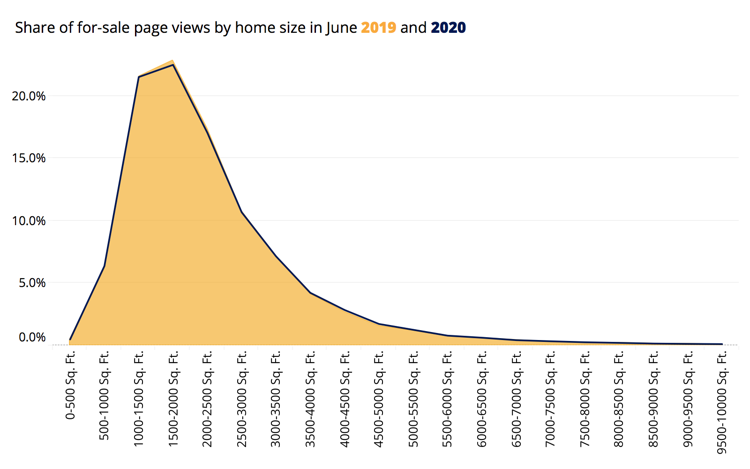 Researchers from the National Association of Realtors have a different view, however. "With the sizable shift in remote work, current homeowners are looking for larger homes and this will lead to a secondary level of demand even into 2021," an Aug. 21 press release quoted the trade group's chief economist, Lawrence Yun, as saying. 
"Single-family homes are continuing to outperform condominium units," Yun is later quoted as saying, speculating that this data indicates "a preference shift for a larger home, including an extra room for a home office."
Regardless of what exactly is motivating buyers right now, Greene said that shifting currents in the real estate market are nothing new. Habits, preferences and perceptions are always changing, she said. "There's always this cycle," she summarized. "That's what I love about real estate. There's always a way to help people."