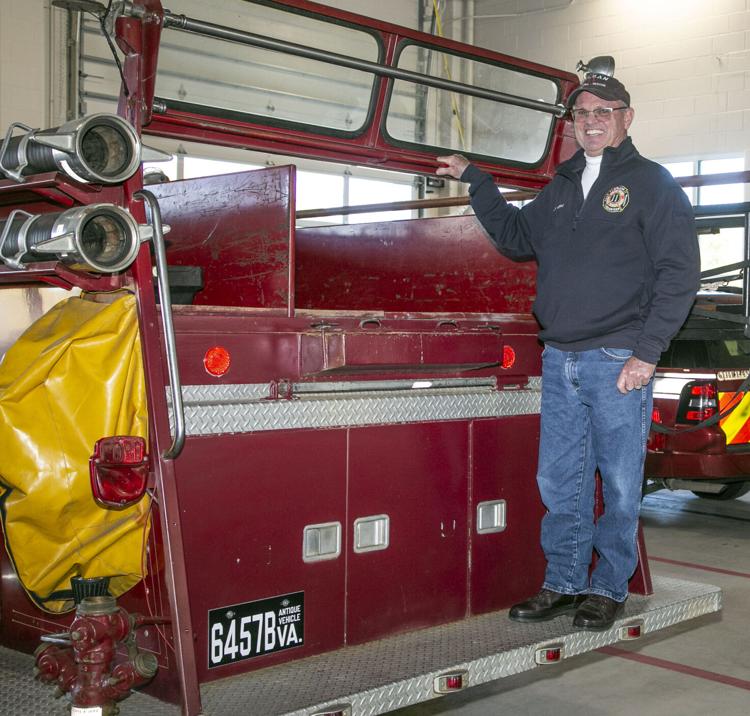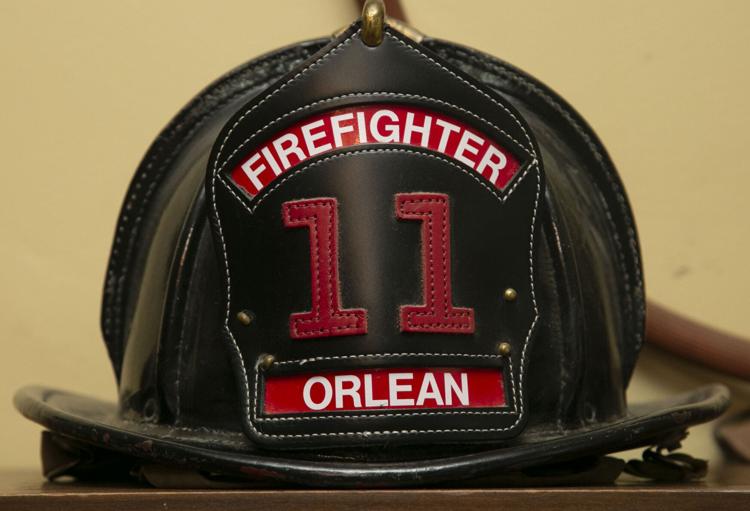 When Johnny Ray Kerns talks about his fire and rescue experience, he talks in decades rather than years. He's 65 now, and it's been half a century since he first climbed onto the back of a fire truck.
He remembers watching firefighters battle a fire at his school, Marshall Junior High School, in 1967. "It was before I got hooked [on firefighting] … They were able to save portions of the school. I saw their effort. What they did was amazing."
He was reminiscing recently at the Orlean Volunteer Fire and Rescue Department's brand-new fire station, where he is the fire chief. Kerns said that his own career started with a Boy Scout merit badge in first aid when he was 14 years old. He joined the junior firefighter's squad in Marshall, where he grew up. "We'd work in crews of three, two seniors and a junior. We helped with lifting, moving equipment, cleaning and maintenance."
At 16, Kerns was able to "ride that fire truck!" he said with the enthusiasm of a teenager. He described how he felt, riding on the rear step of the truck on the way to a fire. "It was the excitement of putting a fire out. Going in and coming out without getting hurt."
Kerns remembers some of the big fires in the county because he was there -- the fire at the Fauquier County Livestock Exchange in the 1970s, for instance. "When we got there, it was fully involved."
Kerns' wife Irene remembered it, too. "It was such a meeting place, such a social building. To lose it was heartbreaking."
Kerns said the biggest difference between fighting fires then and now is the equipment. "Back then, we only had two air packs (self-contained breathing masks) on a truck. Now we have six. Our gear is much better, it's more protective."
Kerns pointed to the swift water unit for water rescues in the corner of the firehouse, remembering a few successful water rescues. "One of the times we used it was after a heavy rain. A man was sitting on top of his mom's station wagon, in 4 feet of water."
For another similar rescue, he didn't wait for the boat. "There was a woman and child in a stalled car in 2 ½ feet of water on Old Sage Road in Markham. I drove the chief's car in and put them in it. I probably shouldn't have gone in, but the water wasn't moving very fast."
The modern equipment the firefighters use is cared for differently than it was years ago, he said. When firefighters return to the firehouse after an incident, they come into a foyer where they shed their uniforms. The gear is decontaminated, to protect personnel from potentially cancer-causing chemicals and fumes.
Kerns spent 20 years as a volunteer with the Marshall Volunteer Fire Department, three years in Warrenton and 27 years with Orlean.
Longtime friend Rodney Woodward, who still volunteers with the Warrenton Volunteer Fire Department, said "Johnny Ray has always been laid back and easy going. I think I saw him mad only three or four times in my life. We always got along great. Johnny Ray was always on top of his game."
Woodward said that he, Harold Sisson, Mike Adams and Kerns worked many a fire together. "At every fire, it was always the four of us."
Marshall Volunteer firefighter Buddy Lane remembered, "I joined the Marshall fire department in 1974, when I was 13. Johnny Ray was always a hard worker. He has dedicated a lot of years to fighting fires."
In 1987, the Kerns family moved to Hume, where – in addition to a full-time job as a firefighter and chief duties at Orlean -- Kerns helps take care of the family farm.
There is lots of work to do, but Johnny Ray Kerns finds time every day to visit with Abbey and Whezzy, two tiny donkeys out behind the house. "When I have a bad day, I go down and feed the donkeys."
Irene Kerns describes the animals as her husband's therapy donkeys.
The farmhouse looks out on rolling hills that stretch green and lush for acres. The foyer is dedicated to firefighter memorabilia. Kerns' helmets hang above the entryway, many of them burned and battered.
But not everything is the room is a memory. Kerns' firefighting uniform and boots wait here, too, ready for him to step into when the alarm goes off. His chief's car behind the house is a reminder that response speed can save property, and lives. Kerns said he is often the first one at the scene, so he is able to assess the situation and plan before the heavy-duty fire equipment begins to arrive.
Kerns said the hardest part of his service has always been "when I had to work on someone I know. I've been here a long time; I know a lot of people here."
Kerns may be a little hard of hearing these days – he blames the sirens – but he still retains the enthusiasm of a newbie when the alarm goes off. The only difference he says, is "instead of running to the chief's car, I may walk."
As he recalled again the excitement of riding fire trucks when he was younger, he said, "I hope when some young boy or girl reads this, they hop on with us."