The story of musical prodigy Thomas Wiggins "Blind Tom" Bethune (1849-1908), who once lived near Warrenton, is unusual by any standard – and ultimately very sad. His biographer, Geneva H. Southall, aptly described Tom's life in the subtitle of her book, "Blind Tom: The Post-Civil War Enslavement of a Black Musical Genius."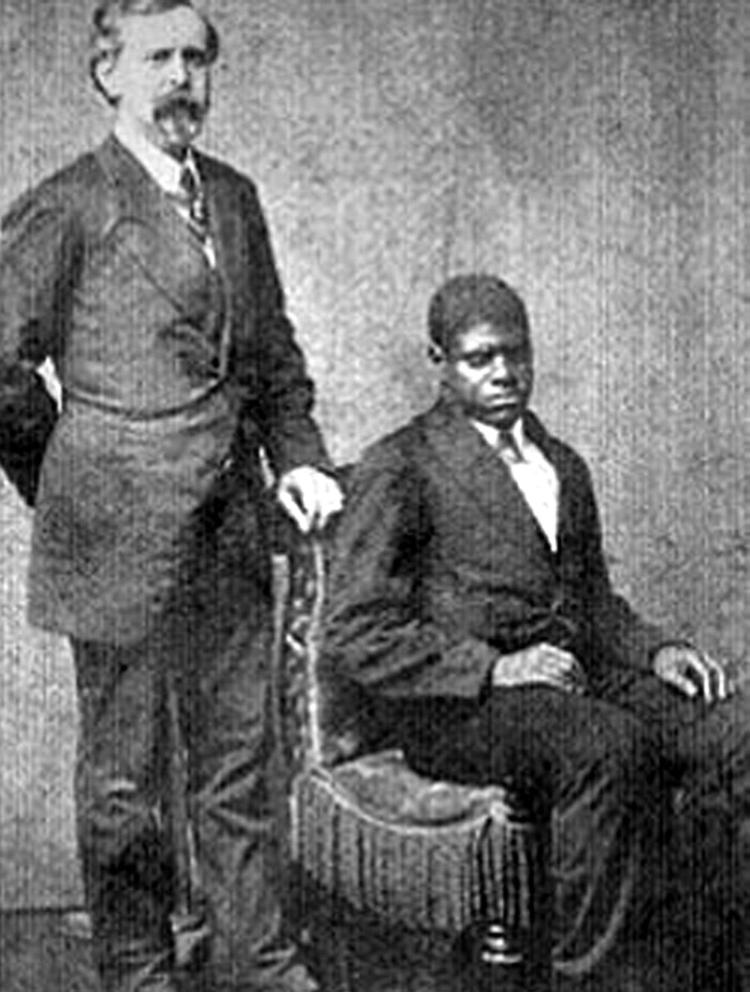 Born blind on a plantation in Harris County, Georgia, Tom and his enslaved parents, Domingo and Charity Wiggins, were sold to Gen. James N. Bethune (1803-1895), a Columbus, Georgia lawyer, newspaper owner and states' rights advocate who gave the child his last name. 
Because of his disability, Tom could never perform the tasks demanded of enslaved workers. In addition, he was a temperamental and hyperactive child who was unable to care for himself. However, when exposed to the sounds of a piano played by Bethune's daughter, Mary, by age 4 he had acquired by ear basic musical skills and could mimic the works of others after hearing them just one time. 
Within a year, Tom composed his first tune, "The Rain Storm," in which he translated the sounds of a torrential rain on a tin roof into a pleasing piano piece. 
While deprived of sight, Tom had an extraordinary talent for repeating sounds – just about any kind of sound – and he could repeat the conversations of others like a recording device, including the tones and inflections that he heard. Far from being a "simpleton," or "half-wit," Tom was a savant, and today his abilities may have been recognized as being on the autism spectrum.
Bethune recognized Tom's amazing talents, and he was moved to a room attached to the house and given the use of a piano, where he would often play for more than 12 hours a day.
In the years before the Civil War, Bethune hired Tom out to Perry Oliver, a concert promoter who took him on tours across the United States. His stage performance was unique, to say the least. He always referred to himself in the third person, inserted the mimicked voices of famous people in his introductions and often punctuated his comments with nature sounds.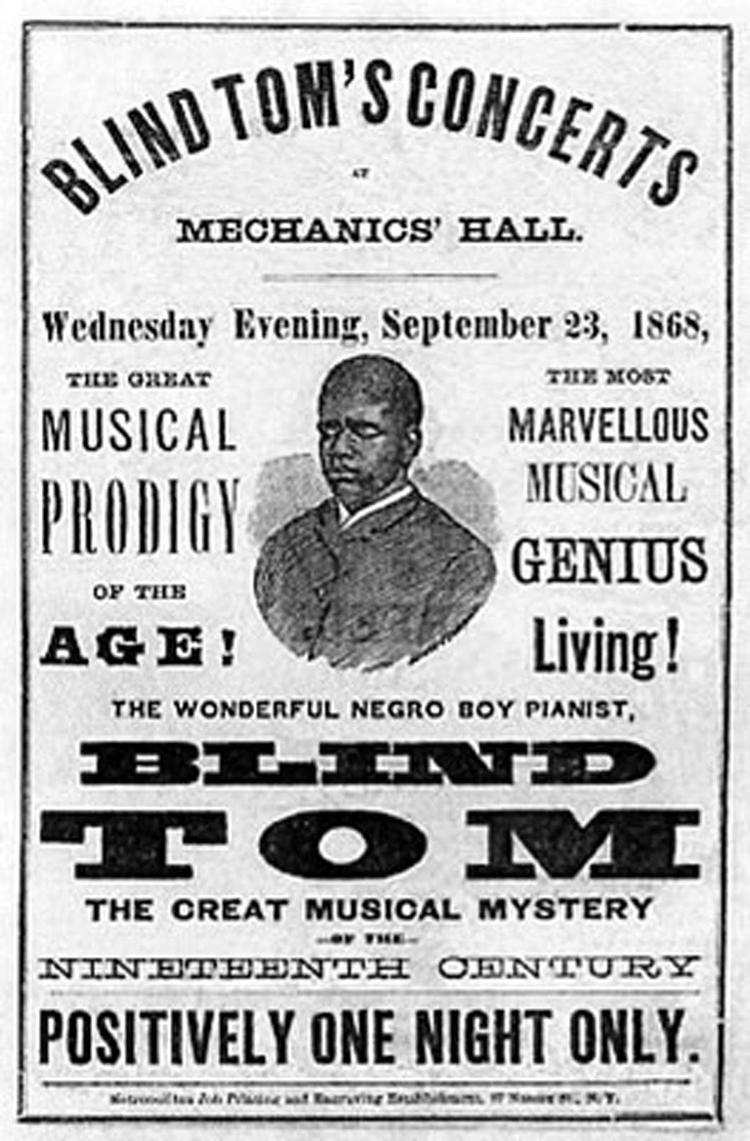 Crudely marketed by Oliver in the beginning more as a "circus freak," audiences were more impressed than curious regarding  Tom's unique talent. In 1860, at age 11, he performed at the White House for President James Buchanan – and was the first African American invited to do so.
During the Civil War, Tom did limited touring in the South. One of his best-known works was "The Battle of Manassas," composed after the Confederate victory there in 1861. 
One of his remarkable feats during this time was to play three musical pieces at once: "Fisher's Hornpipe" with one hand, "Yankee Doodle" with the other, while singing "Dixie," all simultaneously.
When the war was over, in 1866, Bethune took Tom on a European concert tour, earning testimonials from other artists, including pianist Ignaz Moscheles and conductor Charles Hallé. When asked how he could play so well, he answered simply, "God taught Tom."
A happy life in Warrenton
Bethune's son Joseph served in the Confederate Army and spent some time in Warrenton, according to M. Louise Evans (1887-1966) in a story published in the July 13, 1950, edition of The Fauquier Democrat.
"Joseph was so well pleased with the fertility of the land and the picturesque scenery in and around Warrenton that when he arrived home in Georgia, he implored his father to come to this section and buy a tract of land," she wrote.
In May 1869, Joseph bought the 309-acre property on The Springs Road known today as Elway Hall from James W. James for $45 per acre. Two months later, Joseph sold Elway to his father for the same price, and the general moved to Fauquier. Sons John and James soon followed. 
John brought Tom up from Georgia, and James (1844-1923) later joined the family in Fauquier, where he had a farm along Carter's Run. 
American author Mark Twain (Samuel Clemens) was impressed with Tom and attended his performances whenever the opportunity arose. He recalled Tom's life over the 20 years he spent summers at Elway in "Following the Equator," published in 1897. 
"Tom spent the summers in between concert tours on the Virginia estate, often in the company of the Bethune grandchildren. He loved the Virginia farm life at Elwayand was happiest dressed in simple trousers and a flannel undershirt, which were more comforting to him than formal performance dress," wrote Twain. 
"Daily sounds of farm machinery brought him pleasure. After one trip to the fields riding in a buggy behind a reaper, he returned to the house and composed a piece titled 'The Reaper,' which he dedicated to one of the Bethune grandsons.
"Septembers on the farm always signaled the return of the concert season, and the appearance of his concert manager." This was always a difficult, emotional time for Tom, who never wanted to leaveElway. Only through much cajoling and flattery was he on the road again."
When on tour, Tom consistently played to packed houses, and his manager was often asked to add concert dates or return to perform.
As a child growing up in North Carolina, Evans, along with her sister Ida (1886-1965) and their mother Lizzie Jordan Evans (1860-1931), attended a concert Tom performed at the Wilmington Opera House.
"What I recall was 'Blind Tom's' costume, an odd type of jacket – not the prescribed evening clothes," said Evans. "I don't recall too much about the concert other than the clapping, which the musician started himself, and of course he was joined by his audience. 
"I also remember the excitement of being taken to see and hear the man of whom we had heard our mother so often speak. Blind Tom was perhaps one of the greatest musicians of his time."
After the Evans family moved to Warrenton in 1904, Evans, a Warrenton native, became close friends with James and Narcissa Bethune, who lived in a house on Main Street. 
Legal problems arise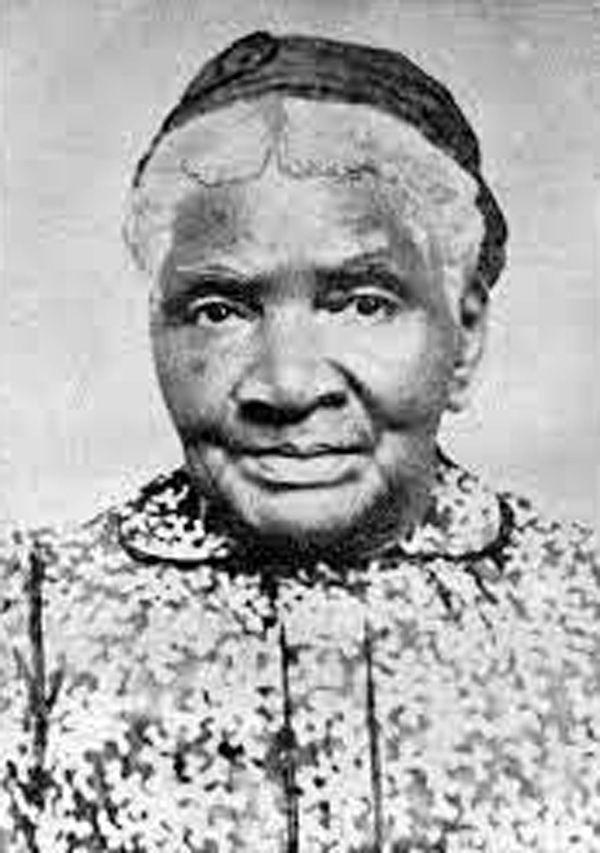 An earlier arrangement had been made with Tom's parents that Bethune would have custody of Tom until age 21, providing him room and board and $20 a month, and the parents would receive $500 a year plus food and shelter. After age 21, Bethune had Tom declared legally insane, and appointed himself his legal guardian, effectively continuing the profitable relationship.
John Bethune was put in charge of Tom's professional affairs in 1875, and the next eight years were spent on U.S. tours, including summers spent in New York.
In 1882, John married Eliza Stutzbach, who ran the boarding house where they stayed. After John was gone for eight months on tour, Eliza sued for divorce, claiming she had been deserted. 
But before the divorce was finalized, John was killed in a railway accident in February 1884. His will banned Eliza from any inheritance, calling her a "heartless adventuress who sought to absorb my estate." 
This led to a long, drawn-out legal battle over who would manage Tom's performances – and reap the large proceeds generated by his concert appearances. It has been estimated that the Bethune family made $750,000 while they owned, and later exploited his business affairs. 
At first, control of Tom reverted to Gen. Bethune, but this was soon challenged by Eliza, who brought Tom's mother Charity – who he hardly knew – into the dispute in a thinly veiled attempt to establish custody. This dragged on until July 1887, when a federal court ordered Gen. Bethune to surrender Tom to Eliza and Charity. 
Within a month, Eliza took over Tom's concert schedule, promoting him as "…the last slave set free by order of the Supreme Court of the United States," and performing under his father's surname as "Thomas Greene Wiggins" – no longer Bethune. When Eliza failed to live up to her commitments to Charity, she returned to Georgia.
Bethune died on Feb.13,1895, and was buried in Georgia. Elway was sold by his heirs in 1899 to Baldwin Day Spilman for $7,014.30. His rambling stone house on the property known as Elway Hall was completed in 1908. 
Eliza married her attorney, Albrecht Lerche, and managed Tom's career -– which included vaudeville acts as well as concerts – until his health began to fail in 1904. Tom died at Eliza's home in Hoboken, New Jersey, on June 14, 1908. The headline in the New York Times read, "Blind Tom, Pianist, Dies of a Stroke – a Child All His Life."
Mark Twain was more circumspect about Tom, stating that while he lived, "Some archangel, cast out of upper Heaven, inhabits this coarse casket, and he comforts himself and makes his prison beautiful with thoughts and dreams and memories of another time… It is not Blind Tom that does these wonderful things and plays this wonderful music – it is the other party."
Reach John Toler at jtoler@fauquier.com