"Harry Potter," "Lord of the Rings," "Narnia," and "The Wizard of Oz" all were represented at Saturday's Warrenton Wizard Walk in Old Town Warrenton. Children from Fauquier and further afield came dressed in robes and pointy hats and carrying wands for the all-day celebration of magical characters from favorite children's books. (There were more than a few grown-ups who dressed up too.)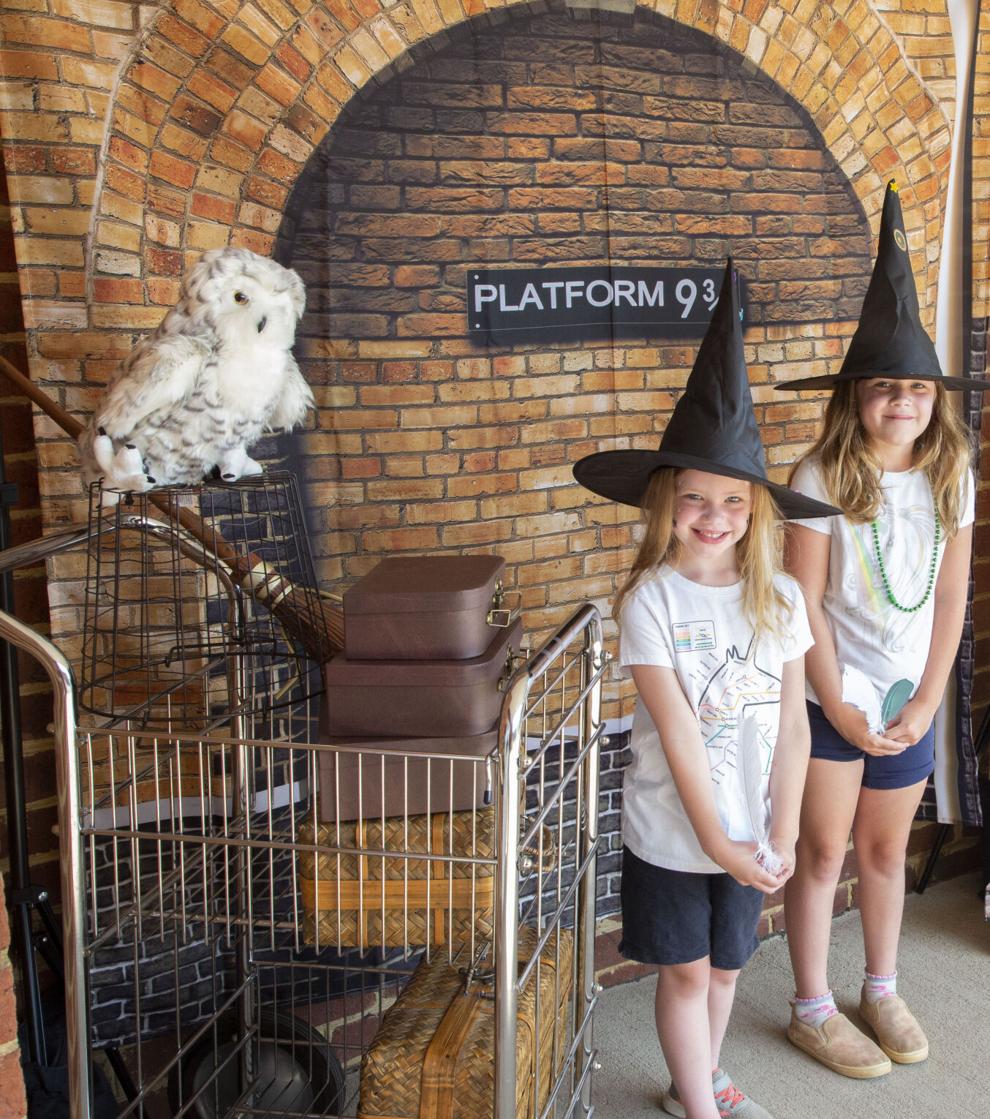 About 35 businesses participated, offering children's activities, giveaways and entertainment. Everything except foodstuffs were free to all.
Great Harvest sold Butterbeer; Haute Cakes offered paint-your-own cookies; This n' That Amish Outlet created a giant snake out of green balloons and helped kids decorate their own "house" ties, and Framecraft employees helped children create owls out of washcloths.
The Farmer's Market, held as usual on Saturday morning, incorporated some magical activities like face-painting and photo opportunities for children in front of Platform 9 ¾.
Volunteers from Allegro Community School of the Arts sorted children into Old Town "houses;" Sean Redmiles, executive director of the Fauquier Historical Society orchestrated an obstacle course to Mount Doom to throw the one ring into the fire; the Fauquier Times created and shared its wizarding newspaper, the "Fauquier Quibbler" – with photos that move.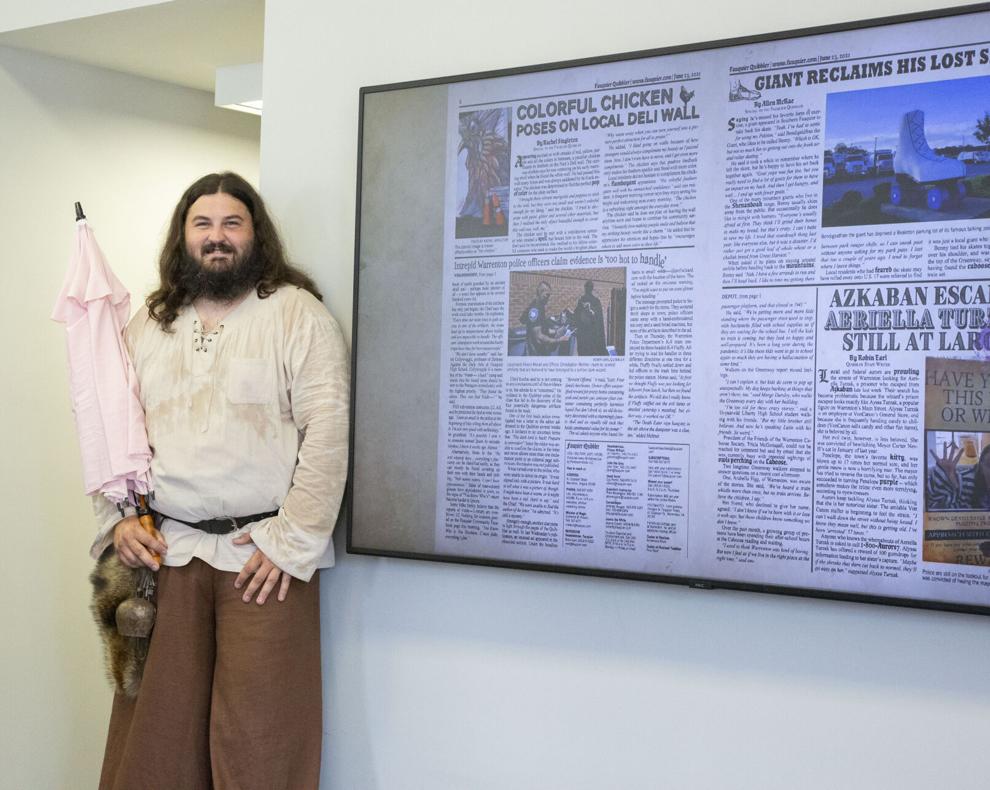 Children who completed 16 activities were awarded a commemorative coin created by Angie Russell at Flying High Engraving and given out by a goblin from Gringotts (Lily Newton).
Restaurants served wizard-themed items. The Town of Warrenton's Barrel Train gave rides once Main Street closed down at 1 p.m.
Children even got to meet Hagrid, the half-giant, a Hogwarts professor who teaches Care of Magical Creatures. Hagrid looked a lot like Dustin Grant on stilts and admittedly was a little wobbly when he wasn't leaning against a wall. The rumor is that Hagrid had a little too much butterbeer.
A thunderous rainstorm just before 3 p.m. forced the owl show inside the Warrenton Presbyterian Church, but the deluge was short-lived, and the crowd returned to the streets in time for the 5 p.m. magic show.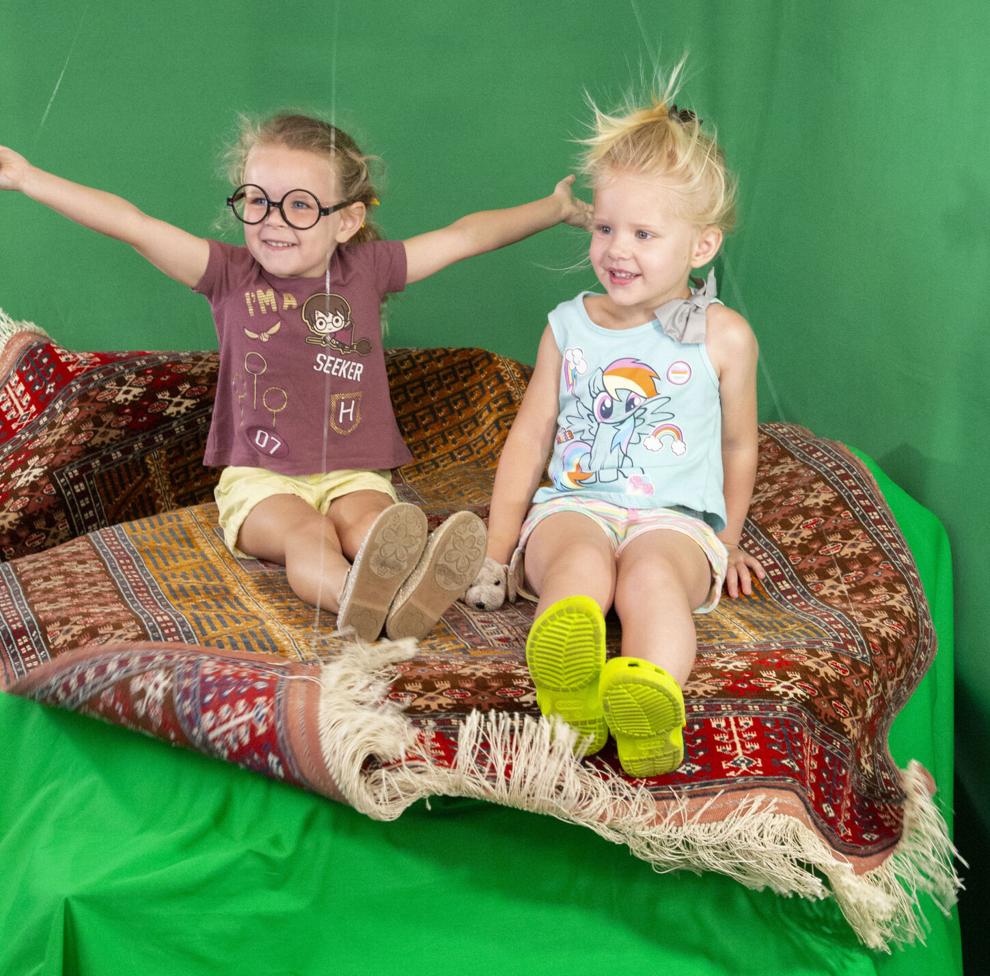 Ike Miller, who with his wife Karla opened Miller Carpets on Main Street in the last few weeks, treated children to magic carpet rides. Karla Miller conceived the idea and created a green screened "studio," complete with a moving carpet and wind. The videographer used footage of Old Town so that the final production shows the kids flying high over the familiar streets. The finished video is being sent by email to families.
Ike Miller said, "We completed more than 80 video clips with approximately 130 to 140 riders! Moms with kids, Dads with kids and siblings riding together! ... What a great day for Old Town! I can't wait for the next town event!"
Renee Younes, regional manager for Mason Enterprise Center-Fauquier, said that about 450 guests created "magical" identity cards, had their "house" predicted by a fortune teller and played Quidditch pong.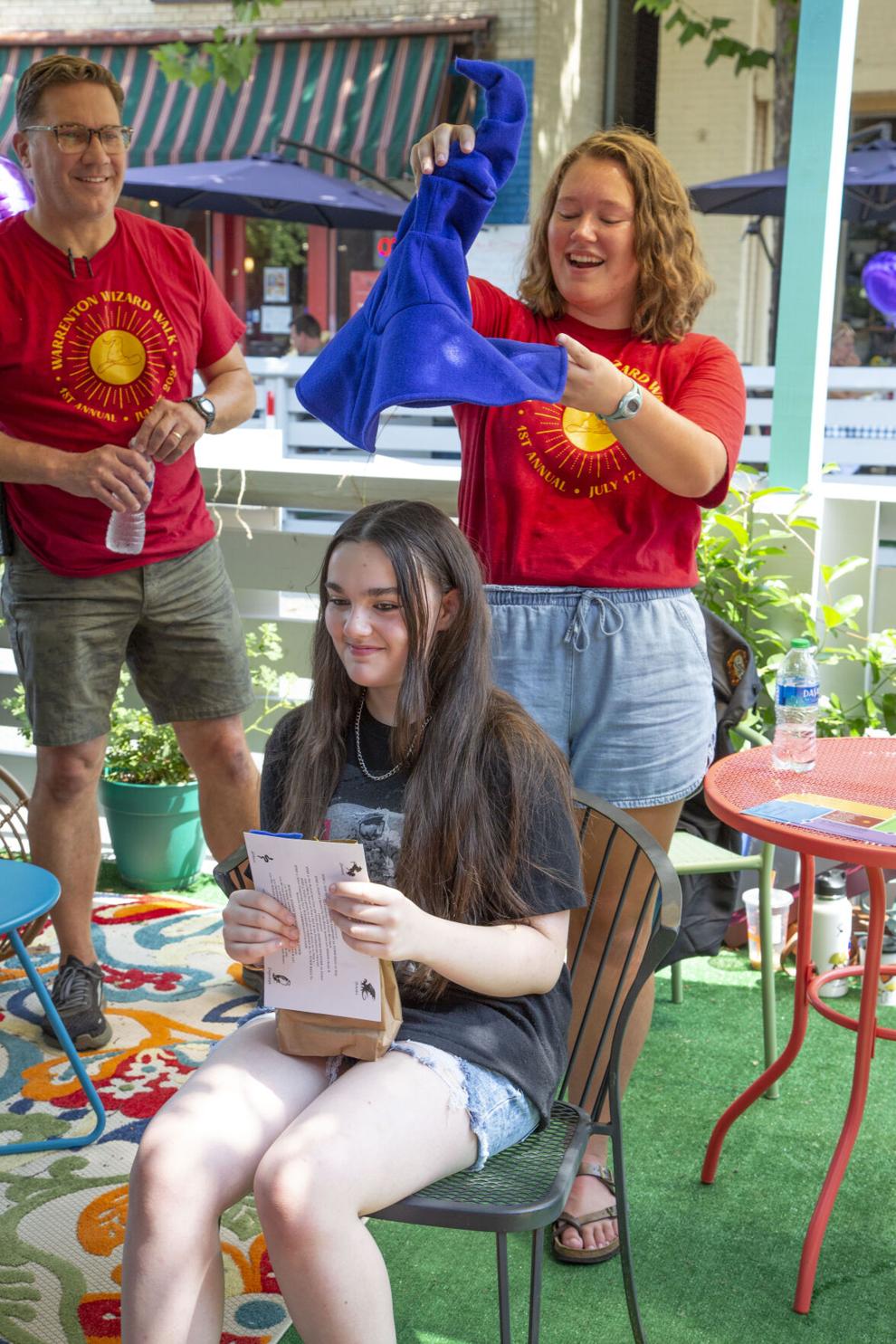 Because the MEC-Fauquier is located below street level, Younes could be seen on Main Street directing visitors to the center. "Next year, we'll have a bigger sign," she said. But Younes said that she is sure the event helped spread awareness about her organization. "We were so focused on making sure the kids had fun that we didn't concentrate too much on the MEC! A couple people did leave their cards and we will follow up," she said.
A concert at Fifth Street featuring Route 29 was a prelude to a Summer on the Green concert at Courthouse Square.
Business owners reported that they ran out of goodies to give away and materials for the children's activities. Because it was the first-ever Warrenton Wizard Walk, organizers didn't know how many visitors to expect, they said. This n' That Amish Outlet ran out of house tie-making materials by early afternoon; they had planned on seeing 300 kids. The Fauquier Times had given out all 500 wand-pencils by 2:30 p.m. There was no way to keep track of numbers as families came and went throughout the day but estimates of 1,000 people in Old Town seemed reasonable.
Cammie Fuller, owner of The Open Book; Meleana Moore, who owns Framecraft with her husband Mark; and Lee Owsley, owner of Latitudes Fair Trade, led the charge to bring business owners together and plan the event.
Owsley said, "It was a complete joy and completely worth all the time and effort to see so many people having a good time together and celebrating the beauty of our town. I could not be more pleased and grateful for the way the merchants came together and provided a fun time to the community.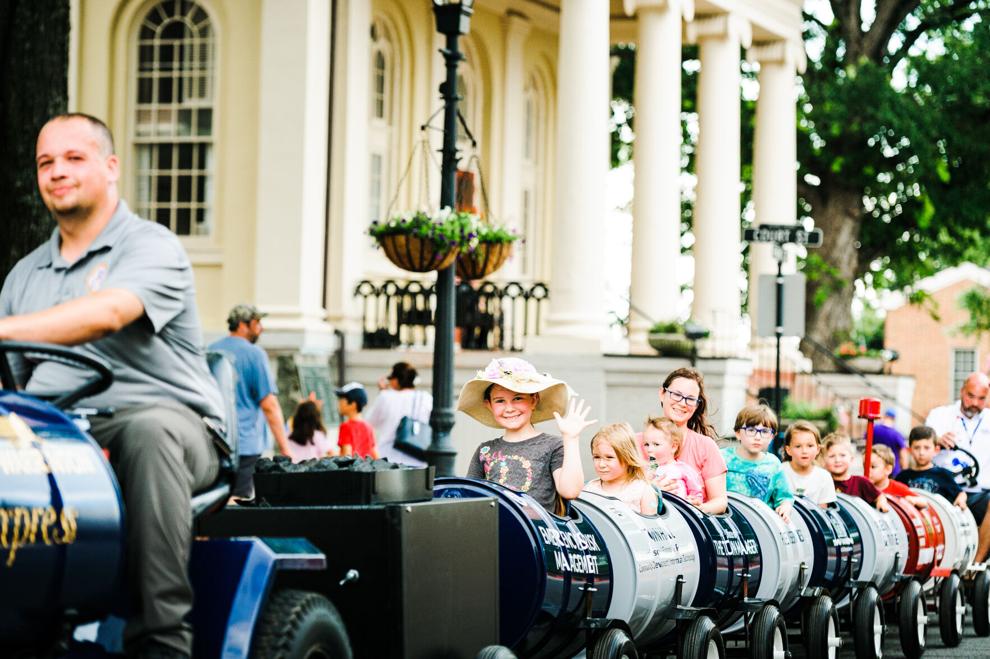 "I felt it was our way of thanking the town for sticking with us during the pandemic. We wanted to offer a big hug of thanks to everyone, and I think we did just that."
Fuller added, "This event was created by, planned by and run by Old Town businesses. We had support and back up from the town, which meant a lot, but the energy came from the businesses of Old Town. It was truly heartwarming to see the way people came together and worked so hard to make it happen. That was magic in and of itself!"
Reach Robin Earl at rearl@fauquier.com