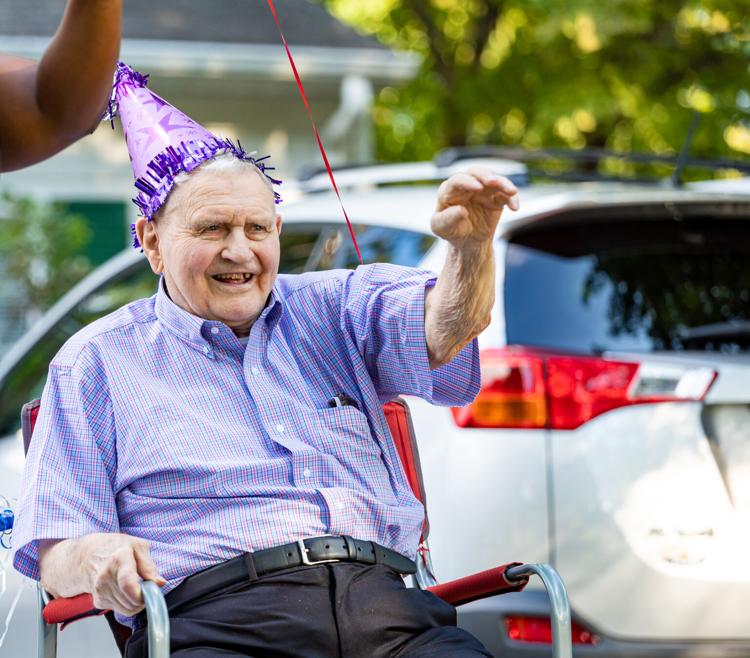 The Rev. Dick Winter was lauded by friends and family on Thursday, Aug. 20 as he celebrated his 98th birthday. The pandemic prevented a traditional party, but that didn't stop his admirers from rolling past his house, honking and cheering all the way.
Bright and shiny trucks from the Warrenton Fire Department were there, as were numerous police vehicles and dozens of friends who wanted to make sure his birthday was happy.
The Rev. Winter served as pastor of the Warrenton Presbyterian Church from  1951 until 1987. He became active in the community early on, serving as a volunteer fireman and as chaplain of the Warrenton Volunteer Fire Department. The reverend's son Tom Winter said that his father was an active volunteer firefighter for decades and was frequently the first to respond, since his church was right next to the firehouse on Main Street.
Winter has been a Rotarian for 65 years, according to fellow Rotarian Amelia Stansell.
At Fauquier Hospital, Winter participated in the dedication of the hospital in 1954 and at the groundbreaking for the hospital expansion in 1976. Tom Winter said he remembered many evenings that his father "had to 'run up to the hospital,' and it was not always for one of his church members." For his years of service, he was honored as the Top of the Tree honoree at Fauquier Hospital in 2011.
Tom Winter said, "I always saw him as giving of himself in service to others, which I think is reflected from his time in the Marines, as a pastor, Rotarian, fireman, community participant and spouse and parent. His parents were missionaries in the 1920s and I think that laid the groundwork."
Winter was married to Mary Ruth Winter for 31 years; she died in 1976. He then married Helen Hoffman; they were also married for 31 years until she passed away in 2012. The reverend has five children, 24 grandchildren and many great grandchildren.
Tom Winter explained, "Upon retirement, after a period of laying low, he was named pastor emeritus and continued to officiate at weddings, baptisms and funerals for families that had a long connection with him, as long as it wasn't interfering with the new pastor at the church." 
Tom Winter and his siblings threw their dad a birthday party at Fauquier Hospital's Bistro on the Hill last year, but really wanted to do something special for his 98th.
He said, "I had several people that said they missed seeing my dad ... When I looked at the photo of my dad with all five children at last year's gathering and I knew that the others would not be able to be here, I started developing the plan. I reached out to the church, the Rotary Club and the fire company to see if they would be interested. They were all very enthusiastic and immediately started spreading the word."
Tom Winter said that the parade was a "partial" surprise. "In order to get him to agree to come out and have a seat, we told him that the fire company wanted to drive by in 'his' truck, like a parade. He did not know that we had reached out to the other groups, nor did we know that the fire company would bring five units. They had also reached out on my behalf to get the police and sheriff included. He loved it!"
Winter's son assured that his father "is in amazing health for a 98-year-old that played hard -- particularly in tennis (though his past included football and pole-vaulting in college)… And he has a pacemaker, so his body has been through a lot. So each birthday we get to celebrate with him is a blessing for us."