In an expansion of the "Roll Out Warrenton" initiative that began in May, two blocks of Warrenton's Main Street will be closed to vehicular traffic each Friday and Saturday, 5 to 10 p.m. through at least the end of the year. The move is intended to drive more pedestrian traffic to businesses in Old Town.
The weekly closures, which affect two blocks between Culpeper and 3rd Streets, began this weekend. Despite periodic rain and thunderstorms caused by remnants of Hurricane Laura, the street closures proved popular enough to pack most of the available outdoor seating, especially after the storms had passed Saturday.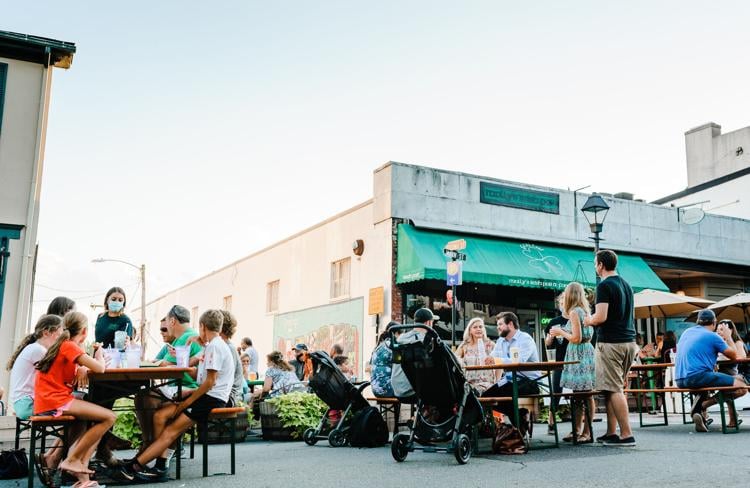 Casey Ward, who owns Molly's Irish Pub and Altered Suds Brewing Company, said that Saturday's revenues were the highest since the restaurant reopened in mid-May.
Ward said that the "Roll Out Warrenton" program, which has allowed businesses to utilize parking spaces on Main Street and portions of side streets for outdoor seating for the past three months has proved popular -- so popular, in fact, that he is having difficulty hiring enough staff to meet demand. "Right now, we can't find people," he said. "We are actively hiring, as are most of the restaurants in town."
Warrenton Mayor Carter Nevill, who owns a jewelry shop on Main Street, said the decision to close the street weekly came after town officials received overwhelmingly positive feedback for "Roll Out Warrenton." The new initiative, he added, came after "listening to the enthusiasm coming from businesses and residents," he said. "This comes from feedback from the public." For the first time in 16 years, he said later, "This is the first time people aren't asking, 'Why can't we be more like Culpeper?' I've really seen enthusiasm and pride in what this town is."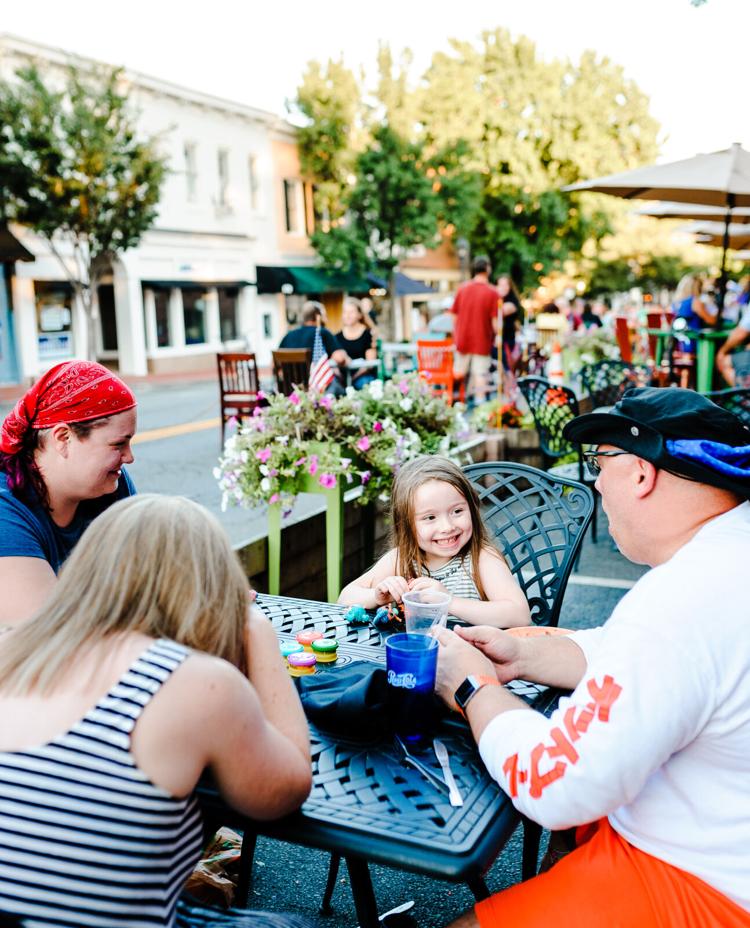 Restaurants on Main Street have staff members whose hours were reduced during the pandemic and who are eager to come back, he added, and the street closures will enable restaurants to meet increased demand while maintaining physical distancing among tables.
While Nevill does not think permanently closing the street to vehicle traffic, as in Winchester and Charlottesville, would be feasible, he said the closures on the busiest evening for restaurants will be a boon to both diners and businesses. He cited the recent success of a similar initiative in Leesburg.
"This is what we originally envisioned for First Fridays," Nevill said. "Not a 'mini Spring Festival,' but local restaurants and businesses being able to expand into the street. This is [Experience Old Town Warrenton]'s mission: to create a space where businesses thrive."
At another point, he elaborated, "Anything that puts Warrenton on the map and makes us a destination, I think, is a benefit to the whole town."
Sandra Packwood, who owns Do You Dejavu, said her shop would stay open later on Fridays and Saturdays in hopes that the street closures would drive more foot traffic to Old Town. She praised town officials for what she sees as a more creative approach to helping businesses, especially during the pandemic. "It's getting more open-minded and creative. They are more willing to try new things." She appreciates, she said, town officials' willingness to try a new idea and tweaking it as needed, instead of what she called "overthinking it."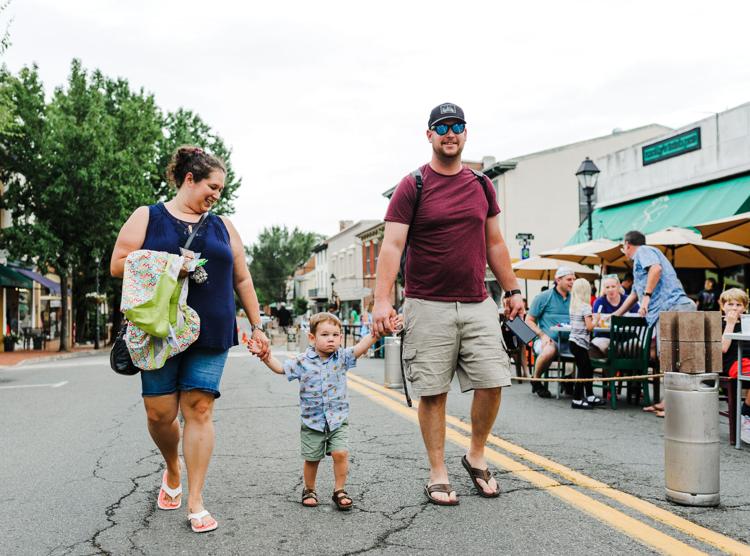 Most of her customers, she said, come from the area in and around Fauquier, but "We're seeing this already through the pandemic – people doing day trips to get out of the house, and Warrenton is on that list."
Even two blocks away from the street closures, Sherrie's Stuff was also open late this weekend. Store employee Moriah Friedline was hopeful that, "with more people on the street, we'll get more business."
Victoria Campbell, of Warrenton, walked down Main Street on the way to dinner Friday evening with her husband, Jason, and 1-year-old son Nicholas. "I think it's awesome. We love it," she said of the street closures. When the pandemic began, she said, "At first we were going out a little less, but now, especially with all the outdoor options, it's great."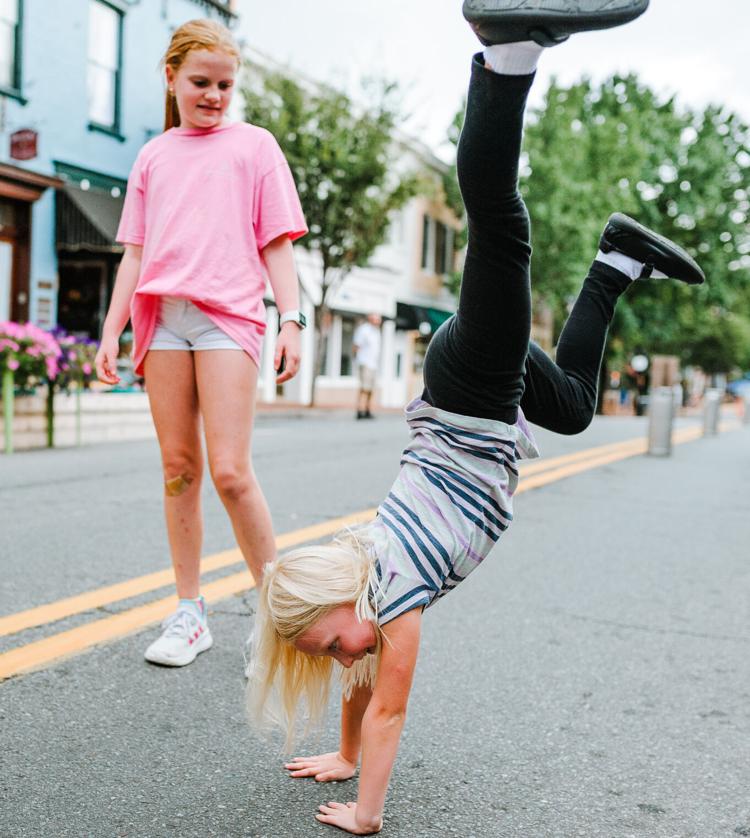 Sean and Tara Crandell, of Warrenton sat at a table outside Molly's Saturday night. "I think this is fantastic," Sean Crandell said. "They should block off the whole street, make it like Winchester. People want to be outside. I've spent time in Italy - this is relaxed. In the summer, you want to be outside."
Tara Crandell agreed. "It's very communal. People are more likely to say 'hi' and talk to you."
Lindsey Dengel, Warrenton, sat with friends and their kids at a picnic table in the street outside Molly's Saturday. Two girls were riding scooters on the street next to them. "We love this. We think it's a great addition to Warrenton," she said. "I think with both local and out of town people, it's going to be a success."
Reach Coy Ferrell at cferrell@fauquier.com