March has certainly come in like a lion -- snow, ice, rain and sleet has been mercifully interspersed with sunny days and some warmer temperatures.
Hopefully, it will go out like a lamb, since March and April typically include lots of outdoor events that include themed 5K runs. 
Hero's Bridge Vietnam Veterans Day 5K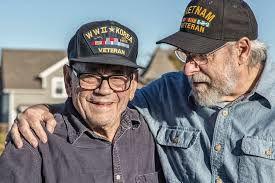 Hero's Bridge, a nonprofit organization based in Warrenton, is dedicated to serving elderly veterans. The group offers several programs, including a Battle Buddy Program that pairs veterans with younger veterans and Honor Guard, where veterans have the opportunity to record oral histories. Canine visits offer companionship as part of the Paw Patrol.
On Saturday, March 30, there will be a race to show appreciation for Vietnam veterans. The race will begin at 10 a.m. in Remington, 300 E. Main St., with a 5K, including a Kid's Run. A welcome home prayer will take place at 11:30 a.m. This event is not just for runners; food and drinks will be available.  A 50/50 raffle and the first Remington Cup Corn Hole Tournament will also be held. The community is invited to join in this celebration of Vietnam veterans. $25. Registration ends March 29. Visit www.herosbridge.org.
Race for Grace
Grace Nicole Stone died Nov. 1, 2018, after sustaining injuries in a car accident Oct. 31, 2018. She was 19.
A graduate of Kettle Run High School, Grace excelled academically and as an athlete, and she had plans to attend Lord Fairfax Community College. As president of the National Honor Society in April 2017, she organized a 5K run at Kettle Run, with proceeds going to Build Africa.
Grace believed that every child deserves a good education; Build Africa works to give children the education they need. The group partners with remote and rural communities, where children are leaving school without vital basic skills.
To honor her and continue her legacy, family members have organized a 5K run to be held Saturday, April 6, starting at 8 a.m. at Kettle Run High School, 7403 Academic Ave., Nokesville.
"Grace had quite an impact everywhere she went," said her great-grandmother, Nancy Moeglein. Grace had been planning to come to Colorado and help her move the week following her death. "We all loved Grace; we called her Gracie girl," added Moeglein.
"Her aunt, Kim [Sellars], is flying in from Chicago to take part in the 5K, and so will her grandmother, Lauri Frasz who lives in Gainesville," added Moeglein, who hopes to walk in the event.
Grace's mother, Kelly Stone, works at Haymarket Baptist preschool and kindergarten. She has two other daughters, Kaitlyn, 14, who attends Kettle Run and Amber, 12, a student at Auburn Middle School.
"I have mixed feelings," admitted Stone sadly, "but we decided to do this as a way of honoring her and carrying on her legacy. It was something big that she did when she organized the event in 2017."
The race fee is $30 till race day, $40 the day of the race. To register and learn more about the Race for Grace, visit www.raceforgrace5k.com
Living the Dream Foundation
The "Living the Dream" Memorial Walk and annual 5K Run will be held in the memory of Ben Long, who died at the age of 24 in April 2015. Funds raised will be used to support individuals and families affected by substance abuse, depression or suicide. 
Ben was a graduate of the 2008 class of Culpeper County High School and the 2013 class of Old Dominion University. Ben loved the beaches of the Outer Banks in North Carolina, but his true love was the land where he grew up: the family farm at Cedar Mountain. 
Participants will help support local prevention programs, allow individuals and families know that there is help, support those who have lost loved ones to addiction and suicide and provide a resource where they can learn more about what is being done to address these issues. 
The run will be held Saturday, April 6, at 9 a.m. at Yowell Meadow Park in Culpeper. Registration begins at 8 a.m. Preregister on www.Eventbrite.com (search for Living the Dream).
Cost is $35 for runners (free T-shirt to first 150 registered). Donations from "walkers" are appreciated. Make checks payable to "Living the Dream" Foundation, P.O. Box 4, Culpeper, VA 22701.
Donations are tax deductible (Federal ID# 23-7238218).
Silent auction, food, T-shirts, face painting, games for the kids, water and music will be provided.
Contact: livingthedreamculpeper@gmail.com
Reach Anita Sherman at asherman@fauquier.com