The pulse of the Appalachian Trail quickens in March as dedicated thru-hikers converge from across the country and throughout the world to commence the 2,190-plus mile hike from Springer Mountain, Georgia to Mt. Katahdin, Maine -- until October, when the trail closes due to weather.
Throughout these seven months, the trail becomes a living vein stretching across ridgetops of 14 eastern states. Hikers are joined by other hikers and may walk miles together, over the course of days or weeks. But when one hiker steps off the trail; perhaps for a prolonged rest or to visit someone, fellow hikers move on. When the hike recommences, they hike alone or join new hikers.
Stories begin, but in many cases they never end.
Yard Sale (her trail name) strolled into our shelter singing at 8:45 p.m. It was nearly hiker's midnight — when the sun sets and hikers sleep — at the end of our first night on the trail. Donning her headlamp, she settled herself in for the night.
We were awakened by her 5:30 a.m. alarm, set to make sure she made it to Caledonia, Pennsylvania where her brother was going to meet her. The thru hiker had been on the trail for 2 months and 11 days and wasn't sure if she would continue. "It's difficult to explain," she said of the AT thru-hike experience; it is both punishment and pleasure.
She had spent weeks with older Eagle Scouts, but when she stepped off in Maryland to visit friends, they continued north without her.
Yard Sale's father, a 55-year-old ultra-marathoner, had set out to hike with her for the first few days; leaving his bike about 60 miles north of the trail's start with the intent to hike to his bike and take it south back to his truck. "He needed to call a shuttle to help him off the trail and get his bike," said Yard Sale. "He had trouble walking normally for weeks afterward," she added.
The trail sends many hikers off with an injury. Trail runner Druid twisted his ankle in Asheville, North Carolina, about 150 miles along his northbound Appalachian Trail hike. He explained that his hiking companions were conveniently medics and they helped him off the trail.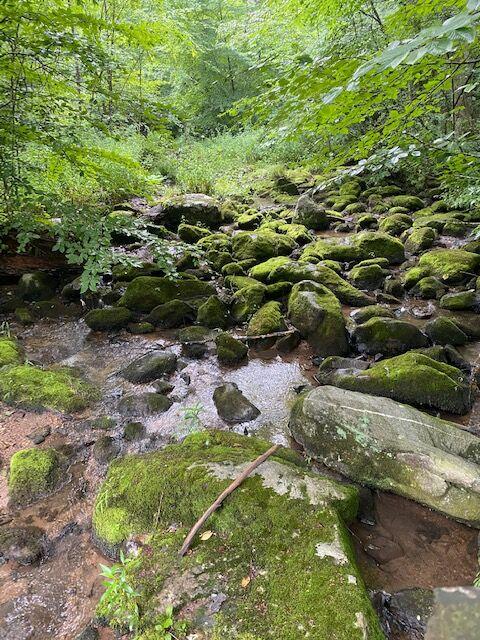 For two weeks, he rested in a hostel where a physical therapist -- and AT hiker -- checked in on him.
When he felt well enough to return to the trail, he began ironically hiking with several EMTs. "I felt like I was in good company the entire time," he said.
When we met Druid at the Ensign Cowall Shelter in Washington County, Maryland, he said his ankle had just begun to feel better and he wasn't sure how much further he would continue. "I've run out of money," the Chicago native said.
On average, it costs hikers about $1,000 each month to live on the trail. These expenses include rest nights in hostels or hotels and food when the trail veers near a town. For hikers who do not hitchhike, they need to pay for rides to and from town or post offices to pick up supply boxes sent from home.
And of course, there's hiking gear, which can run another $1,200 or more.
After helping us and a nearby church group hang food bags on the bear pole, Druid hung his hammock for the night. He was still sleeping when we departed south the following morning.
Did Druid move on or make plans to return home?
The night we met Druid, we shared a shelter with Metta. She preferred to sleep in her tent, but the tent pads had all been taken by the church group members.
Twenty-nine-year-old Metta was driven to the trails by COVID for regular hikes. "Working from home wasn't going well," she said. She spent her quarantine days hitting local trails with a tentative plan to thru-hike the AT (hiking from one end to the other). "In November, I told my job of 8 years what my plan was, and I had quit by March 2021 and hit the trail." She headed for Springer Mountain seeking a healthier lifestyle and a change.
Metta met Smurfette on the trail. In her 40s, Smurfette was a nurse and mother to two daughters in their early 20s. Her second husband thought the world of her. She carried a GPS SOS device for emergencies. "He said if I pressed the SOS, it would be because I was saving someone else and not using it on myself," she said. Upon meeting her, she had yet to send an SOS.
I wonder if she ever did?
Although the two women had been hiking together, Metta set out the next morning before Smurfette, preferring to hike alone listening to audio books. The two would catch up later at the next shelter.
Did they?
Blue Shirt Man, whose actual trail name we never learned, was a segment hiker. He had made up his own trail rules and happily employed the "hike your own hike" motto: There is no wrong way to hike the Appalachian Trail.
From Florida, Blue Shirt Man was in his late 50s. He hopped on the AT at Springer Mountain in March of 2020. Mid-month, the Appalachian Trail Conservancy issued a letter asking all thru hikers to cancel or postpone their plans in response to the worldwide pandemic.
Even the near 2,200 miles of the trail is not enough to socially distance oneself. Blue Shirt Man left the trail. When we met him in Maryland, he was section hiking the trail, hoping to accomplish all of it over time.
I wonder how long it will take him?
Our next destination was the Dahlgren Backpackers Campground, near legendary for its bathhouse, with both showers and power to recharge devices. One hundred yards from the bathhouse was a hydrant from which flowed cold, potable water, eliminating the need to filter water.
Walking to the faucet, I met Cat Nip. When she told me her name, I was taken aback, "I've heard of you," I said. She was shocked. "Yes, Druid mentioned hiking with you last night."
She had hiked for a while with Druid. She had jumped off the trail to spend time with her mother and when she hopped back on, Druid and her other fellow hiking companions had moved further north.
Druid never learned if Cat Nip returned to the trail.
She knew that Druid had run out of money, but Cat Nip never knew if he went home or found some other way.
While speaking with Cat Nip, I learned that she had hiked to the Everest Basecamp, and I wondered if it was when local businesswoman Marianne Clyde did the same.
She also hiked the El Camino from Santiago de Compostela in Western Spain to Le Puy-en-Velay in France, coincidently beginning in the same Spanish region where my grandfather was born. I had more questions to ask her, but when I awoke the next morning, she had packed up camp and headed north. Another unfinished AT story.
Early on, my hiking companion and I saw a woman storm into the shelter where we were resting after a thunderstorm passed through. She needed more water and headed straight for the spring near the shelter.
We later learned her trail name, Brazen, and that she lived in Carlisle, Pennsylvania. Her property had the AT running through it. After helping hikers for many years, she decided to become one, and headed south to Harpers Ferry.
The 65-year-old was in amazing shape for a woman of any age. With well-defined shoulders and strong legs, she moved confidently along the trail. We heard her give out her phone number to several hikers heading north as she moved south, telling them to call her when they got close to Carlisle and she would provide "trail magic" — when nonhikers give hikers gifts, often in the way of food.
On our way from Deer Lick Shelter in Waynesboro, Pennsylvania to Maryland, we passed each other several times. But we never saw her again once we left the Ensign Cowall shelter.
I wonder, did she ever make it to Harpers Ferry?
My trail name is Bacon Jam and my friend is On The Rocks. We left our stories too. Two southbound section hikers making our way to Bear's Den in Virginia on our first backpacking adventure in the back country, we were logging impressive miles for hikers who had yet to earn their "trail legs."
Our trail story: On The Rocks celebrated a milestone birthday this month and invited Bacon Jam to join her on the inaugural segment hike. Fortunately for On The Rocks, Bacon Jam is happy to entertain any new adventure. New adventures just happen to be her "jam," her "bacon jam."
The northbound hikers we encountered will never know if Bacon Jam and On The Rocks made it to their destination.
With 554 miles, about 25%, of the trail in Virginia, what unfinished story will you leave on the Appalachian Trail?