"Park in the shade," he said motioning me to a spot underneath a large tree. At 77, smiling, gracious and ever energetic, he sat at the wheel of an ATV. I joined him for a short ride to the office at Verdun Adventure Bound, a sprawling 55-plus acres of natural habitat and a few buildings located off Route 229 in Rixeyville.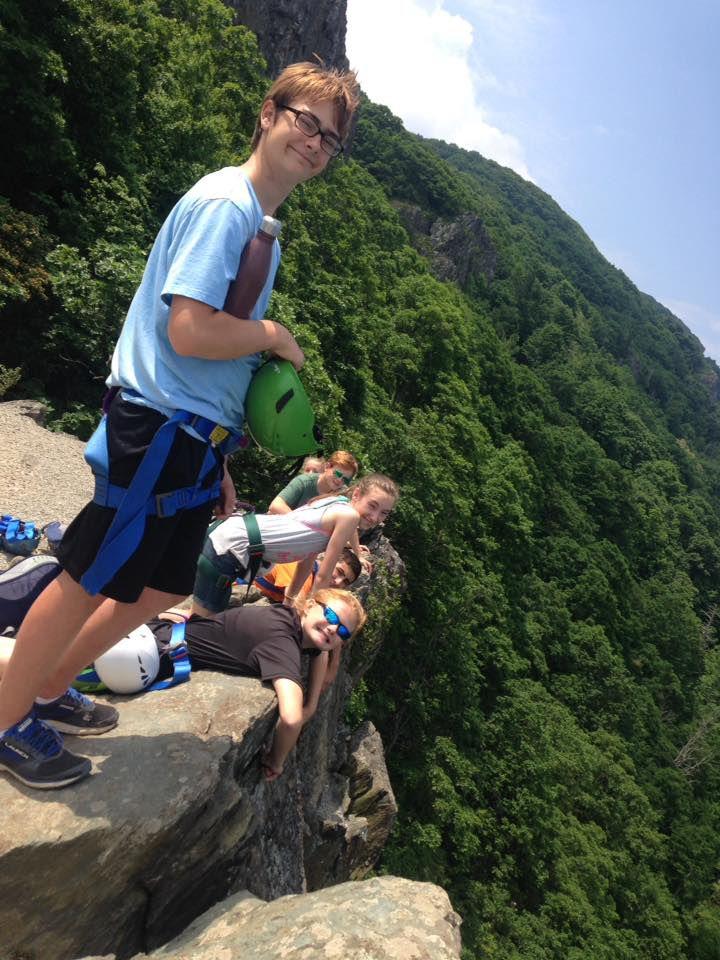 I was here to catch up with Dr. Dave Snyder, affectionately known as "Doc," the founder of this very special place tucked away in the woods. It's a spot familiar to thousands of children and adults who have camped, kayaked, listened to stories, shot an arrow, climbed rocks, hiked, painted, sang or shared time learning and growing with nature. Doc has been their mentor and teacher over the last 20 years. 
I've been involved in the local journalism scene for nearly as long; whether I was working with newspapers in Fauquier, Rappahannock or Culpeper, I've had the privilege of knowing this man on a professional and personal level.  
An orthopedic surgeon by trade, Doc co-founded the Blue Ridge Orthopedic & Spine Center in Warrenton in 1978 and remained there until his retirement in 2011. A graduate of Georgetown University with a Bachelor of Science in biology, his interest in medicine lead him to the University of Maryland School of Medicine where he graduated in 1967. 
He has served as the Virginia Hospice Association president and to this day, he continues to serve as an orthopedic surgeon with Medical Missionaries, Thomasique, Haiti.  
While working in Culpeper, I interviewed him for a video series on local veterans. Doc grew up in a military family, moving often. The son of an admiral, he enlisted in the U.S. Navy for four years where he served as a physician in trauma surgery and ortho-trauma surgery in Vietnam and at the Bremerton Naval Hospital as an E.R. physician and orthopedic surgeon.  He completed his orthopedic surgery residency at the Medical College of Virginia in Richmond in 1975. 
During that videotaping and at a prayer breakfast that I attended where Doc was the speaker, he had his listeners spellbound, retelling the incident where he removed a live grenade from the shoulder of a suffering soldier in Vietnam after clearing the room of everyone except himself and an assistant. Heroic, but for him, done matter of factly, without concern for himself, but only for those he served.  
I suffered from a broken wrist in 2006 as did one of our sons a few years later and it was Dr. Snyder who treated us both. Caring, confident and reassuring, we both mended well under his watchful eye. And his humor. 
"My favorite nursery rhyme is Humpty Dumpty," he told me with a twinkle in his eye and then recited the familiar verses. "All the king's horses and all the king's men couldn't put Humpty together again … but I can, I'm an orthopedic surgeon," he laughed, "I love that." 
It's this notion of fixing things and making them better that has been a constant mantra with this man. His philosophy of life is to strive to help others, to nurture and to give positive structure and strength to life's challenges. He has always been an advocate for youth. 
"Originally I wanted to be an adolescent shrink," he told me to the backdrop of young people laughing and joking in a nearby room. Sleeping bags and camping gear lined one of the halls and no doubt an adventure was about to begin. 
It was in the '90s that Doc acquired the land in Rixeyville, then an abandoned Angus farm. The farmland was ripe for reinvention. "I've always loved trees," said Doc who, along with family members, started planting trees. He created an arboretum, which then led to the growing and selling of some 30,000 trees. But something else started to grow along with the trees. 
"The Boy Scouts approached me about coming out to picnic," said Doc, "and then other groups would ask me if they could come and use the property. 
"I always had this idea of a youth center," said Doc. In 1999 that became a realty with the creation of Verdun Adventure Bound, a nonprofit organization with a mission to support and promote youth and adult personal growth through a myriad of hands-on learning experiences. Certainly, teaching love of land through stewardship is a byproduct. 
Doc has had his own mentors, his father for sure and Thomas Merton for another. An American trappiest monk and ordained priest, Merton was a writer, theologian, mystic, poet, social activist and scholar of comparative religion. 
"I'd call myself a Catholic-Buddhist," smiled Doc describing one of the camp's more recent additions, a Buddhist garden. Taking a walk through its quiet and winding paths, the cool serenity of a soft breeze, one can see it is a place to reflect. "People can come here and just be quiet and think," said Doc who, in all his words of wisdom over the years, has not wavered from his three-pronged philosophy of moving from the "me" to the "we" and ultimately to the "one. 
"In this life you are either a giver or a taker," said Doc, "It's a value system, that's the game. 
"The more you give, the more that becomes part of you, and that's what makes things work together … you can't be isolated … you have to work toward the oneness." 
Doc passed the reins of direct control of Verdun to Executive Director Honore Hastings several years ago. Verdun is bustling with full-time staff. Programs continue to evolve all focused on helping youth and adults grow. Doc remains a constant player.  
We talked for more than an hour and I took notes, wondering how I would be able to capture all that we discussed in a several hundred-word piece. As we neared the end, he seemed to sum it all up in a simple yet profound observation.  
"There's an acorn … it can be food for a squirrel, or it can be called to be an oak tree," he said smiling, "What's my job now? … I'm the producer … there's still so much to tell the world." 
On July 20, Verdun Adventure Bound, family and friends will pay tribute to this very special man and his legacy of professionalism and service. I think of Doc as doctor of the community. An encounter with him always has you coming away inspired, feeling stronger and smiling. 
A reception will start at 5:30 p.m. followed by a free concert at 7 p.m. sponsored by the Blue Ridge Orthopedic and Spine Surgery Center.