James E. Koehr earned his Eagle Scout Award in June of 1952. He had four sons – including Jim Koehr of Warrenton -- who also earned Eagle Scout awards in the late 1970s. Jim Koehr and his wife Colleen have nine sons who collected Eagle Scout honors between 2005 and Feb. 28 of this year. Add in seven Koehr cousins, and that makes 22 Eagles in all.
There's only one problem, according to the patriarch who started it all: "I ran out of grandsons."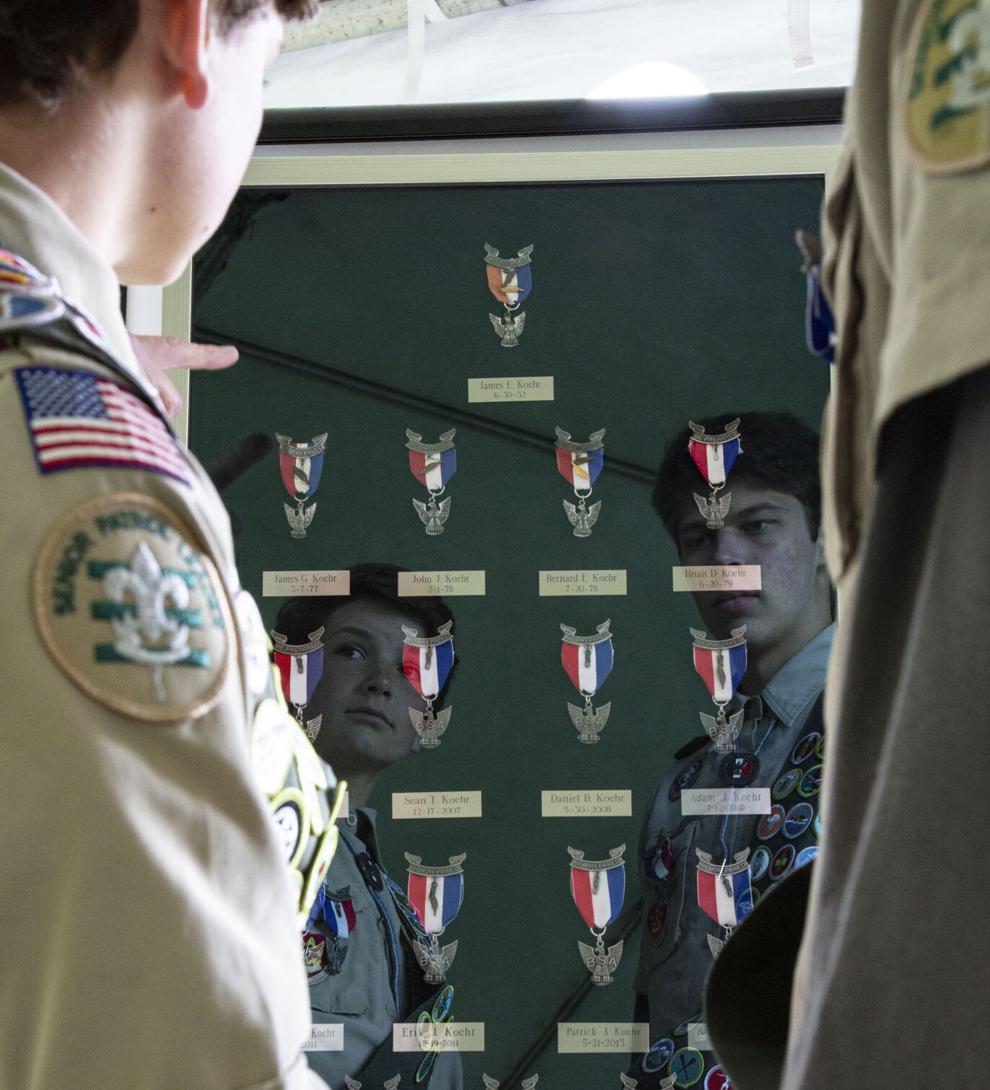 Not to worry, though, because the elder Koehr has seven great grandsons… so far.
The Koehr clan assembled May 30 to celebrate the most recent Eagle Scouts – Connor Koehr, youngest son of Jim and Colleen Koehr and Zachary Koehr, Connor's cousin. Eagle Courts of Honor can be serious affairs, with earnest young men reciting the pledges they have come to know so well and recounting their many accomplishments. This gathering was closer to a joyous family reunion – but with uniforms.
Not all of the attendees' uniforms were of the Boy Scout variety either. Of the Warrenton Koehrs' nine sons, three are currently serving in the military, one is a former U.S. Army captain, one will be a U.S. Navy chaplain beginning next summer and one is enrolled in an ROTC program. There are three Koehr daughters as well, Kaitlyn Brindle, Kelly Mooney and Ceili Koehr. 
Connor Koehr, at only 14 years old, completed the demanding requirements for the Eagle award at a younger age than any of his brothers. His father said, "He occasionally shows that he is only 14, of course, but Connor has a maturity at a young age that I don't often see. Even though he finished his Eagle the fastest of any one of the boys, I spent the least amount of time pushing him. He had a goal to make it faster than any of his brothers, and that was completely internally driven."
His mother agreed, "He's the youngest, but …his brothers never treated him like the baby…  He wanted their respect and worked hard to get it. He's a natural leader."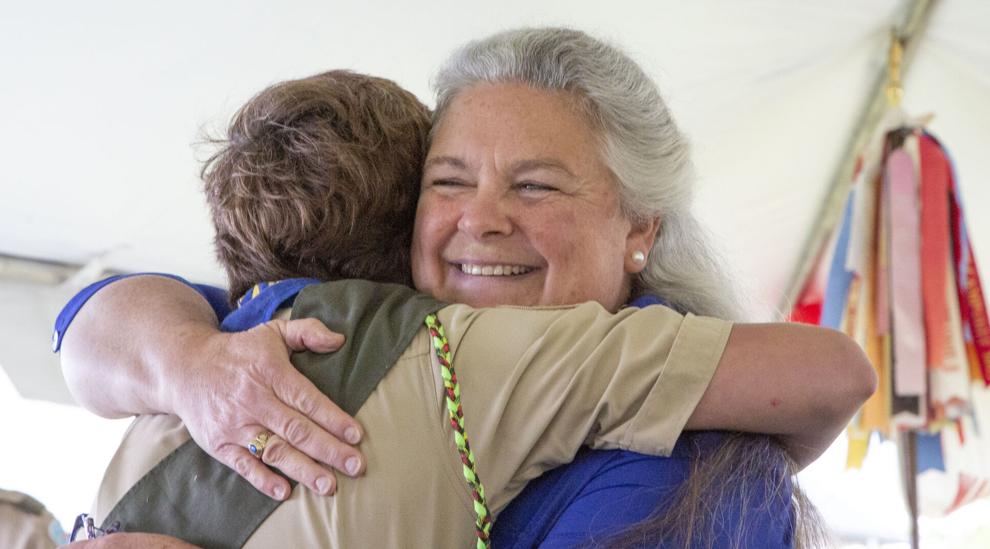 Connor had been homeschooled until this year and just finished eighth grade at Seton School in Manassas. An enthusiastic athlete, he swims and plays lacrosse and soccer. As a first-year diver this year, he placed seventh in the Virginia Independent Schools Athletic Association state diving championships in February.
His father said Connor loves fantasy novels, building forts and fighting AirSoft battles in the woods with his friends. At the Eagle ceremony, Connor laughed and joked with his family and friends, clearly enjoying his moment in the limelight.
Like his brothers who serve in the U.S. Army and the U.S. Navy and his brother-in-law, U.S. Marine Maj. Paul Mooney, Connor would like to enter the military someday; his goal is to be a U.S. Marine officer, his dad said.
As Jim Koehr congratulated his youngest son on his Eagle Scout accomplishment, he recalled his own Scouting career. He said that as a Scout himself and as the father of nine Boy Scouts, "I have said the Scout oath and law hundreds of times, and I have failed to live up to the standard they express thousands of times. They set a very high bar."
Koehr talked about Scouting in the '70s, when his mother was a den mother for him and his brothers. He fondly remembered building pinewood derby cars, painting trash cans as a community service project and "adding as many arrowpoints as would fit on our shirts underneath our Wolf and Bear badges."
His father was Scoutmaster, he recalled, "We camped every month, including the winter months. I remember my breath causing icicles to hang down from the inside of my tent at the Antietam battlefield as I woke up in the LL Bean down sleeping bag that I still use to this day."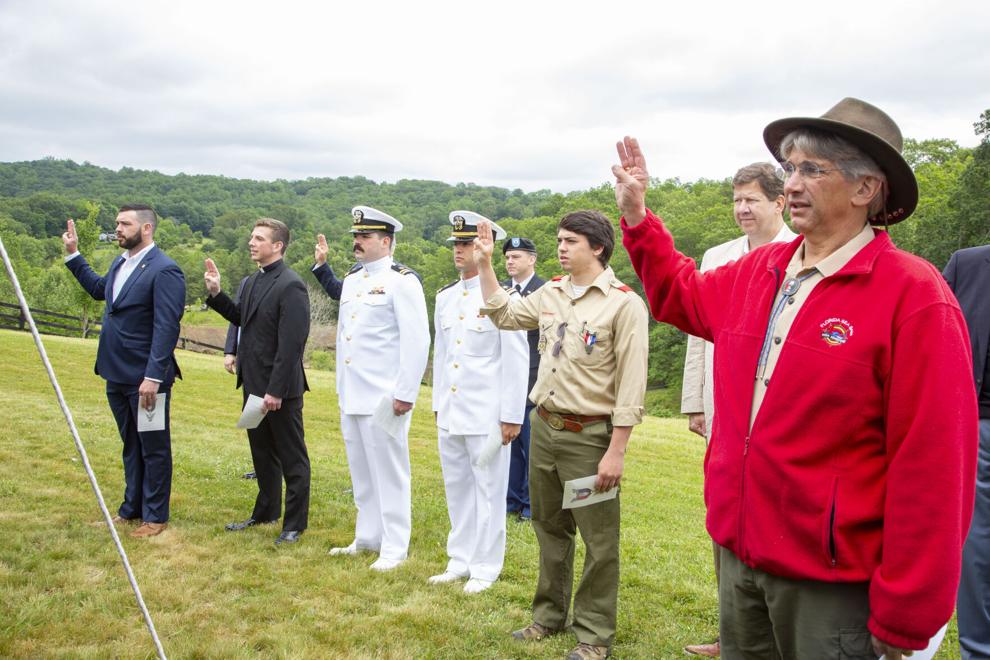 On March 7, 1977, Koehr said, "I became the first of the 2nd generation of Eagle Scouts in our family," and by June 1979, all three of his brothers were also Eagle Scouts.
Koehr said, "That was the beginning of a great tradition in our family where the grandfather awards the Eagle Medal to his grandson. I was only 13 years old, but I still remember my grandfather giving me my Eagle medal."
Connor's grandfather – the aforementioned patriarch James E. Koehr -- awarded his grandson the Eagle prize at the May 30 gathering.
When asked to remember a highlight of his years in Scouting, Connor said, "In the summer of 2019, I did a high-adventure trek with my troop to Maine, where we canoed down the Allagash River for eight days. The first morning, we camped on top of a small cliff overlooking Lake Matagamon. My friend Peter Paccassi and I decided to get up at 4 a.m. to watch the sun rise over the lake. It was an amazing trip with my dad, my brother and my friends in Troop 180."