Charles Wesley Lewis's family has been teaching the children of Fauquier County for five generations.
"Education is the family business," Lewis said. "Pursuing a higher education is the family culture. It is not a matter if you are going to teach, but what you are going to teach."
What he teaches at Fauquier High School is American government, U.S. history and African American studies. And because of his own roots--his family's long and robust history from slavery to success--he knows the value of helping students connect their present to their past. His family stories--handed down by family griots, or oral-history tellers--have helped him understand that he is a man with a heritage that preceded him and expanded him.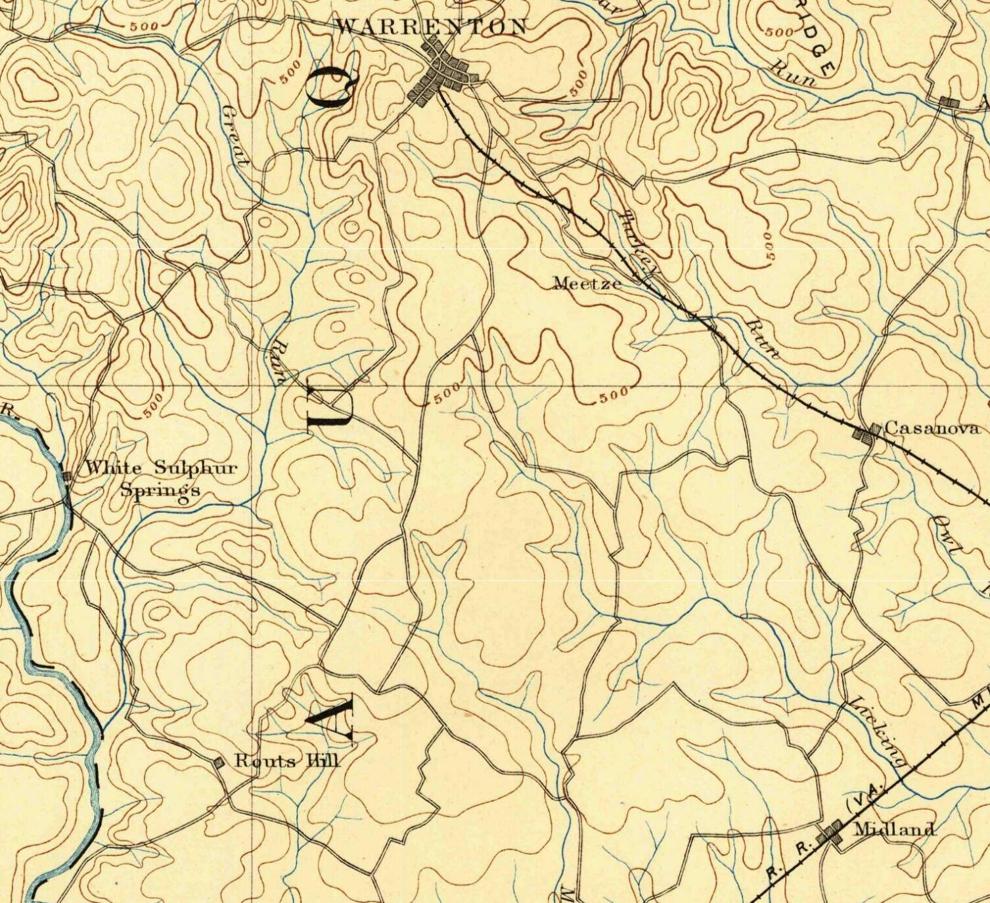 "I don't tell them it is me, but occasionally I share primary sources that come from my own family line. There is a bittersweetness," he said, in the fact that his favorite period in history is the Civil War era, the central stage for his family's stories.
Lewis, born and raised in Petersburg, Virginia, spent summers in Opal. During visits there with his grandparents, William Lewis and Clara Washington Lewis, his grandparents revealed to him a fervent family history that rose easily from the family tongue. The central patriarch was his great-great-grandfather, Wesley Washington, who was born into slavery in Fauquier, became a Civil War soldier and is now laid to rest on the same farm.
The switch of Virginia locales from the urban, predominantly Black city of Petersburg to rural Fauquier County, where his family has taught and owned land for generations, made a lasting impression on Lewis. Both education and land ownership were cornerstones of the Black community post-slavery, and the Washington-Lewis family was committed to both.
"I grew up farming that land as a kid and my family made sure that I knew the significance," Lewis recalls.
Lewis had been accustomed to seeing Black teachers within family and school in Petersburg. He planned to work in Washington, D.C., after graduating from Virginia State University, an historically Black university. (He also calls VSU the "family business," because so many of his Fauquier-based family members have been educated there for generations.) Lewis wanted to teach in an urban district, where he could serve Black and brown children in the same way.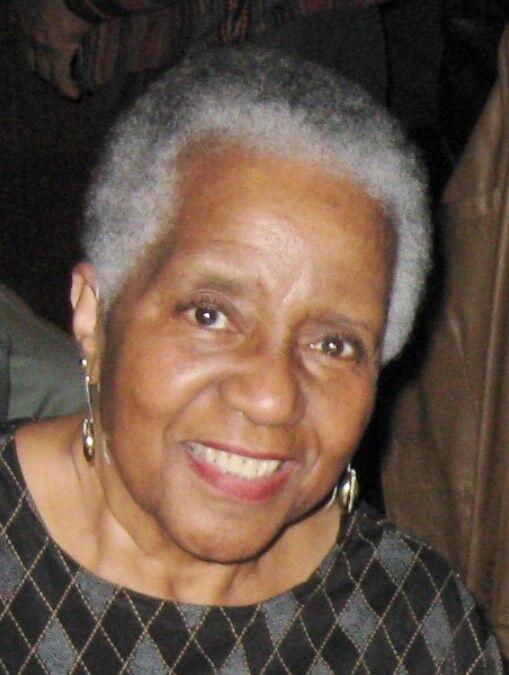 A conversation with a colleague challenged him to think beyond the urban. "I know your gaze is to serve Black and brown children in the city," the colleague said, "but have you ever thought of serving Black and brown children in rural areas? Black and brown children in rural areas might not ever have the chance to have a Black teacher."
Lewis heeded the advice.
One of Lewis's relatives, Donna Tyler Hollie, is another of the Washington-Lewis teachers. A retired history professor, she is now on the board of the Afro-American Historical Association of Fauquier County, along with Lewis.
She shares his philosophy of teaching. All she recalls from her high school history is memorizing dates. "I still remember that '1066 was the battle of Hastings,' but I never learned where Hastings was, who was fighting or what they were fighting about," Hollie said.
"Then I began to study the history of my family, which led me to an understanding of the history of Virginia, America and the African Diaspora. Dates surrounding the Civil War, Reconstruction, the Jim Crow Era, etc., are meaningful to me now, because I know the role my ancestors played in them and how they were impacted by these historical events."
Hollie has spent her career making sure that history was not abstract, unconnected dates, but truly of consequence to everyday lives and identity. It is her in-depth research that has made the story of Wesley Washington, enslaved man turned soldier, visible.
The patriarch, the genesis

Wesley Washington was born into slavery on March 10, 1840, in Routts Hill, Fauquier County, owned by Alphonses and Martha Routt. At 14, documents show, he was sold at a public auction to Coleman Reid as collateral for the Routts' unpaid debts.
Washington received his freedom on April 19, 1861. When he enlisted to fight in the Union army, he was already a free man but was clearly committed to the freedom of others.
Washington's official military company book provides a glimpse of his service in the Civil War. On June 8, 1863, he enlisted in the U.S. Colored Infantry Company C, Regiment 1, in Washington, D.C., under Colonel William Birney. Washington's company book papers state that he was "5'5 ½, Black, with black eyes and black hair." He was listed as 21 years of age and, a nod to his Fauquier roots, was a hostler, or groomsman, an occupation he would hold before and after the war.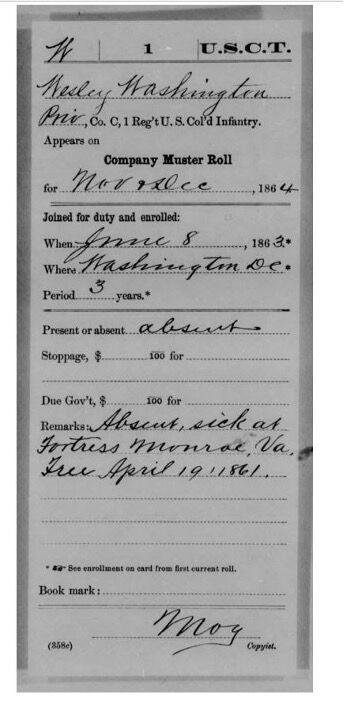 Washington would be among the ranks of approximately 179,000 Black men who would serve in the Union army and another 19,000 who would serve in the U.S. Navy. Black soldiers in the Civil War served in combat and in all non-combat positions that supported the war. They were also conscripted into the Confederacy.
This admission of African Americans came midway into the war, which began in 1861. On Jan. 1, 1863, the federal Emancipation Proclamation freed "all persons held as slaves" in territory still held by the Confederacy. On May 22, the United States Colored Troops was formed. Just one month later, Washington enlisted.
No one could be more invested in the freedom effort than those who stood the most to lose. Washington's former life of bondage had to be foremost in his mind when he joined the fight for freedom.
Historically, the issue of emancipation and African American service in the military has been very much politicized and intertwined. Free Black men in large numbers dashed to enlist at the outset of the Civil War but were prevented by a 1792 federal law that prohibited Black men from carrying arms in the U.S. Army--although African Americans served in both the American Revolution and the War of 1812.
Under the Emancipation Proclamation, recruitment was pursued eagerly. Once African American leaders such as Fredrick Douglass urged signing up, the number of volunteers swelled.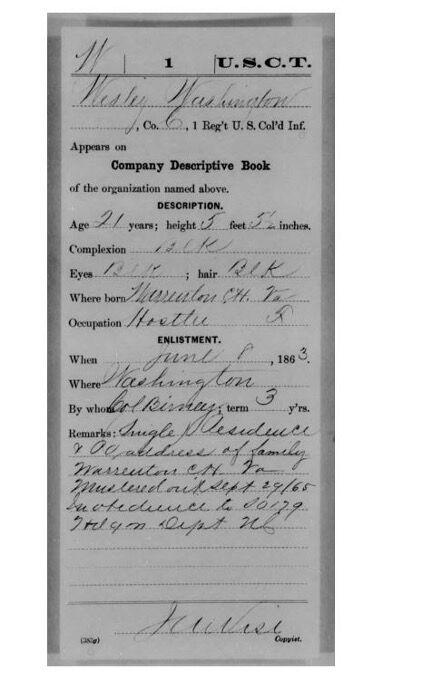 Wrote Douglass: "Once let the Black man get upon his person the brass letter U.S., let him get an eagle on his button, and a musket on his shoulder and bullets in his pocket, there is no power on earth that can deny that he has earned the right to citizenship."
This is the historical context in which Washington joined. His company book shows he was assigned to cook. But Lewis said family lore has it that Washington did not know how to cook and that for the first meal, he poured a whole bag of rice into the pot and it boiled over.
Washington served dutifully, although there was rampant inequality and discrimination toward Black soldiers. Black soldiers were paid $10 monthly while their white counterparts were paid $13. From Black soldiers' $10, $3 was deducted for clothing; white soldiers had no clothing deduction. This inequality continued until Congress passed an act for equal pay in June 1864. Washington was awarded a year in back pay.
Black soldiers also faced being mistreated or executed by Confederate soldiers and suffered higher rates of disease and infection than white soldiers.
Despite challenges, Black soldiers served valiantly. Sixteen would win Congressional Medals of Honor. Black women, too, often invisibilized, served as nurses, guides, couriers and even spies. The most famous strategist and spy was, of course, Harriet Tubman.
In October 1864, Washington was wounded and sent to Fort Monroe, Va. Virginia was a Confederate state, but Fort Monroe was still firmly held by the Union. Soldiers would get medical attention, and African Americans would seek freedom and refuge. Fort Monroe was also where--two and half centuries earlier--the first enslaved Africans were brought onto Virginia's shores. In this milieu of the war, the freedom search, the ancestral significance, Washington recovered.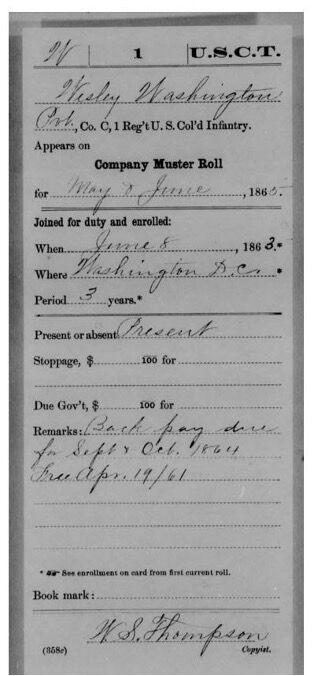 He was still a young man by the war's end, and in 1865 he not only was honorably discharged, but he married Harriet Haley. They had nine children, one of whom, Wise Washington, would be the great-grandfather of Wesley Lewis.
Having served and been wounded in the war, Washington was entitled to a pension. The size of pensions was determined by rank and injury and could be extended to family members. As most veterans were farmers, physical labor often became difficult due to war injuries, and pensions were a way to help veterans.
The Civil War was the first war to provide any pension to African Americans for their service, and although at first glance it was an equitable system, in reality it was less so. Because African Americans were less likely to be assigned to combat roles based on the racist attitudes, they were less likely to receive pensions.
African Americans were often placed in support roles, as Washington had been. Additionally, African American soldiers were less likely to be sent to hospitals when injured, and early applications for pensions required hospital or medical documentation.
Moreover, the support documents to prove age and other factors were often not available to formerly enslaved people, and money served as a barrier for an application process that had to be approved by white bureaucrats.
Washington got a letter notarized by Francillo Routt, son of Alphonsus and Martha, to verify his age: "This is to certify that Francillo Routt, who being first duly sworn according to law declares and says that his Father A. Routt***, deceased, told him during his lifetime that he owned the said Wesley Washington, who is a federal pensioner and has applied for an increase of his pension. Furthermore states that he saw the said Wesley Washington's age recorded in his family record and that he was born in the year 1840, which would make him 70 years old at the same time this year."
Receiving a pension as an African American was a feat in itself given the barriers, but Wesley Washington overcame.
The Legacy
Washington's name is inscribed on the African American Civil War Memorial on U Street in Washington. He lived the rest of his life in Fauquier County. Census records show he worked as a farmer, tending the very land he would eventually retire to and generations of his descendants would thrive on through today.
His descendants continue to build on his legacy, seeing education as the ultimate fulfillment of the quest for freedom that Wesley Washington set into motion more than 160 years ago.
Since then, the Washington-Lewis family has boasted generations of educators, school administrators, and PhDs, despite the historical barriers to education for African Americans. They have achieved success just as their foreparents overcame slavery and relentless obstacles of racism.
---
Nichelle Calhoun is a podcaster at Perpetual Blackness with Fauquier roots via her maternal grandmother. She has studied the African Diaspora for 20 years with a focus on Afro-Latin populations. She currently works with an Afro-Colombian collective in South America, sits on the board of the Afro-American Historical Association of Fauquier County and teaches English as a second language at D.C. Public Schools.