Official accolades started Sunday morning at the 10:15 a.m. service at St. James' Episcopal Church in Warrenton. Fr. Randolph called up Stacey Irvin along with her family, thanking her for her inspiration, commitment, leadership and passion. Irvin was recognized for her 10 years serving as head of school. The school, opened in 1982, serves children from preschool through fifth grade.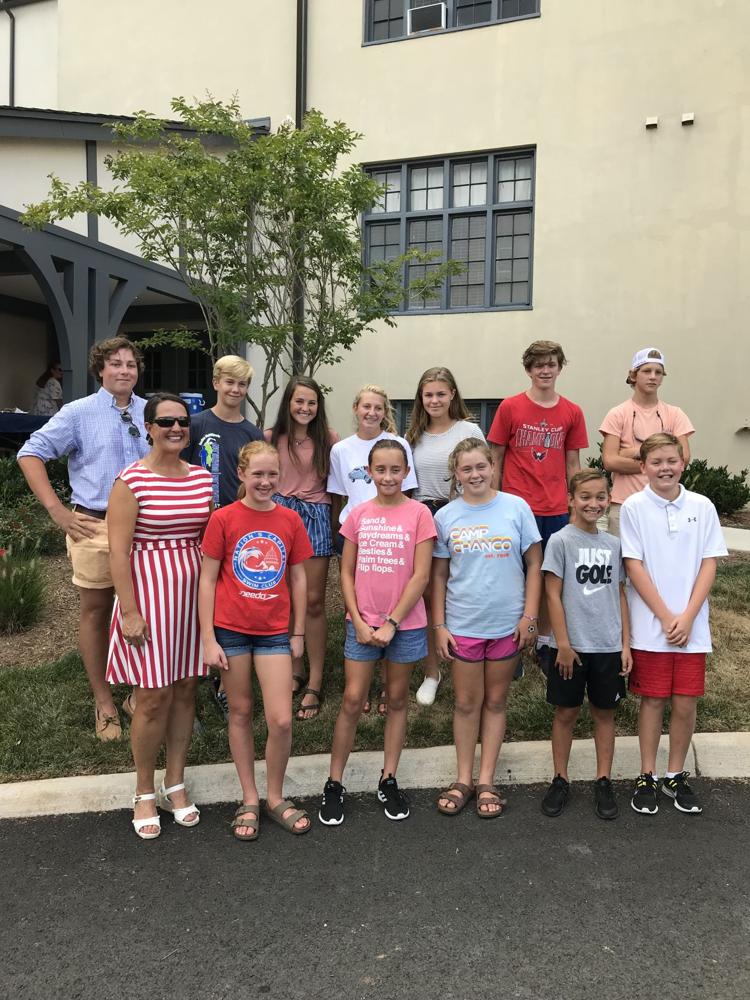 "I'm honored and humbled," said Irvin, who discovered St. James' more than 14 years ago when she and her husband were searching for the perfect educational foundation for their children. "I have the same special feeling now as I did then when you walk through the doors…a feeling of family…welcoming and a safe and nurturing place.' 
"We fell in love with the school…such a warm feel," said Irvin noting it was a double bonus for them to find a school and church home. Irvin grew up in Fauquier, attended P.B. Smith Elementary, Warrenton Middle School and Fauquier High School. She graduated with a degree in English from Virginia Tech. 
Celebrations of the head of school continued into a hot afternoon as parents and children had fun on the playground and moon bounce. Between bead stringing, face painting, cake and Moo Thru ice cream, Irvin was given a fun crowning by staff. She was bedecked with a cuddly blanket and blueprints to name a few items – all recognizing her myriad of skills as a comfort giver, organizer, teacher, mentor, building advisor and effective leader. Irvin has been part of the school's elementary program, the completion of a successful Capital Campaign and the renovation of preschool space and a new building project for grades 1 through 5. Throughout it all, the focus and mission of the school's core values has not changed.
Irvin, who taught English at Cedar Lee Middle School, served on the St. James School Board for three years before becoming Head of School in 2009. She's witnessed the school grow from its preschool roots to now serving students through the fifth grade. In making those decisions to add on additional grades, Irvin said they felt the school could offer something different… a unique niche. "We're fortunate that we have decent elementary schools in the county," said Irvin noting that St. James definitely has a religious component and an Episcopalian identity. "We want to instill a love of learning that hopefully will last a lifetime," said Irvin "if we have a child from age 2 through 9 or 10 … those years are a strong foundation to help shape them … so they know who they are, know what their strengths and weaknesses are … we look at the whole child."
Irvin stresses that while children are challenged academically, they are also given a spiritual and moral base that, she believes, is vital for a lifetime of learning. St. James School is a member of the National Association of Episcopalian Schools and accredited by the Virginia Association of Independent Schools. 
Currently the school serves some 96 preschoolers and 60 elementary students. Classes are small. Families are known on a first-name basis. 
"We have a fantastic staff," said Irvin. "They are clearly vested and believe in what we are doing here."
Lori Working tag teams a class of second graders. "I work part time and share teaching with another," said Working. "Stacey sets the tone for a positive work environment for her teachers. She personally gets to know every student and their families and makes herself readily available to them," she said, adding, "she works tirelessly for the betterment of the school and she does so with a smile, a positive attitude and even a sense of humor! She is an amazing, forward-thinking leader."
Back from a several month sabbaticals, Fr. Ben Maas heralded Irvin's accomplishments that afternoon. Earlier, he shared comments about Irvin that he had also shared with the school's board.
"You know and appreciate people, see their gifts and, empower them, and they ultimately come to share your passion for SJES.  It is a remarkable gift! You are also a remarkable ambassador for the school to the church and broader community (I have failed to find anyone with something unflattering to say about you even going back to your childhood days). 
"Finally, you love the children in your care.  I am always floored by the fact that you know each child so well that at every preschool graduation or moving up ceremony you are able to call each student, first name and last without leaning on your script (in front of a sea of people I am not confident I can recite my own full name).  This is not just a testament to your impressive mind, but a sacrament of how much you care about the child behind each name.   I have so enjoyed working with you and consider our working relationship the most collaborative, supportive, and enjoyable in my years of ordained ministry.  I am hopeful for many more," said Maas.  
Irvin has witnessed the growth and development of her two daughters, Ella and Erin, who have attended St. James. "It's been very satisfying to watch them make this journey." Irvin feels blessed that the school is located in the town, close to the public library, the post office, banks and bakeries. "It's a great place to be." All fifth graders are required to take on a service project. "You're not too young to make a difference," smiled Irvin, noting that one student had taken on the clean-up of a nearby stream.
Irvin's serene demeanor speaks volumes to those who know and work with her.
"She is a unique person who wears her heart on her sleeve, yet possesses the ability to lead with a calm peace and clarity.  She does not lead with elevated volume or exhibitions of authority, but with a deep concern for all, and a measured wisdom," said Fr. Ben adding, "we are beyond blessed that she has given so much of herself to building up something so beautiful.  During our accreditation, the evaluation team from VAIS (Virginia Association of Independent Schools) called what we do 'a curriculum of love.' I believe that is true and a reflection of our leader who most certainly leads with love. "
"I truly believe we are making a difference in our community and having a positive impact on families in our area," said Irvin.  "It's hard to believe that 10 years have already gone by. I feel like it was just yesterday when were we planning our kindergarten program and this year we will actually graduate our sixth fifth grade class. I read somewhere that the days are long but the years are short and this is exactly how I feel!
To learn more about St. James' Episcopal School, visit www.st.jamesepiscopalschool.com
Reach Anita Sherman at asherman@fauquier.com