Fauquier Community Theatre's "Night Must Fall" is a psychological thriller and considered one of the best British mysteries from master playwright Emlyn Williams. It is suspense at its best and a must-see. The plot revolves around a wickedly charming bellhop who wins the confidence of an elderly invalid living in a calm 1930s English countryside. 
Thrills and chills, twists and turns are all abundant in this dark tale of suspense. "Night Must Fall" opens on Friday, March 13, and runs through Sunday, March 29, with nine performances as part of Fauquier Community Theatre's 42nd anniversary season. 
The original production of "Night Must Fall" premiered May 31, 1935, at the Duchess Theatre in London and ran for 436 performances. The playwright Williams was a writer, dramatist and actor. He played the main character, Dan the bellhop, in West End and Broadway productions. He also wrote screenplays and worked with Alfred Hitchcock on "The Man Who Knew Too Much." 
Fauquier Community Theatre's production is true to the script with a very British flair. Director Peter M. Marsh says the talented cast was chosen for their ability to capture the essence of the English mystery. He should know; he grew up watching lots of BBC period dramas. His mom was a big fan of "Mystery" on PBS. The play is set in Essex when England's era of rigid class systems was coming to a close, and the characters all represent a facet of English society.  
Some of the roles are double cast. As for the main characters, Mrs. Bramson (Hilary Pierce, Lori McInnis) has locked herself away in her bungalow and shut out the outside world. Both actresses portray the older woman with uncanny believability. Olivia (Erin Coulter, Dawn Gaynor) is her more modern niece who finds herself longing to break free of the expectations traditional society would place on her.  
Hubert (Colt Fitzgerald, Eric Friedman) accurately represents the emerging English businessman who is just beginning to realize his worth in this newly reconstructed social order. Mrs. Terrence (Carolyn Cameron) brings to life her role of growing weary of doting on her wealthy employer and seeing Mrs. Bramson's excesses for what they truly are.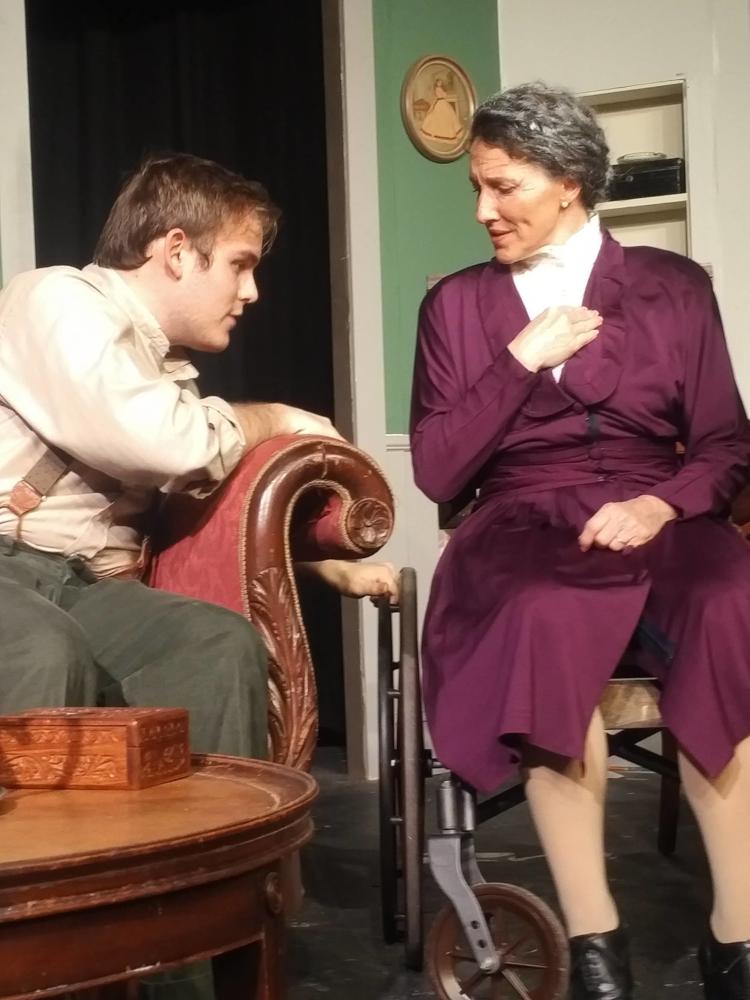 Dora (Carleigh Hopkins, Bevin Hester) is a charming by-product of the Roaring '20s, unconstrained by traditional conventions and morals. Nurse Libby (Elizabeth Steimel, Kimberly Stierle) is a bubbly presence who finds meaningful purpose as nurses began to take on more responsibility for health care in the Interwar period.  
Inspector Belize (Wilson Johnson) from Scotland Yard is persistent in trying to investigate mysterious situations. Dan (Ben Rawlins) as Marsh explains, "Dan is … well he is Dan. Audiences will have to come see the show to see for themselves just who Dan is and figure out his complex character traits and what he represents." 
Talented cast and crew 
The actors are talented and are involved in the arts in many ways. Rawlins has acted most of his childhood, in plays, musicals and film. At age 21, he is currently writing his own musical and an album. Hester is a junior at Colgan High School's Center for Fine and Preforming Arts, in which she concentrates in theater performance. An aspiring Broadway actress, she was selected for the Governor's School at Radford University for theater. 
Hopkins is the four-time recipient of the Best Actress award from the Virginia Theatre Association and the recipient of a Best Featured Actress nod from D.C. Metro Theater Arts. Pierce has been singing and dancing across the Fauquier Community stage for many years. She points out that "playing the severe, wheelchair-bound Mrs. Bramson has provided quite a change of pace, as well as a wonderful learning experience." 
Coulter has been involved in more than 100 productions, in Los Angeles, and New York City, spanning almost three decades as a director, actor, teacher and producer. She holds a Bachelor of Fine Arts in theatre from Carnegie Mellon and is the current director of theater at the Hill School in Middleburg. She humbly says, "Thanks to my genetics and the Hill family for their love and support!" 
"Night Must Fall" is produced by Dianne Moss who has worked in community theater for more than 20 years. Costume mistress Amber L. Kiffney has placed the actors in period dress, capturing the elegance of the era. Hair and makeup by Erin Briner enhance the character roles. Stage manager Mickalei Lindquist makes sure everything is in place; the period props add to the production. 
The drawing room set design by Molly Marsh transforms the stage and brings the audience to England for the evening. While many people worked on building the set, Doug Barylski and Todd Skiles are noted for the transformation from a bare stage floor to the British drawing room. A new lighting system at Fauquier Community Theatre has been designed by Brandon Gibson and adds to the artistic value of the production. 
Members of the crew have been nominated this year for competitive awards by the Washington Area Theatre Community Honors for their work on productions at Fauquier Community Theatre. Briner is listed in the category of Outstanding Makeup Design and Lindquist for Outstanding Costume Design. Skiles is nominated for Outstanding Set Painting and Gibson for Outstanding Light Design. 
Audiences are used to seeing the director of "Night Must Fall" on stage at Fauquier Community Theatre, as Marsh has appeared in four plays and musicals recently. His acting skills have made Marsh a director who knows how to empower his cast especially in character development. "All cast members have done a wonderful job of bringing their characters to life," he said.  
Marsh has been purposely careful not to disclose too much of the plot; however he does reveal that, "Night Must Fall" is a roller-coaster ride and doesn't fit in just one niche. It is not a pure murder mystery or a pure drama -- more of an English drawing room murder drama-comedy. There is great character work in the show and the script is written to make the audience laugh in one moment and be horrified in the next.  
"Night Must Fall" opens on Friday, March 13, and runs through Sunday, March 29. Friday and Saturday performances are at 7:30 p.m., and Sunday matinees are at 2 p.m. Ticket prices are $16 for students and seniors and $18 for adults. Performances take place at the Vint Hill Theater on the Green located at 4225 Aiken Drive, Warrenton. Tickets for reserved seating may be purchased online at www.FCTstage.org, by emailing tickets@FCTstage.org, or calling 540-349-8760. While tickets are also sold at the door, reservations are highly recommended especially for opening night and matinees.