Jay Hall's truck rumbled down the gravel road, a trailer filled with cords of wood bouncing behind it. Hall split the wood on his 10-acre farm in Bealeton where he and his wife are raising their son and daughter.
The image of a quiet Fauquier farmer betrays Hall's complicated and troubled past. "When I graduated high school, the only thing I knew how to do was sell drugs," he confessed. Today, Hall's mission is to be the role model for youth that he never had. He accomplishes this on the pickleball court.
Hall grew up in Dale City, the son of a single mother. "She worked multiple jobs to make ends meet. It was a hard upbringing," said Hall. "I was never cool or athletic. I never really fit in with anyone," he added.
At age 20, Hall was shot four times. "I got into an argument with someone. When I saw him a week later, he shot me. As I lay on the ground, he walked up, pointed the gun in my face, and pulled the trigger," Hall recalled. The gun jammed.
His assailant spent three years in jail for malicious wounding. "I've been in dark places," he said of the incident, "and I know how to get through them."
After recovering from his injuries, in 2008 Hall followed a female flame into the volunteer fire department recruitment program. However, the relationship that developed wasn't with her. "She left after recruitment and I decided to stay," he said.
He put himself through EMT training and worked as an emergency room technician while he volunteered with the City of Manassas fire department. In 2014, he was hired by a career department.
One day while playing basketball at the Manassas Park Community Center, he heard what sounded like a table tennis game. He looked over and saw senior citizens sitting on the bleachers and a few playing what appeared to be the offspring of tennis and ping pong.
The next week back at the gym he took another look. "One of the women grabbed me by the arm and said, 'You don't get to look twice without trying it'," Hall laughed.
Three fathers in Washington State invented pickleball to entertain their children in 1965. The sport is named after one of the creator's dog, Pickle, who enjoyed chasing the balls in play. The rules of the sport are a combination of tennis, badminton and table tennis.
The physical sport has a mental component. "It's cool to play as a sport, but its real value is mental health," explained Hall. On the pickleball court, Hall realized he was comfortable just being himself.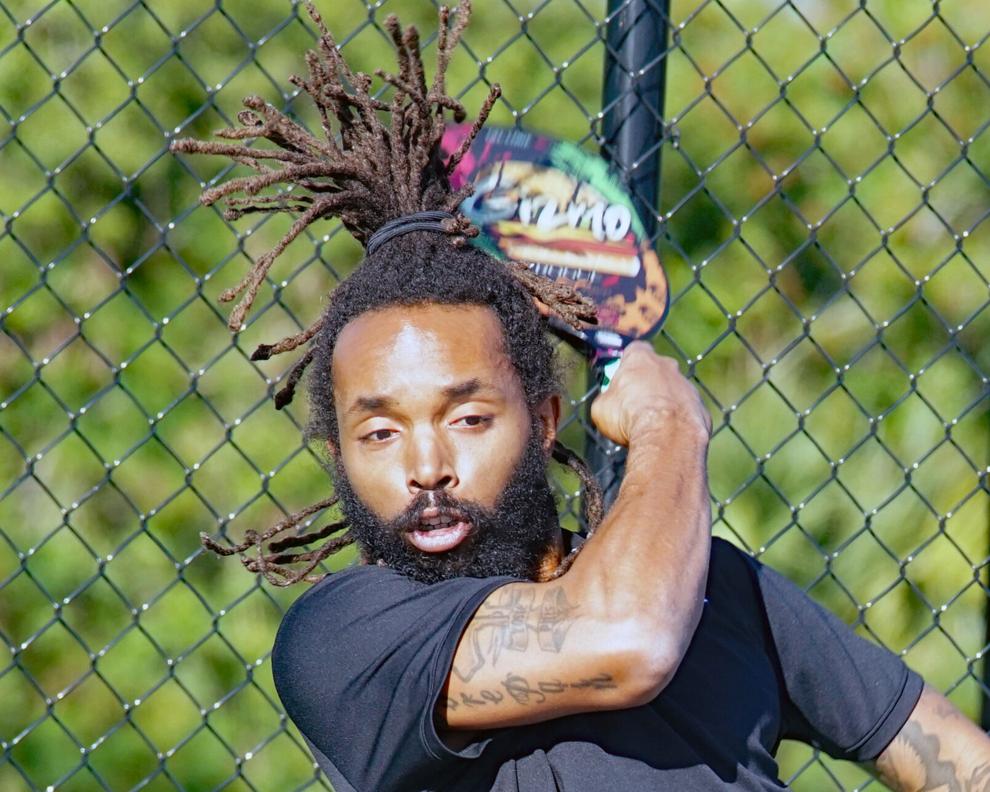 In 2017, he decided to leave the fire department and become a professional pickleball player; he wants to bring the community with him. His wife Laine, a finance vice president at a D.C. firm, supported his decision and helps to carry the family finances.
After a competition hiatus in 2020 due to COVID-19, Hall returned from a competition in Florida on Jan. 11. "It feels good to be competing again," said Hall, who practices regularly at Chestnut Forks Tennis Club. At the tournament, he played in singles and 5.0 men's doubles. He won a bronze in men's doubles and ended up in fourth place in singles.
Hall will be on the road again in a few weeks for the World Pickleball Championship. He has several sponsors, including a paddle sponsor, Players Pickleball; ball sponsor, Franklin Pickleball; electrolyte drink sponsor, Jigsaw Health, and a shoe insole sponsor Zelus Insoles.
Before the pandemic, Hall was invited to speak at Potomac Middle School about the sport. "I spoke to 400 sixth graders and delivered a motivational speech. I was later invited back by the assistant superintendent of middle schools to speak to all of the middle schools in Prince William County, teach them pickleball, and do motivational speaking."
In June 2020, he and his wife began a nonprofit called Pickleball Farm. "I left high school without any life skills. Today, I have made it my purpose to redirect people heading down the wrong path. I know how important it is to have a role model, I didn't have one and today, I want to be one for youth." Laine Hall lends her support to the farm's nonprofit in the garden and behind the scenes when she isn't at work.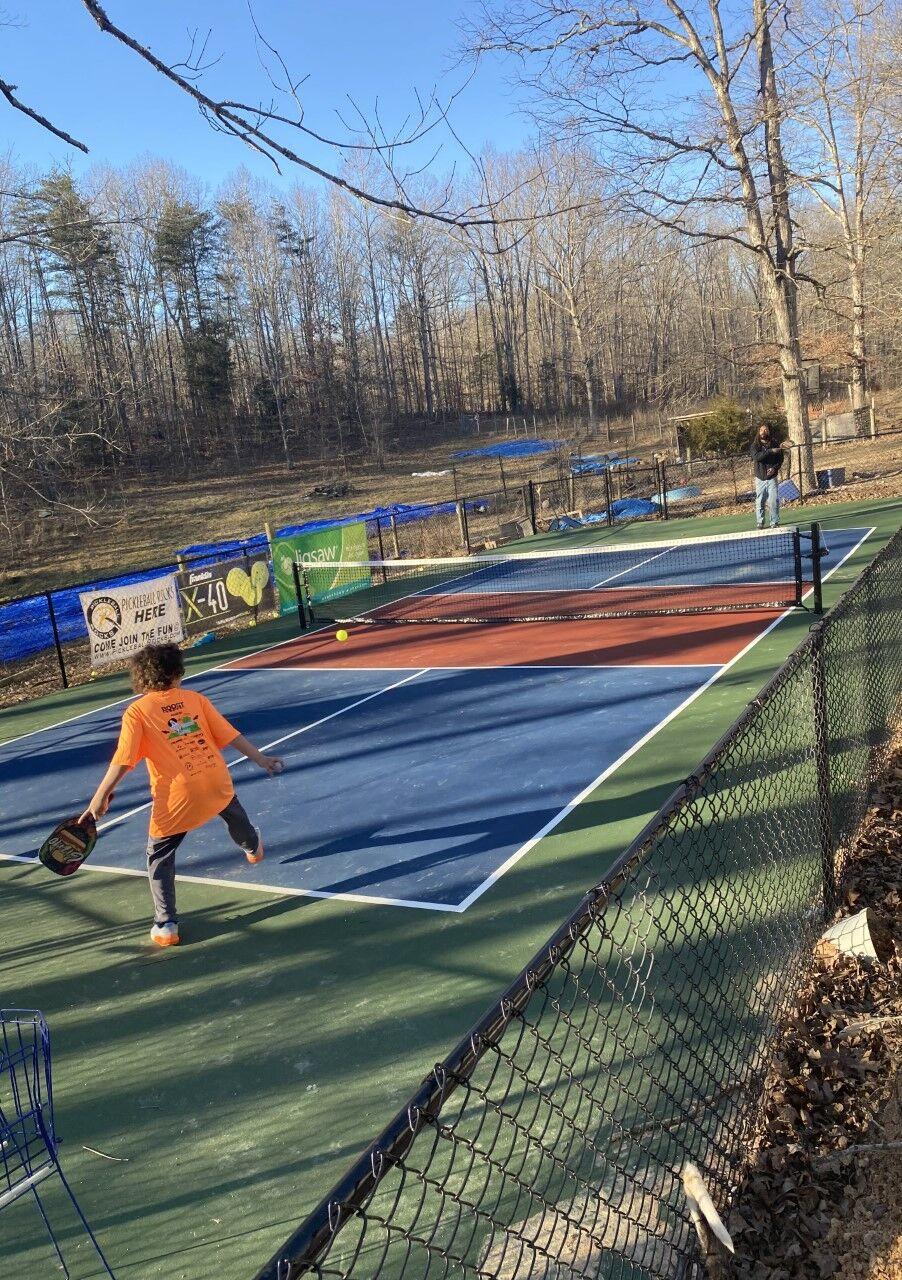 The farm's mission is to provide youth and families in the community the opportunity to learn where food comes from, how to garden, how to fish, how to play pickleball and ultimately, to provide motivational speeches to children to help them maintain the right path in life.
The farm welcomes children and adults of all ages to decompress. "This sport can be played by anyone under 8 or over 80. We are bridging the generation gap on the pickleball court," he said.
At the end of 2020, the farm added a regulation-sized pickleball court to the farm. "We want to work with the county to add eight more on the farm's field so we can have competitions," he said. Long-term plans include adding the courts at a cost of $20,000 each.
Spring and summer camp dates at Pickleball Farm are listed on the farm's website: pickleballfarm.com.