Independence Day celebrations in Warrenton started out with an "American as apple pie" contest Saturday morning. Warrenton Mayor Carter Nevill, sporting a Schoolhouse Rock T-shirt, was joined by attorney Marie Washington – she was dressed as the Statue of Liberty – and Ryan Glendenning of Red Truck Bakery to judge nine pies submitted by town residents on taste and appearance.
The judges sat at a table behind 21 Main Street, in the former BB&T Bank drive-thru, making careful notes about each submission and occasionally joking with passersby – it was also a busy morning for the farmers market taking place in the parking lot behind them. Ryleigh Polster, 14, of Warrenton, seemed shocked when she found out she had won the prize for best overall pie. "This is the first pie I've ever made," she said. Sue Yankaitis won in the appearance category, and Theresa Arthur's pie came in second for both the overall and appearance categories.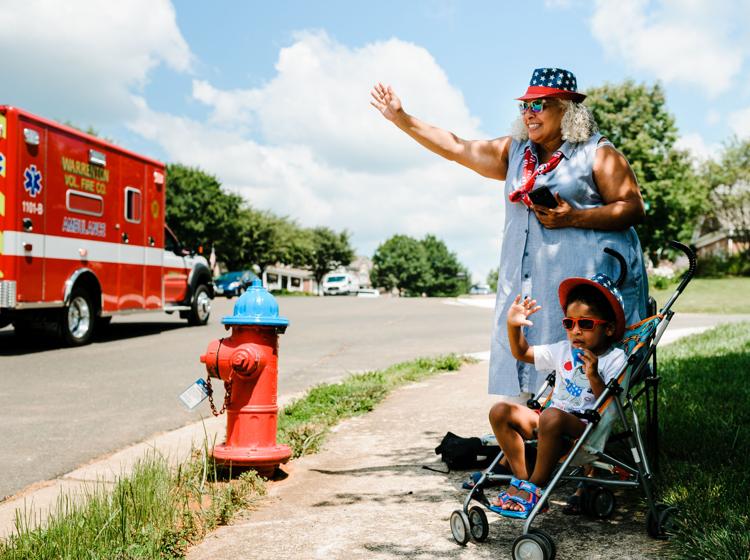 A little after 11 a.m. a procession of about a dozen vehicles – mostly police and fire and rescue – made its way past the courthouse and then down Main Street, much to the delight of families gathered in front of the John Marshall statue eagerly awaiting its arrival. Other families had found a place to watch from other points on the sidewalks.
The procession was part of the four-hour long "wave parade" that had started an hour earlier and would wind through numerous town neighborhoods into the afternoon. The parade featured vehicles from the Warrenton Volunteer Fire Company, Warrenton Police Department and the Fauquier County Sheriff's Office.
Though it was impossible to tell from their cheerful smiles and enthusiastic waving, members of the volunteer fire company had responded to a gas leak the night before and had only finished that call a few hours before the parade. "They were running on no sleep, but they made it happen!" said Town Manager Brandie Schaeffer.
Reach Coy Ferrell at cferrell@fauquier.com