Phase 1 of Gov. Ralph Northam's plan to lift restrictions placed on businesses and public gatherings in response to the coronavirus began Friday. After two months, restaurants were once again permitted to offer table service on site, as long as those tables were outside. Hair salons were also able to reopen, having been closed entirely by the governor in March.
Throughout the afternoon a steady stream of people took advantage of the limited reopening of table service on Main Street in Warrenton. The town closed off some parking spaces along the street to give restaurants more room for outdoor seating.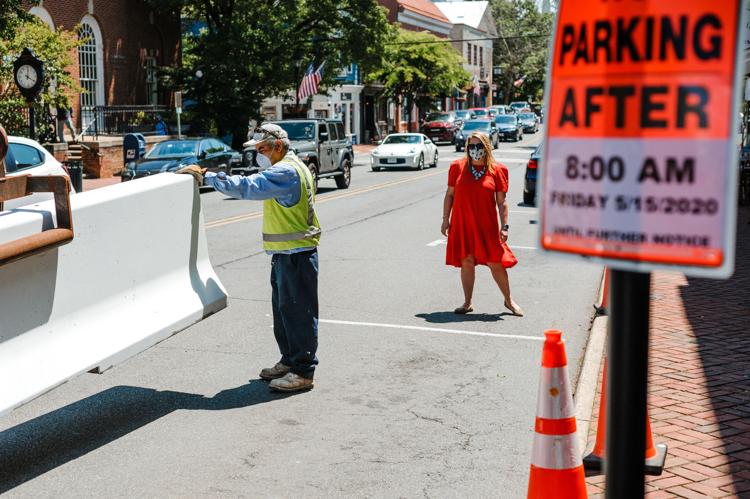 The weather helped too, with a high temperature of almost 90 degrees and sunny skies all day. Most people were in shorts; some wore sandals.
"I wish it would stay like this forever," said Patti Knott, of Warrenton, about the new outdoor seating arrangements. Knott was enjoying a late lunch from Black Bear Bistro with her teenage daughter, MacKenzie.
"I'm working from home right now," Knott said, "I had everyone stop working at 2:30 p.m. and I said, 'I'm going out. Warrenton opened. See you!'"
John Tiller, of Warrenton, was joined by his girlfriend, Jolie Atkins, of Stafford, for a meal from Molly's Irish Pub. "We just drove through town and said, 'look, Molly's is open. Park!' " he said.
"Everybody is smiling," noted Atkins.
"Even if it's limited, it's a lot of stress to be released just by getting out," added Tiller.
Bree and Phil, a couple from Long Island who declined to give their surnames, were visiting Bree's brother, who lives in Warrenton. They were also eating outside of Molly's.
"I agree with what Virginia is doing," in regard to reopening, Bree said. "This is what people need to do, to get back to normalcy." She said she thinks that governors of states whose restrictions remain in place should follow Virginia's lead in lifting those restrictions.
She added that she and her partner both kept their jobs during the pandemic and wanted to support small businesses as much as they could. "Help our small businesses – they need to be helped, they need to be opened," she said.
Bill and Nan Sterling, a retired couple from Amissville, sat under large tent in the North Rock Shopping Center parking lot at midday on Friday.
"It's wonderful to be outside," Bill Sterling said. He has only left the house four times since February and he had to go to the hospital later that day for an appointment. "But first, I needed some pizza," he said with a smile.
The Sterlings were enjoying lunch from Ledo Pizza, across the street from the tent. Another three or four tables were occupied. The restaurant's owner had arranged for the tent to be set up so that the customers could dine on site while adhering to state guidelines, said Megan Massie, the assistant manager.
The restaurant's owner has a friend who runs an events business who provided the tent for free in exchange for the exposure to their business. "So it helps them, and it helps us," Massie explained.
Grace Timmerman, another Ledo employee, said the response from customers had been very positive so far. "People have driven by and they are so excited!" she said.
Another Ledo customer, Pam Ryon, of Vint Hill, was having lunch with a friend, something they did often before the pandemic began. "I have to give Ledo's credit for doing this," she said. The fact that it was one of the warmest days of the year so far helped too. "The weather is definitely a mood lifter."
Warrenton Mayor Carter Nevill and his 13-year-old son, Hugh, got their hair cut at Lee's Barbershop in Old Town Warrenton Friday afternoon. "I was thinking about letting it go long, like back in my hippie days, but when I found I had an appointment at Lee's at 4:30, I said, 'I'm there,'" he said.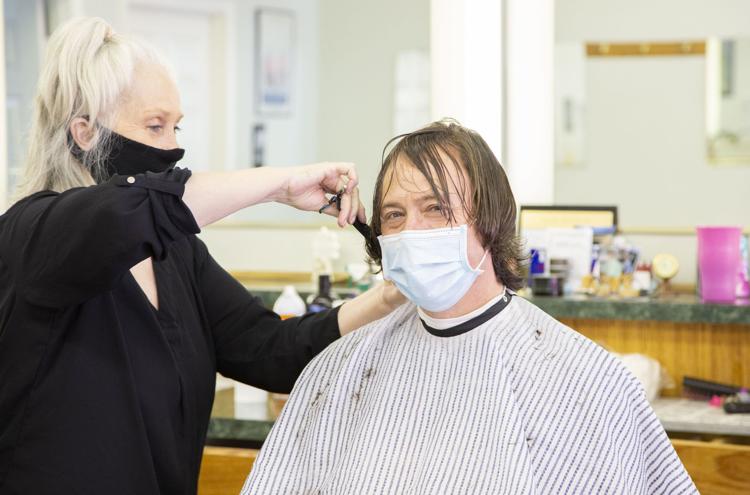 Nevill expressed optimism that the town was on the right track to reopen successfully. "I'm glad to see everyone outside on Main Street enjoying our restaurants, he said, later adding, "if we can all be patient, and give businesses the space they need to be compliant, we can move through Phase 1 and then to Phase 2," he said.
He reminded everyone: "Tip your servers twice the normal amount. They have 2 months of catching up to do."
Nevill credited the town's staff for working to make the first day of Phase 1 run smoothly, mentioning Town Manager Brandie Schaeffer and Director of Community Development Frank Cassidy specifically, along with Experience Old Town Warrenton Executive Director Charity Furness.
"They've been working non-stop. And we have the farmers market tomorrow too. The amount of dedication they have to this town is just amazing," he said of the trio.
Schaeffer said of the reopening initiative, "I'm excited to see how well this is working. The businesses were innovative in creating safe spaces for outdoor dining from Main Street to the bypass."
She concluded, "Partnering with our businesses on creative solutions is something I always strive to do, and I'm glad we are making it happen through this challenge."
Contact Coy Ferrell at cferrell@fauquier.com
Contact Robin Earl at rearl@fauquier.com