Old Town Warrenton has three new bike racks on Main Street and one on Fifth Street. The four – and four more yet to be installed – were gifted to the town by Experience Old Town Warrenton. EOTW Executive Director Charity Furness said the racks were purchased through a $2,000 grant from the Patricia and Nicolaas Kortlandt Fund, with help from the Northern Piedmont Community Foundation.
Cyclists arriving in Old Town Warrenton can find the new Main Street bike racks near Town Hall, across the street by Britches, and down at the other end of Main Street, by the Warrenton Presbyterian Church. The Fifth Street rack is near The Great Harvest Bread Company, at the intersection with Main. The town will be installing the four remaining racks in the coming weeks. Each bike rack can support two bicycles; they are available any time, including during street closures.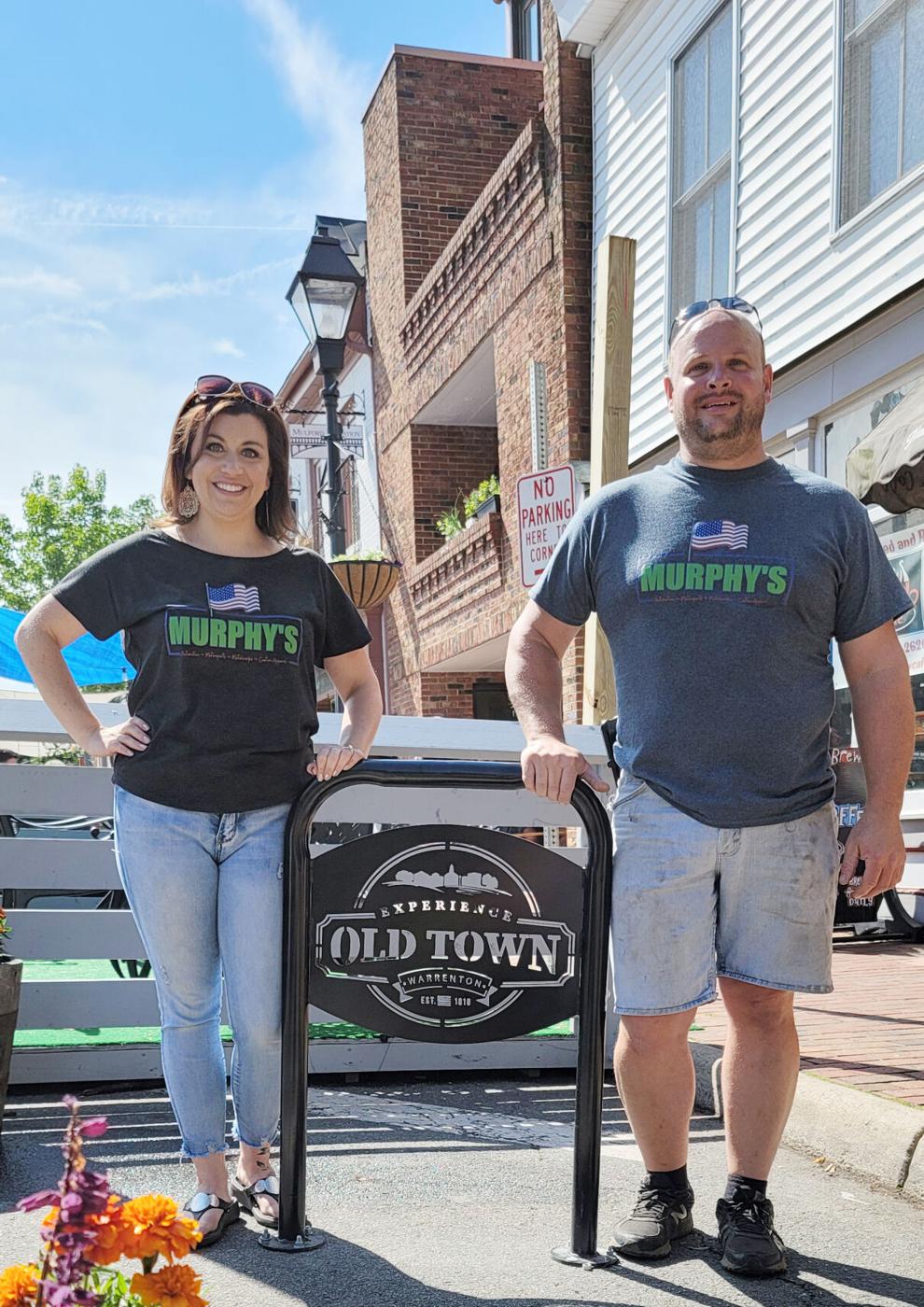 Furness said she wanted to source bike rack production locally, so she contacted Murphy's Metalworks, which specializes in creating a broad range of custom metal work. The company is owned by Brian Murphy and his fiancé Lauren Esposito. Their team fashioned the bike racks using a U-shape design, which minimizes their footprint, said Furness. Murphy also owns Murphy's Motorsports, on Broadview Avenue in Warrenton.
"We know there are many cyclists in and around Old Town Warrenton and there was clearly a need for bike racks," Furness said. "We're thrilled to provide this amenity for riders and thankful to Murphy's Metalworks for producing such a high-quality product."
The bike racks feature the EOTW logo with a silhouette of the town, with Warrenton's 19th century courthouse at the center.
Warrenton Mayor Carter Nevill, an avid cyclist, rode his bike into Old Town Tuesday, parking it at the rack outside of Town Hall before presiding over a town council meeting. Nevill said, "We're seeing a dramatic increase in people choosing cycling as their mode of transportation; the town recognized this and we collaboratively took steps to make cyclists feel welcome."
Experience Old Town Warrenton is a 501(c)(3) organization that seeks to promote and enhance the business community while preserving the town's historic character.