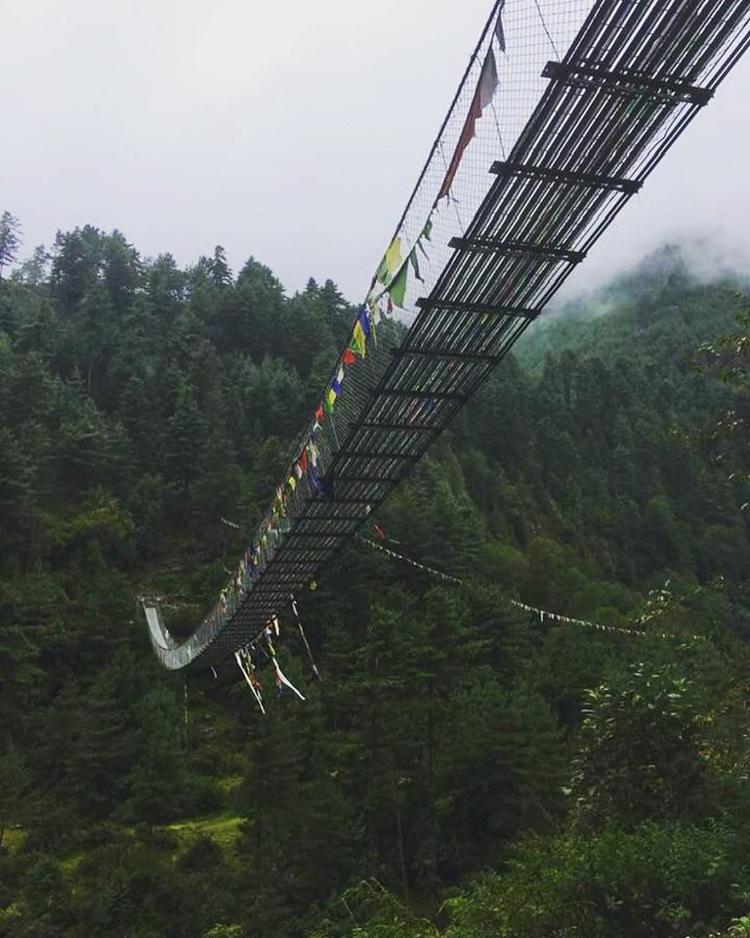 If you had asked me this time last year if I wanted to hike up to Mount Everest Base Camp, I would have looked at you and wondered … why? The idea of seeing the highest mountain on earth has always intrigued me but never did I imagine myself actually going there. My proverbial bucket list did not have this on it at all. In fact, it was an invitation to be part of the World Hope International's #climbingforacause fundraiser that stirred up some interest to actually make this climb a reality. Bringing attention to the world's need for clean water is a worthy cause.  
Many times in life we get invited to be part of events that we may not truly want to do or think we can do given our busy schedules.  As I remind my yoga students, we don't always have to accept every invite with an emphatic "yes." Truth be told, learning to say no, and letting go of the feeling of social obligations is quite liberating. This invite had me hesitate. After doing some research, a big, emphatic "yes" came out.   
It was Sept. 28 that we began our amazing adventure with a layover stop in Istanbul. Marianne Clyde, "Mailman" Mike and I booked the same flights that took us to the other side of the world. We landed safely in Kathmandu, Nepal, on the morning of Sept. 30 where we met the other two gals of our team -- World Hope organizer Heather Hill from D.C. and professional sailor and climber Sara Streiter.  
Immediately the eye-opening experience began as the energy of the city and all its frenetic traffic had my jaw drop as we made it safely to our hotel.  Vehicles were overcrowded and safety didn't seem to be an issue. But the pedestrians had a knack for crossing the street when the going felt right. 
For the next two nights, we reviewed our backpack contents along with our itinerary for the next two weeks as we spent time unwinding and adapting from our flights.  Our adventure company was introduced to us and all of a sudden, the feelings of oh-my-goodness-we-are-really-doing-this flooded over me. With deep breaths, excitement and a little fear of the unknown, I was able to get a good night's sleep. The second night, however, we had to leave at 2 a.m. in order to drive four hours to catch an early morning flight to Lukla Airport. It was recommended to try to sleep along the drive, but the mountain climb and bumpy roads did not make it conducive to any rest at all. Then once we arrived safely at this small village airport, noted for its dangerous short runway, several hundred other hopeful travelers looked as though they had been there for some time. Our trek guide, Raju, did his best to get us on a flight, but due to cloudy skies and lack of visibility for these small planes, all flights were grounded until further notice. 
I might add that up to this point no one had much of the local food or water (unless it was boiled). We were forewarned by Sara to avoid uncooked veggies and fruits and be wary of certain foods for fear of getting dysentery or worse, food poisoning. No one wants to deal with that while trying to acclimate to altitude!  
She had been there a few years back and her whole group had a terrible experience with this, so we all heeded her advice. Hard-boiled eggs, nuts, protein bars and bouillon were my staples. Others brought dehydrated meals to sustain them in Kathmandu. Once we began our trek to base camp, the tea houses were a safer source for food. I avoided eating meat the whole time in Nepal but plenty of lentils and even some pizza got me through.  
The flights to Lukla did not resume for a whole day. Apparently, we were lucky; the group before us could not fly out for five days due to weather.  Once we got on our little plane, prayers were said and faith put into the pilot's hands. It was yet another jaw-dropping moment for all of us. The 15-minute flight had all 14 passengers frozen in excitement and enthusiasm.  
From Oct. 3 to 9 we hiked, climbing in altitude from 9,400 feet to 17,600 feet. Each day began about 6 a.m. The Kombu valley is diverse as we passed by many waterfalls, lush evergreen trees, rhododendron and beautiful flowers.  We trusted Raju as he led us up and over some very intense climbs, including about 12 suspension bridges. With trekking poles in hand my body strategically stepped both high and low, but even though I am a personal trainer, the altitude presented a challenge. As we ascended higher and higher the landscape changed, and it began to look a bit more barren with many more rocks and steps to climb.  I caught myself in moments of sheer awe many times, which helped ease the difficulty a bit.  
We had clear blue skies most every day and finally got a glimpse of the amazing Mount Everest four days before reaching base camp. She was beautiful and full of life! Oh, how brave many have been to even think of reaching her 29,000-foot summit. Making it to just 17,600 was hard enough. 
We reached Base Camp on Oct. 9, after many tough climbs with less and less oxygen. I cried as I struggled, but tears of joy poured out upon our descent. I felt exhilarated that I did it and so grateful for having reached our goal for #climbingforacause.  
Thanks to all who donated and continue to support this eye-opening crisis for water. We experienced the need first-hand over there with lack of clean water and sanitation and had to purchase boiled water to drink.  
We made it back down to Lukla airport in just three days after climbing up in seven. We flew safely home Oct. 16 and continue to process this trip of a lifetime.  
Was it worth every challenge that I faced? Yes, indeed. Reaching the top of the world for a life-saving cause: priceless. Having done it, I can honestly say I would do it all again. 
Monica Fernandi is a yoga/fitness instructor and personal trainer. Visit her website at www.monicafernandi.comto read past blogs and testimonials and even jump into her exercise video library. You can also find her on social media at Monica Fernandi/GrowStrengthWithin for positive and uplifting wisdom.