Fifteen-year-old Ashley Hume spent Thursday in South Carolina. She was there to say good-bye to her sister Sara who is an entering freshman at The Citadel.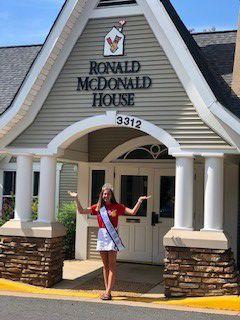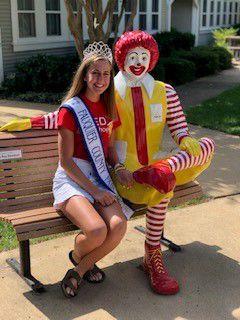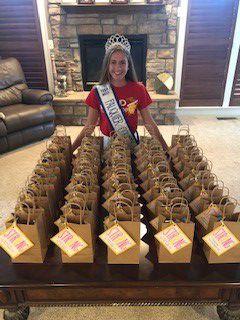 "I'm really excited for her," said Hume, "she did ROTC in high school and was awarded a four-year Army scholarship." Hume also has an older brother who is a junior at George Mason University. 
A sophomore at Kettle Run High School, Hume admittedly is going to miss her sister, but she has plenty to keep her busy. "I play varsity basketball and softball," said Hume who also plays on a travel softball team. 
In addition to her schoolwork and sports, she is also the reigning Teen Miss Fauquier County Fair. Crowned in 2018 and with no fair held in 2019, Hume continues to hold the title. "I'll hold my title until a new one is crowned in 2020," said Hume. The same goes for Miss Fauquier County Fair, Alexis Tafrawe. 
Hume's platform is pediatric cancer awareness.  According to the American Cancer Society, childhood cancers make up fewer than 1 percent of all cancers diagnosed each year. About 11,060 children in the United States under the age of 15 will be diagnosed with cancer in 2019. Childhood cancer rates have been rising slightly for the past few decades. The good news is that because of major treatment advances in recent decades, more than 80 percent of children with cancer now survive five years or more. 
During her reign, she cut her hair and donated to Locks of Love, participated in the Ronald McDonald Red Shoe 5K, and created 50 toiletry care bags for residents at Ronald McDonald House in Falls Church. After spending many months gathering donations, she purchased the remaining items herself. On Aug. 15, the bags were delivered to the Ronald McDonald House in Falls Church.
"This past year I've been helping people in the community … I want to focus on promoting my platform," said Hume who may consider entering more pageants in the future. "I definitely plan to compete for Miss Fauquier and I'm considering other county fair pageants." Some counties, like Warren, don't require that you live in the county. 
"It's been very rewarding watching these girls promote their platforms and giving back to our community this past year," added Ashley's mother, Linda Hume. 
Hume has found that competing and winning these local pageants is rewarding. 
"What's really cool about pageants is that it is more and more not just about being a pretty face but being able to promote other work," said Hume who looks forward to the 2020 Fauquier County Fair and passing her crown to another, while perhaps seeking a new crown for herself.