The 12-stop, self-driven tour of the Trinity Episcopal Hunt Country Stable Tour is set for Memorial Day weekend, Saturday, May 25 and Sunday, May 26.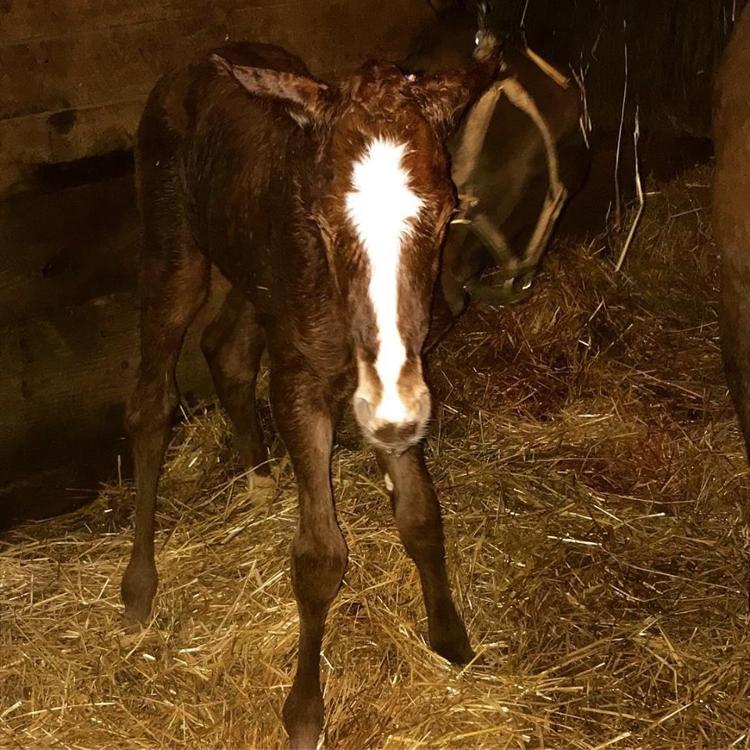 Visitors will get a peek at the grandeur of some of the finest equestrian facilities in the country for the 60th anniversary of an event that benefits the Upperville church's outreach programs. The owners of thousands of acres of horse country property have graciously opened their grounds and stables to equine enthusiasts, curious tourists and wide-eyed children.
And this year, there's one particularly compelling story at one of the tour's new stops, Chilly Bleak Farm in Rectortown. That's the current home of a special 2-month-old colt whose birth came within 24 hours of the devastating loss of his sire, Breeders Cup champion Battle of Midway, following a morning workout on Saturday, Feb. 23 at Santa Anita. Not long after his death, the news broke that one of his foals was born at Jim and Katie Fitzgerald's 150-acre farm off Frogtown Road.
The 5-year-old Battle of Midway had earned $1.5 million in his 16-start career, with an 8-4-2 record. He was initially retired to stud in Kentucky, and covered 61 mares, leaving only five in foal. He then was gelded and returned to racing.  Sadly, the bay horse had to be euthanized when he suffered a fractured hind pastern during the workout at the California track.
His Chilly Bleak offspring was the third to be born from Battle of Midway's brief and mostly unsuccessful career at stud. The Virginia-bred colt, out of the bay mare Delicate Affair by Langfuhr, emerged at 2:55 a.m. on Sunday, Feb. 24.
The chestnut with a white blaze was up and walking within 20 minutes.
"He was looking for milk," said Katie Fitzgerald, a veterinarian and a co-owner of Chilly Bleak with her husband, Jim Fitzgerald. "But it was very bittersweet, after the tragic death of Battle of Midway just the day before. As they say, there's always light after darkness."
Jim Fitzgerald, an Irish-born bloodstock agent and commercial breeder, said, "He's a big strong handsome colt with a lot of quality."      
The Fitzgeralds keep nine or 10 broodmares and are in the business of buying and selling thoroughbreds, often at major racing sales. And Jim Fitzgerald said he's looking forward to having his farm on the Stable Tour. 
"It's mostly our own stock with one or two partners on certain horses," he said, adding that at this time, they'll probably sell the Battle of Midway offspring as a yearling.
The new-born colt's 2-year-old half-brother by Pioneer of The Nile was co-bred by the Fitzgeralds and Manganaro Bloodstock. He was purchased by Centennial Farm at Keeneland in September 2018 for $425,000.
Additional stops on the stable tour include: Chestnut Run Farm, a first-time Stable Tour participant, close to Chilly Bleak; Gum Tree Farm, home to Merino sheep, and Hickory House Farm, a stunning space for the training and development of sport horses.
The 420-acre Middleburg Agricultural Research and Extension Center is a popular stop. It was established in 1949 by the late Paul Mellon and is home to Virginia Tech's internationally renowned equine research and educational programs on environmental stewardship through pasture-based nutrition.
Another former Mellon property is the Middleburg Training Center. The tradition there is early Saturday morning stops to see thoroughbred horses condition and train on the racetrack. Orange Hill, owned by Bryce Lingo, dates to the 1800s as a noted equestrian property, and is now the home base for nationally-renowned trainer Snowden Clarke, who specializes in producing quality young horses for jumping, showing and hunting.
For many years, Paul Mellon's broodmare barn was a tour highlight. It has now been renovated and re-modeled into a splendid accommodation and meeting space for scholars, artists, and educators visiting the Oak Spring Garden Foundation, founded in 1993 by the late Rachel "Bunny" Lambert Mellon.
Poplar Grange Farm houses young show and steeplechase horses as well as retired horses. The home, stables and multiple outbuildings were designed by noted local architect Tommy Beach.
Set on 340 acres in the heart of Middleburg, Salamander Resort & Spa's Equestrian Center has a 22-stall stable, 120 x 240 outdoor arena, nine turnout paddocks and miles of trails. The 360-acre St. Bride's Farm, just outside the village of Upperville, was established in 1916 by Cary Langhorne and is now a facility that has been producing a successful line of American show jumpers.
The Hunt Country Stable Tour tickets for Saturday, May 25, and Sunday, May 26, are $30 in advance, $35 at the gate, free for children under 10. Go online to trinityupperville.org or call 540-592-3343. Proceeds provide financial support to organizations that enhance and enrich the lives of people in need. Included missions are SOME, supporting the homeless in D.C, Piedmont Childcare, and Helping Haitians.