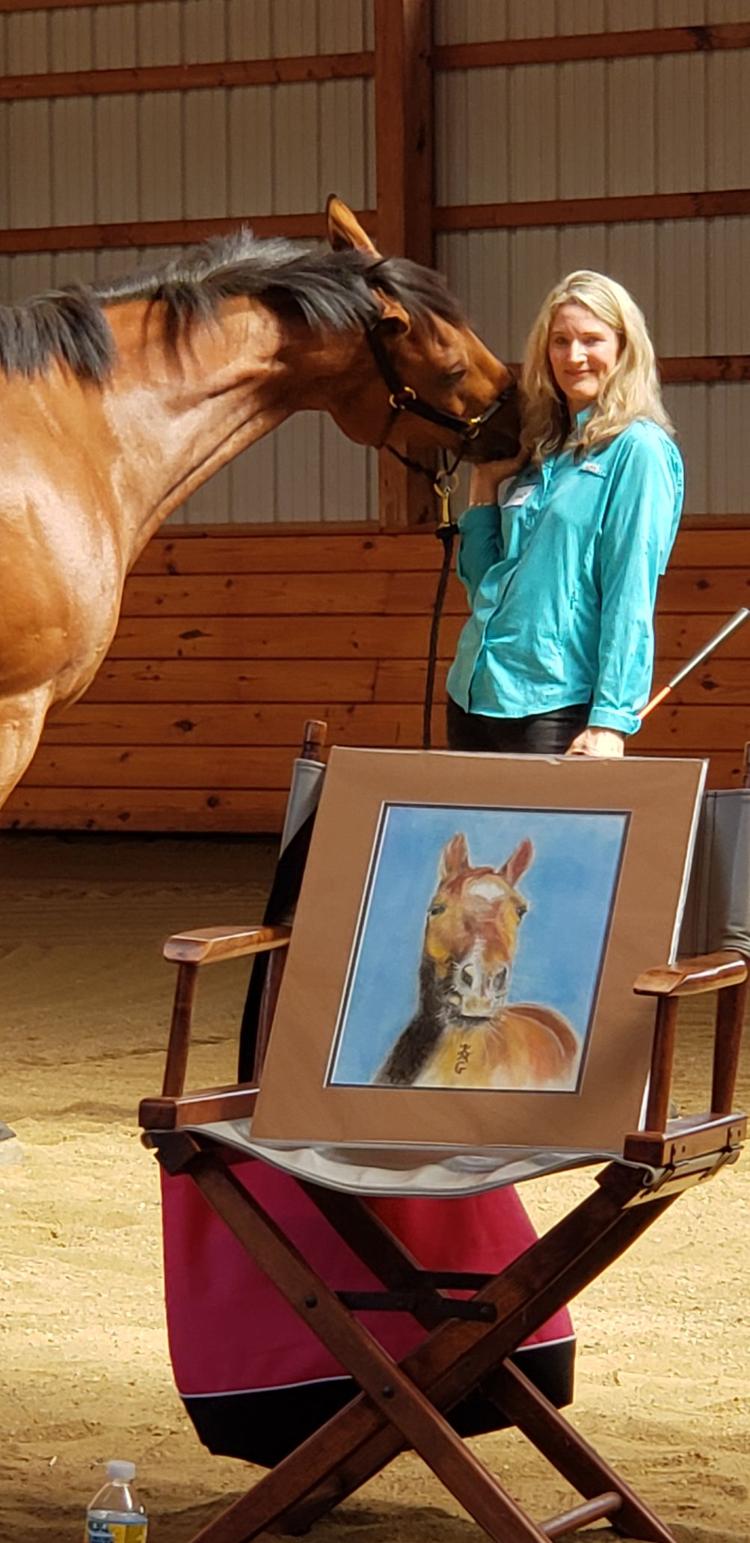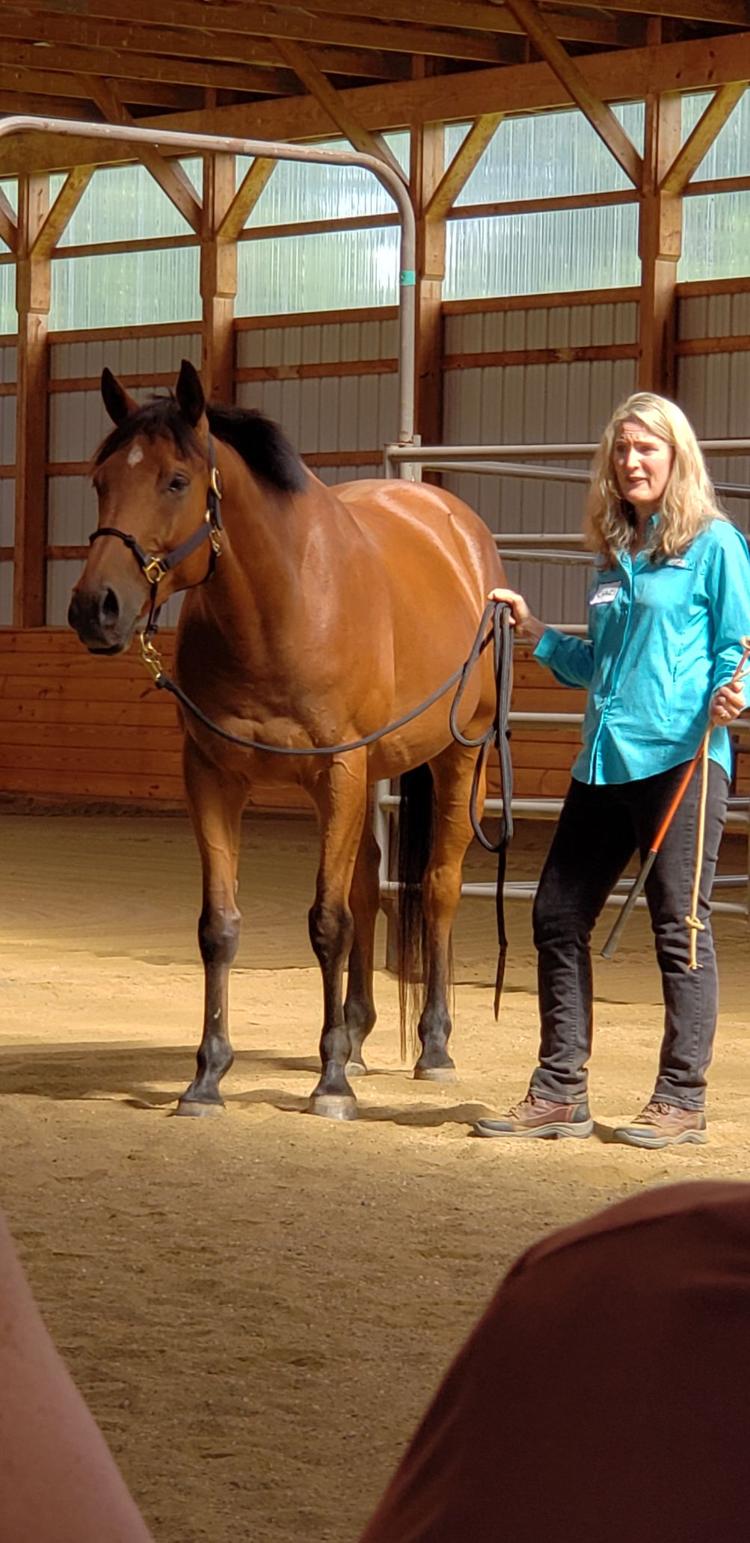 On a warm Saturday in June, I attended a presentation by Shari Jaeger Goodwin. It was held not in a meeting room but a riding arena on her farm in Marshall. I couldn't help but walk through the stables on my way so I could see the horses.  
Years ago, when we lived in Oregon before moving to Virginia, I took horseback riding lessons on English saddle and even won a few ribbons at shows that the stable held. Trust me, nothing like the equestrian world of Virginia, but I managed to stay mounted over small jumps.  
Admittedly, in my 20s at the time, I was still fearful of horses even though I loved being around them. One of my greatest joys in life was being one with the horse going over a jump. It is an exhilarating experience to have that momentary connection and collaboration between you and a horse to carry you both in one graceful movement. Most of the time for me it was a disconnect … rhythm was off, horse would stop at fence, I would freeze up …something. But, when we both really trusted each other, magic happened. 
Shari is an executive leadership coach, motivational speaker, best-selling author and horsewoman with more than 25 years of experience. I've gotten to know her through a nonprofit, Be the Change Foundation, where she is one of the members of the Advisory Council. We offer a series of classes for women who want to start a business or build on an existing one. I serve as a board member and we had her speak at our last graduation ceremony. She's one of these people that when you meet her, you come away inspired, empowered and energized. She has that kind of mojo. 
She's recently published her latest book titled, "Reinventing Greatness: Leading Yourself and Others Through Change with Confidence and Trust." Many of her insights on the reinvention process are lessons gleaned through working with one of her horses, Lemon Squeezy. A former winning racehorse, she purchased him not by design but rather by serendipity. She'd gone looking for a peaceful mount but could not pass on the opportunity of giving this horse another chance, another path in life.  
Shari became, and continues to be, Lemon Squeezy's navigator, mentor and trainer through the challenges he faces – paralleling challenges that many business leaders face when making decisions. Maybe they want to go fast but that isn't possible or advisable. Maybe it's all about winning rather than effective negotiating.  
When Lemon Squeezy was introduced to the group, he sauntered into the arena, head held high and clearly eyeing his surroundings with confidence. Shari is firm but loving in her handling of him. Their mutual affection for one another is evident in her tone of voice, eye contact and his occasional gentle nudges. But this has all taken time, patience and a course of action. All these lessons Shari has incorporated in her leadership model – moving from vision to formulating an effective plan and, perhaps most importantly, doing it with heart. 
Lemon Squeezy is now an official ambassador for the Thoroughbred Retirement Foundation, an organization committed to saving the lives of many horses like Lemon Squeezy. Hundreds of horses are currently given sanctuary at 18 thoroughbred retirement facilities across the country. Horses can live upwards of 30 years or more. With this foundation, horses are afforded a permanent and dignified place to retire or be retrained for another career. If you want to learn more about adoptions, sponsorships or how you can help, visit www.trfinc.org. 
Shari has a retreat coming up on Saturday, Oct. 26, from 9 a.m. to 4 p.m.  She plans to dive deep into the power of trust and resilience. As she describes it, "this retreat focuses on 'being' not 'doing.' We'll explore the reinvention process, expose and release limiting beliefs, and [learn to be] open to new approaches you can take now to move forward with more ease." 
Surrounded by nature and the ambiance of her equine partners, this retreat is perfect for the professional who would relish new insights. I suspect that it will fill quickly; if you are interested, visit www.jaeger2.com, under services. 
Lemon Squeezy is a fortunate fellow. He's found a soulmate in Shari Goodwin and she with him. I know they have had a lot of "aha" moments. Those moments have morphed into life-long learning and leadership lessons that Shari has shared in her book and in her presentations. Her approach is concise, clear and centered. Her authenticity, sincerity and gentleness are attributes that form the foundation for her success. 
As I left that afternoon I once again walked through the stables, this time taking a minute to say "hello" to Lemon Squeezy and several of the other horses who had their heads poked out from their stalls. I thought about all the work that Shari is doing, her connection with these equine beauties, how she's married steeds and business acumen, how it all works together, how when you find that oneness, how powerful and life affirming it can be.