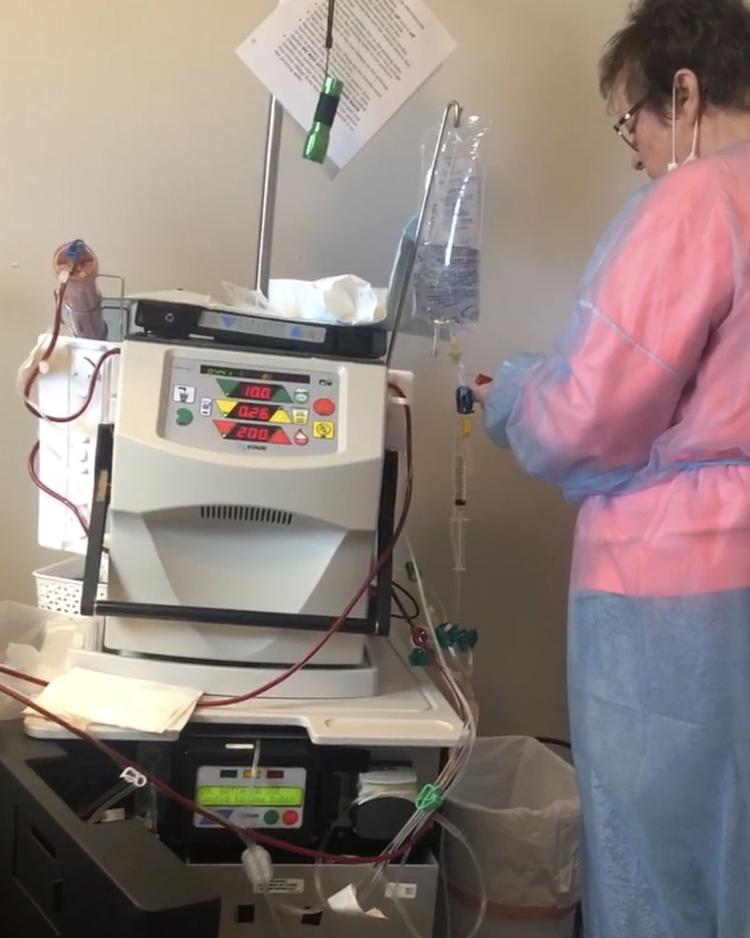 Most people's kidneys clean and balance their blood continuously and automatically. For Roger Houston, 69, of Bealeton, this basic, life-sustaining function is performed by a large and complex hemodialysis machine, four hours a day, every other day. Without a kidney transplant, this will be his reality for the rest of his life.
A retired aerospace engineer and father of three, Houston has required dialysis for nearly two years after his kidneys permanently lost most of their function due to complications from diabetes. "It sucks the life out of you," Houston said of the dialysis treatments. Between the time taken out by the treatments themselves and the resulting exhaustion and discomfort, "Now, I just don't have any life," he lamented.
In January 2019 Houston had a catheter placed surgically in his stomach to facilitate the dialysis treatments. It didn't work. Two months later, he had a surgery to repair it. That didn't work either. The catheter was replaced. Then, in April, he was involved in a car accident that damaged the new catheter, requiring yet another surgery to remove the damaged tube. "My stomach looks like I've been in a knife fight," he said.
At first, his wife of 50 years, Ina, had to drive him to a clinic to receive the treatments. Now, after completing a nine-week training course, she is able to administer her husband's treatments at home. "That's a big responsibility," Roger Houston said of his wife. "I couldn't do it without her, that's for sure."
The Houstons' daughter, Tammy Adams, described her parents before her father's kidneys failed. They were active retirees, she said, who volunteered regularly in the community and were active in their church. Now, her parents' lives are consumed by treatments and doctors' appointments: her father as a patient, her mother as a full-time caregiver. "This … is taking an extreme physical and mental toll on my parents," she said.
Adams is taking the lead as a "donor champion" in the search to find a kidney donor for her father. "If my dad was to receive a kidney, his life will change drastically. He would essentially have his life back again, as would my mom," she said.
While Roger Houston may soon be on a national donation registry, "There is almost no chance of him getting a kidney through that list," Adams said, because there are thousands of people ahead of him. The process to get on the registry, she explained, is to show that her father is strong enough to receive a kidney transplant. He is about halfway through that testing.
The best hope for her father, she said, is for an individual living donor to step forward. (She and her siblings have been ruled out as donors because of preexisting health conditions.) "With a living kidney donor, a healthy person gives one of their kidneys to someone needing a transplant," Adams said.
She elaborated on the donation process, "Even if that person is not a direct match to my father, they can participate in what is called a paired organ donation. That is where your kidney would go to someone that matches you, and my dad would then receive a kidney from someone else that matches him."
Dr. Kenneth Kornetsky, senior nephrologist at Bluemont Nephrology Associates in Warrenton, explained the process in a separate interview. "Generally, transplant centers require donors to be healthy." Donors cannot be diabetic and must have two healthy and functioning kidneys. With a few exceptions, he said, donors must not be on heart pressure medication.
Potential donors must go through a series of tests, usually an arteriogram or CAT scan, stress tests and other evaluations to ensure that the donor is healthy enough to go through the procedure of having a kidney harvested. "The whole idea is that you don't harm the donor by doing the transplant," he said.
If an individual donor is approved, a kidney is extracted usually through a laparoscopic surgical technique, which requires only small incisions and is less invasive than older techniques. The recovery period for the donor is generally between a few days to two weeks after the surgery, Kornetsky said.
Adams said that the medical expenses incurred by a donor would be entirely covered by Houston's insurance. "We are asking if there is anyone out there who is interested in being a living donor and a hero to my dad and his entire family, please contact us. We will provide you with all the information you need to start the process of becoming a kidney donor."
Tammy Adams can be reached at needakidneydonor@yahoo.com.
Reach Coy Ferrell at cferrell@fauquier.com