Last week, a U.S. Navy nurse Carolyn Kirkland contacted Michael Guditus, emergency manager for the Fauquier County Department of Fire, Rescue and Emergency Management. Guditus said, "She was concerned that the Veterans Administration was not doing enough for veterans when it comes to COVID vaccines. She had a battle plan."
Guditus said that the nurse suggested that she and two other nurses get trained to give vaccines and go on the road to get vaccines to over-65 veterans who couldn't make it to vaccination sites. Guditus thought it was a great idea; last Friday, he called Molly Brooks, co-founder of Hero's Bridge, a non-profit organization that offers support to older veterans.
Brooks compiled a list of 275 vulnerable veterans her organization works with. She and another Hero's Bridge staffer called every one of those veterans to find out if they wanted a vaccine. She explained, "Some of our veterans have trouble just getting to the mailbox. Getting them to a vaccination site can be difficult."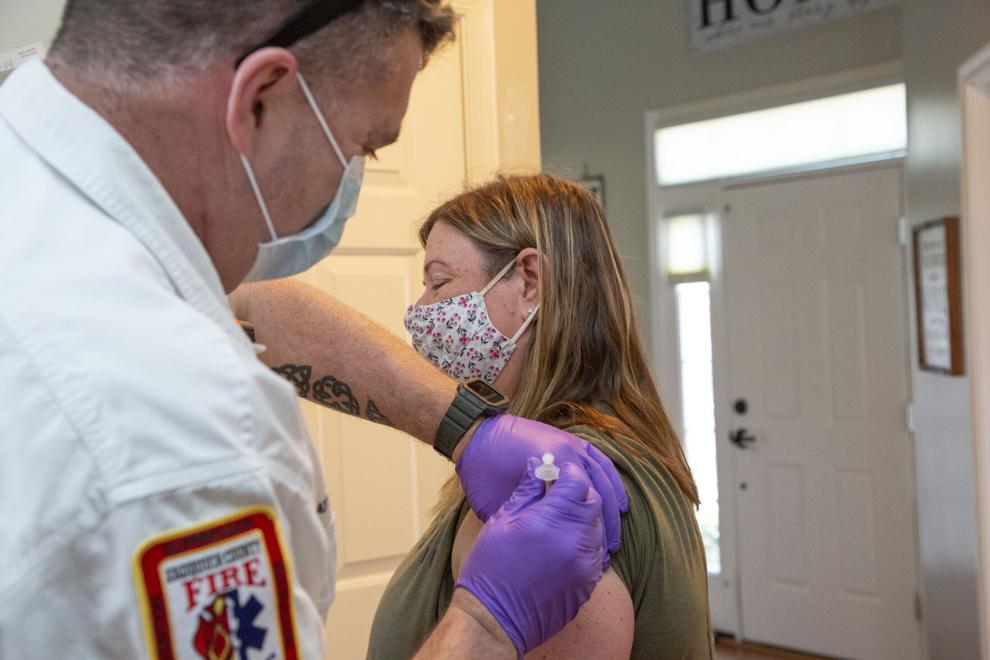 The good news is out of the 275 veterans, only four people – two veterans and two caregivers – needed help getting a vaccine.
The very good news is that those four people received the first dose of the Pfizer vaccine on Wednesday.
Guditus and Brooks arranged for two DFREM employees -- who are also veterans -- to deliver the vaccines. "The connection generation to generation among veterans is strong," said Brooks. "We wanted it be veterans helping veterans."
The list of vaccine-needy veterans was originally two names longer, but by the time the vaccination crew was ready to hit the road, one had already received the vaccine. Brooks said, "It was a case where a man got his first shot in a nursing home, but he left before getting his second shot and didn't know what to do. His son called and he got his second shot yesterday."
Guditus heard Wednesday morning that the one other veteran had made arrangements to get his vaccination in Culpeper, close to his home.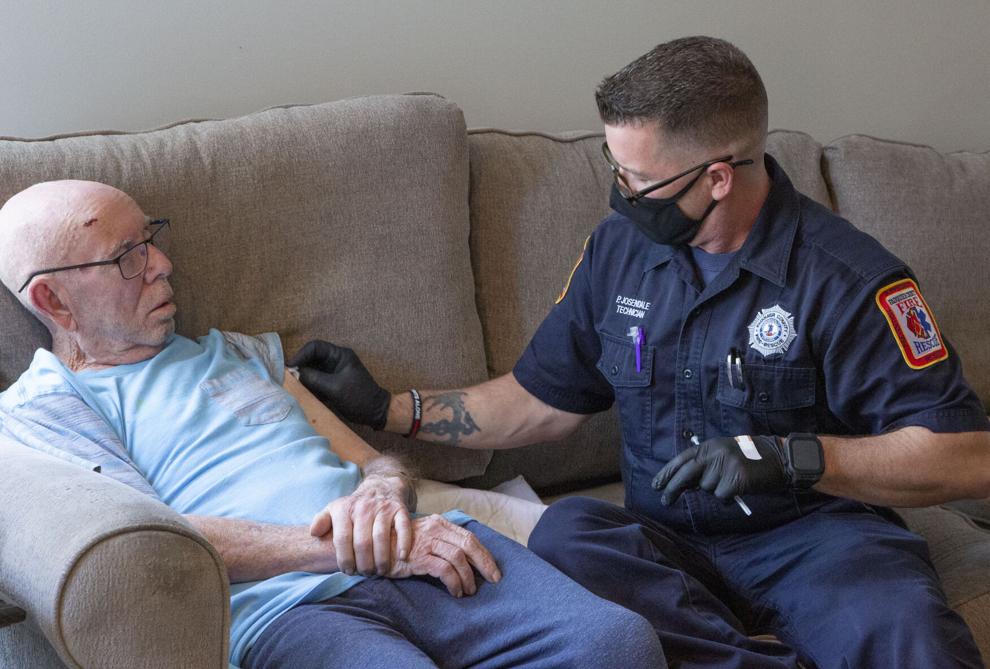 So at about 12:30 p.m. on March 10, DFREM Chief Darren Stevens, who served in the U.S. Army, and Battalion Chief R.J. Arft, who served in the U.S. Marine Corps, loaded an EMS vehicle with four prepared vaccines in a portable refrigerator and headed to New Baltimore. Guditus, Brooks and EMS technician Peter Josendale -- also a veteran, with the U.S. Navy -- followed in a second vehicle to provide support.
First stop was the home of Desirae Schulte, who cares full time for her father. Phillip Schulte, 78, served in Vietnam for the U.S. Navy and spent time aboard the USS Bennington.  
In 2017, Phillip Schulte received a dementia diagnosis and he has recently become nonverbal. He had benefited from socialization at the Fauquier Senior Center three to four days each week; unfortunately, that all changed with the onset of the pandemic.
"I take care of my father full time, but I also work full time and have an 11-year-old and a husband," Desirae Schulte said. "It's exhausting."
Arft delivered Desirae Schulte's first dose of vaccine in the hallway of her home while her father dozed in front of the television. Brooks gently woke Phillip Schulte for his vaccine; it was  administered by Josendale, who explained to the elderly veteran about the vaccine. After his shot, Schulte drifted off to sleep again while the emergency workers chatted with his daughter for 15 minutes to make sure neither had a negative reaction to the vaccine.
The EMS workers explained to Desirae Schulte that the vaccine shot might be painful at the vaccine site, and that "the vaccine gets into the muscle more than a flu shot." They said that she might have a day or two of soreness.
Arft and Stevens both shared that they felt unwell after their own second vaccine, but the discomfort didn't last long. Exhaustion and body aches were common after the second shot they said, but not everybody experiences the symptoms.
They handed Desirae Schulte cards showing that the first doses had been given and assured her that they'd make arrangements to come back in 21 days to deliver second doses.
The team then headed down to Sumerduck to meet with Robert and Juanita Curtis. Robert Curtis, 68, served for 20 years in the U.S. Army, from 1972 to 1992. He served in Egypt and Panama, he said. After leaving the military, he worked for Tyson's Foods for 15 years before moving to Fauquier County.
"I used to walk 3 miles every day," he said. One day during one of those walks, he woke up in a ditch. It was the first of six strokes he's suffered.
Curtis said that a physical therapist visits three or four times a week and he can now move his left leg some, but mostly he is bedridden. His wife Juanita cares for him.
"He used to do everything around here," Juanita Curtis said, indicating their small home. She is worried that in case of a fire, she doesn't have a good way to get her husband quickly out of the house. "I think I could chuck him out the window. He might break his legs, but at least he wouldn't get burned," she reasoned.
Her husband didn't seem to think much of the idea.
Juanita Curtis asked the fire chief how she might get a smoke alarm and Stevens said he could help.
After the Curtises received their vaccines, Brooks passed the 15-minute, post-vaccine time talking with Robert Curtis about the Redskins and the Nationals, his two preferred teams.
As the EMS crew waved goodbye to the couple's three dogs and climbed into their trucks, they got word that someone with the Goldvein Fire Department was on the way to install smoke detectors at the veteran's home.
Hero's Bridge
On the way back to the Warrenton vaccination site on Lee Highway, Brooks talked about the difficulties of trying to support elderly veterans during a pandemic. "Most of our veterans had social issues before the pandemic. COVID has made it worse."
She explained that social isolation, nutrition deficiencies and lack of transportation "have been amplified by 10 since last March."
The first couple of months of the pandemic they couldn't see their veterans in person at all. There are about 25 veterans that should be visited once a week, another 100 or so that are seen once a month.
After the first couple of months, Brooks said, "We put tech in their homes so we could communicate with them." The tablets run on cellular data, so if the veterans can get a cell signal, the tablets can work without a wi-fi signal.
Besides checking in with the veterans, Hero's Bridge has focused on nutritional support and coordinating medical care. "We have meals delivered and coordinate with their physicians."
Brooks said that the pandemic illuminated the need for elderly veterans to be connected with technology. "When the vaccine became available, they had to register online. Our county was lucky because we had a call center set up, but other areas did not have that. Our veterans are going to be left behind if they don't have that technological connection."
Vaccination satisfaction
Josendale said that he tries to volunteer for vaccination days as often as he can. "It's been really good for building relationships with the community. I see folks in the field and they know me because I vaccinated them."
Usually when EMS arrives at a home, it's because of a medical crisis. Administering the vaccines is a different experience because the recipients are happy to be getting the vaccine and are grateful for the efforts of the workers behind the masks. "We get lots of thanks," said Guditus.
Josendale remembers giving a vaccine "to a young kid with Down Syndrome. She was clapping and singing during the vaccination because it meant that in two weeks she could see her friend."
Reach Robin Earl at rearl@fauquier.com